Assistant Coach Mike Howland '02 Joins William & Mary Basketball Program
April 26, 2019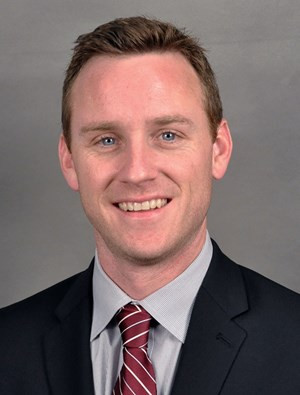 Mike Howland, a 2002 graduate of DePauw University, was today appointed assistant men's basketball coach at the College of William & Mary.
"Howland spent the last four seasons at Winthrop," reports the Daily Press of Newport News, Virginia. "He was the Eagles' director of basketball operations his first two years and an assistant coach the last two. Howland is a 2002 graduate of DePauw University, where he was a four-year starter."
"He has been instrumental in the success at Winthrop as a coach and a recruiter, and he will be relied upon heavily in our program in both of those areas,," said Dane Fischer, the head coach at William & Mary. "His basketball acumen is extremely high, and his experience as a head coach is imperative on our staff."
Read more at the newspaper's website or in the college's announcement.
A history major at DePauw, Howland was a starter all four seasons. In 2002 he was an NABC All-America selection and also named the Southern Collegiate Athletic Conference Player of the Year in 2002. Learn more in this previous story.
Back