Column Recounts "Amazing Journey" of Legendary DePauw Football Coach Raymond "Gaumey" Neal
April 28, 2019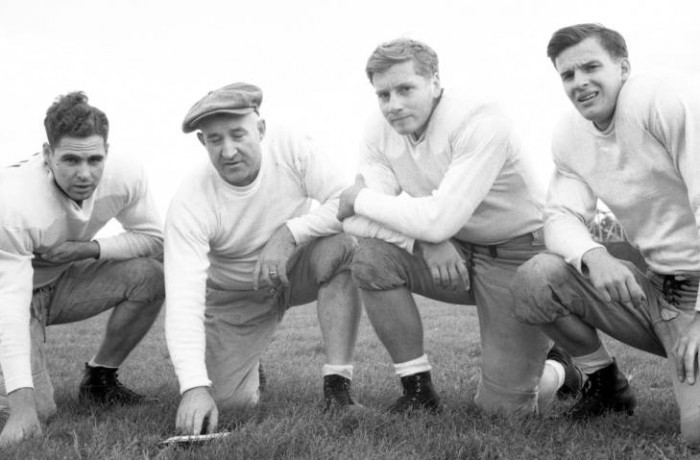 "At this time in history if a person achieves great success in sports they become well known throughout the country and become millionaires," begins a column in Indiana's Crawfordsville Journal Review. "However, a local man achieved great success in sports but is not well known. His accomplishments could not be repeated today. From Mellott to Wingate, to Wabash College, to the U.S. Army, to Washington and Jefferson College, to the Rose Bowl, to Pro Football and DePauw University and the Football Hall of Fame -- this is the amazing journey through the life of Raymond (Gaumey) Neal." (photo: Neal, second from left, with three players)
Columnist Bob Quirk recounts the life of Neal, an all-American who played in the Rose Bowl and was head football coach at DePauw from 1930 through the 1945 season. He compiled a record of 79-34-7.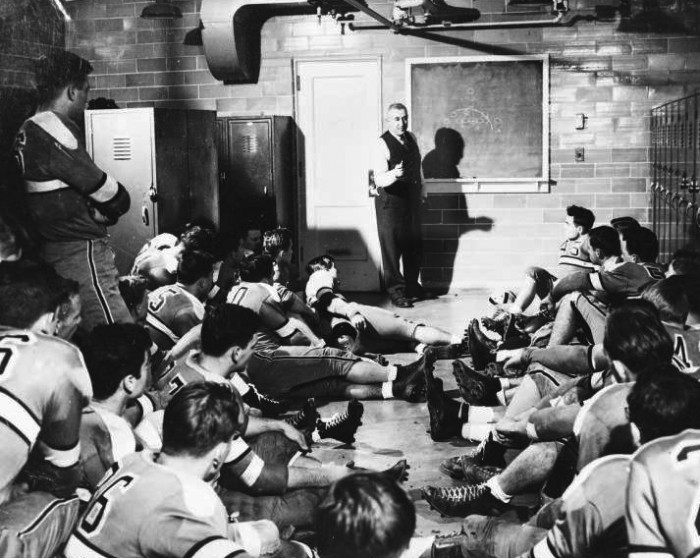 "His best team was the unbelievable 1933 team," Quirk states. "This team had a record that I doubt will ever be broken. They were unbeaten, untied and unscored on. It is hard to believe that a team could play an entire season and not allow a single point to be scored on them. There are many interesting stories of this team. This was 1933, the middle of the Great Depression. There was no such thing at DePauw as a football scholarship. Nobody had money. The players played football for the love of the game."
The column continues, "Chet Elson, who would become a millionaire insurance agent in Des Moines, Iowa, tells the following story. Chet said when he came to DePauw he had $7 in his pocket. He also said that he would never have been able to finish school had it not been for the personal interest Coach Neal had in him. He fed me when I was hungry, housed me when I had no place to stay, and helped me when I had no money. Chet lived on a cot in the gymnasium for a year and had three lockers to store his clothes. The players on this 1933 team no only achieved great success on the playing field, but enjoyed great success in life. They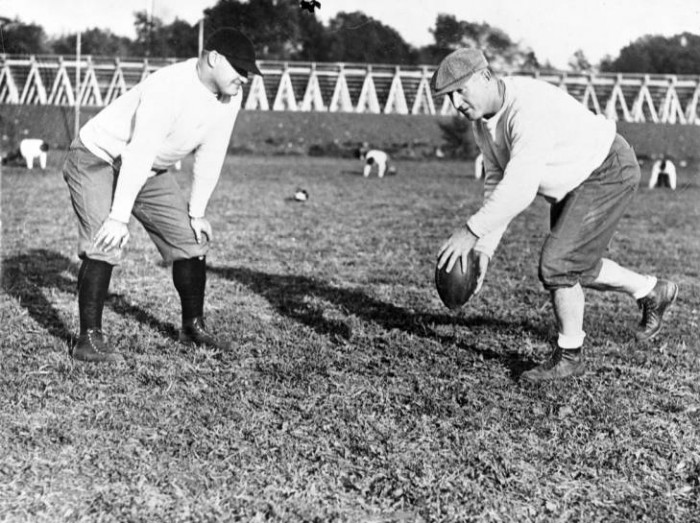 were taught that character and a positive attitude were important in life. They also learned the fundamentals of a game plan for other victories in life. That they were successful in life is best illustrated by the fact that in 1979 when DePauw was planning to build a new fieldhouse, the 1933 team alone raised $2.2 million in 60 days. This now known as the Raymond Neal Fieldhouse."
Coach Neal died in 1977.
Access the complete text at the newspaper's website.
Back