$1.5 Million Gift from Tim Solso '69 Honors 100th Anniversary of Rector Scholarships at DePauw University
April 30, 2019
On the 100th anniversary April 30 of Edward Rector's gift to provide scholarships to DePauw University students, alumnus Tim Solso '69 has given $1.5 million to the Rector Scholarship Endowment.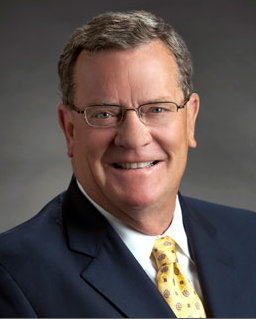 "The Rector Scholarship made it possible for me to enroll at DePauw, where I learned to lead, think critically and communicate clearly," said Solso, who was chief executive officer of Cummins from 2000-11 and chairman of General Motors from 2014-16. "I am pleased to invest in the Rector Scholarship tradition to benefit future generations of DePauw students."
Since the April 30,1919, gift, more than 4,000 DePauw graduates have been awarded Rector scholarships. Many of them are among the university's most distinguished alumni.
Solso's gift, made as the university plans to celebrate the Rector Scholarship May 10-12, brings the ongoing campaign for the endowment close to its goal of $14 million in new commitments. If the goal is reached, the endowment will total $40 million, enough to extend full-tuition scholarships to 10 students a year for the next 100 years.
"The DePauw community is deeply grateful to Tim Solso, not only for his exceptional generosity in bolstering the Rector Scholarship Endowment, but for exemplifying principled leadership throughout his life and career and bringing honor to his alma mater," President D. Mark McCoy said.
Solso and his late wife, Denise Manning Solso '69, made a 2005 gift to establish the Manning Environmental Field Station. He served on the DePauw Board of Trustees and Board of Visitors; received the Old Gold Goblet in 2007; and was commencement speaker in 2011.
Former and current Rector scholars and their families will gather on DePauw's campus May 10-12 to commemorate the centennial of the endowment. To learn more about the Rector centennial, click here; call (800) 446-5298; or email rector100@depauw.edu.
Those who wish to contribute to the Rector Scholarship Endowment Fund may visit https://www.depauw.edu/alumni/giving/rector100/. To make the Rector Scholarship Fund part of an estate plan, contact Eric D. Motycka, director of legacy and estate planning, at 765-658-4216 or ericmotycka@depauw.edu.
Back