Grace Kestler '12 Receives 'Women in Leadership' Award
May 14, 2019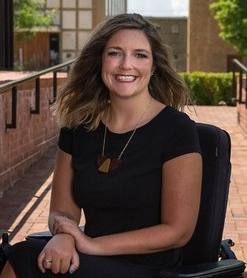 Grace Kestler, a 2012 graduate of DePauw University, is one of four 2019 Women in Leadership honorees as selected by the Columbus, Indiana Chamber of Commerce. Kestler is founder of Grace Kestler Consulting and community outreach coordinator for Advocates for Children – CASA.
"Kestler, a Columbus native, is making her first run for political office for Columbus City Council after a lifetime of exploring the unknown," writes Shelby Mullis in the Columbus Republic. "She said girls and women tend to find themselves overcompensating to prove to people that they're something they're not, to be accepted and to fit in. Growing up with a disability, Kestler said it was hard to see herself in places where she didn't necessarily fit in -- places she said seemed to be reserved for 'walkers.' But she never backed down. She caught a travel bug and explored new countries on her own. She started her own business, Grace Kestler Consulting. And most recently, she announced her first run for political office as a way to be a role model for other girls who may not feel represented."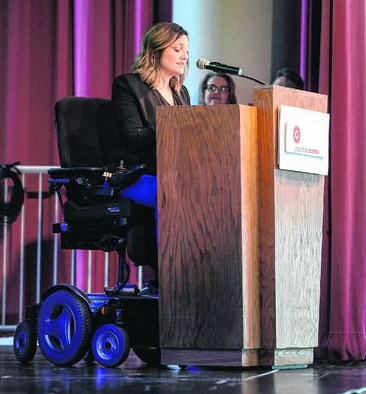 The 29-year-old Kestler, who majored in communication and anthropology at DePauw, is involved in a number of community organizations. She tells the newspaper, "For me, being brave is more about the little things in life that sometimes we look back on and we're not really recognizing in the moment that that's what we were doing -- being brave."
Criteria for the award included "how the person exhibits courage in their career and their background," Mullis reports. (photo at left by Mike Wolanin/Columbus Republic)
Cindy Frey, president of the Columus Chamber, stated, "We want to showcase people who are stepping up and venturing into that entrepreneurial territory. It's important if we're going to be a community that celebrates innovation and entrepreneurship that we take the stigma out of failure. That we let people know that most success stories are not in a straight line."
Access the complete story here.
Back