Sunday's Weather Forecast for 180th Commencement Calls for 40% Chance of Morning Storms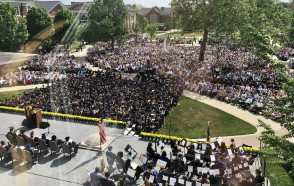 May 15, 2019
Links: Commencement Info; Weather; Webcast; Pre-Order Your DVD
The Greencastle weather forecast for Sunday morning, when DePauw University's Class of 2019 will receive diplomas, is calling for scattered thunderstorms. The chance for morning rain is projected to be 40% with a high of 80 degrees. The latest forecast is available here; the commencement ceremonies will begin at 10 a.m. in Holton Memorial Quadrangle (in the event of inclement weather, the program will be moved inside to the Lilly Recreational Center's Neal Fieldhouse).
Drew Powell, an actor and 1998 DePauw University graduate who is best known for four seasons as a character on Fox's hit series Gotham,
will provide the primary address to his alma mater's Class of 2019. Powell will also receive the University Arts Medal during the program.
Honorary doctoral degrees will be awarded to three individuals -- Iraqi American artist and educator Wafaa Bilal; historian, author and professor Ann G. Carmichael; and noted jazz trumpeter Eddie Henderson -- during the ceremony.
Yesterday crews began the process of transforming the entry to Roy O. West Library into a platform for Sunday's program.
For those unable to be on campus this weekend, a webcast of the graduation ceremonies will be available at the University's video portal (once there, click "watch").
Saturday's 4 p.m. baccalaureate program will also be webcast and is available from the same link.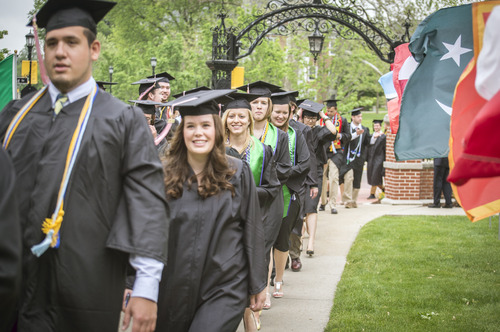 Graduates and their families who wish to own a higher-quality, permanent video of DePauw's 2019 commencement may order a limited edition commemorative DVD. The disc, which is professionally replicated, will include footage of each graduate receiving their DePauw diploma as well as a range of bonus materials, including clips of some of the most memorable moments of the past four years, starting with the arrival of the Class of 2019 on campus in August 2015 and clips of Ubben Lecturers such as Malala Yousafzai, David Hanson and Sophia, David Cameron, Bill Rasmussen '54, John Kasich, Arne Duncan and Leslie Odom Jr.; The DVD will also include a photo gallery of commencement day activities; and vintage film from the DePauw Archives.
Orders are now being accepted at $19.95 for the first disc; additional DVDs sent to the same address will be $8 each (7% sales tax will be added to Indiana orders). An online order form is available here; you can learn more about the disc in this article.
For more information on DePauw's commencement, click here.
Back