Rain Can't Dampen Spirits of DePauw's Class of 2019 as It Begins the "Carnival Ride" After College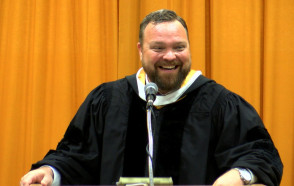 May 19, 2019
"We need you, the Class of 2019, to go into the world and say 'We will be the change, we will lead the way back to civility, we will be resilient," actor and 1998 DePauw University graduate Drew Powell told graduates at this morning's 180th Commencement. "You can and you will. How do I know? Trust me -- I played a nearly naked zombie monster on a Batman TV show. I know stuff."
The University announced about two hours and twenty minutes before the program was set to start that the proceedings were being moved indoors to Neal Fieldhouse in the Lilly Center. The Greencastle weather forecast for Sunday, which had been iffy all week, showed a 100 percent chance of showers and possibly strong storms; as it happened, it rained throughout the ceremony.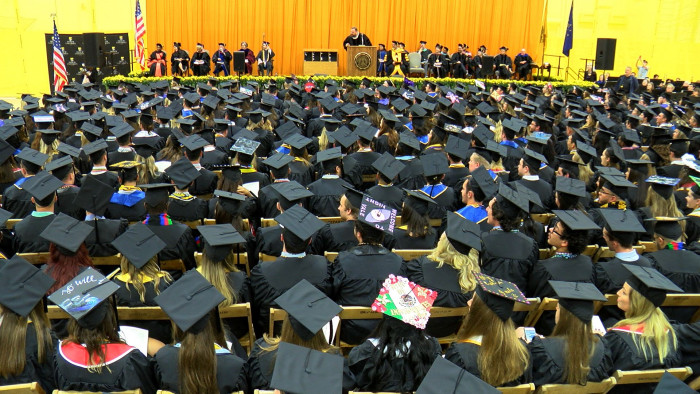 "I've been a part of two graduations at DePauw and both of them have been rained out -- or, rather, rained in," Powell exclaimed. "I can only conclude it's my fault. But let's stay positive shall we? Who wants to have that beautiful scene in the Holton Memorial Quadrangle when we can be here in the spot where I played intramural basketball. We all get to sweat in the gym one more time."
Powell is best known for four seasons as antagonist Cyrus "Butch Gilzean" Gold, a character who transformed into Solomon Grundy, on Fox's hit series Gotham. An English (literature) major and Media Fellow at DePauw, he also played Reede Smith, one of the final suspects for the serial killer Red John on The Mentalist, and has been seen in a range of other shows and movies, including Message From The King, 1408, Ray Donovan, American Horror Story, NCIS: Naval Criminal Investigative Service, Grey's Anatomy, Bones, Malcolm in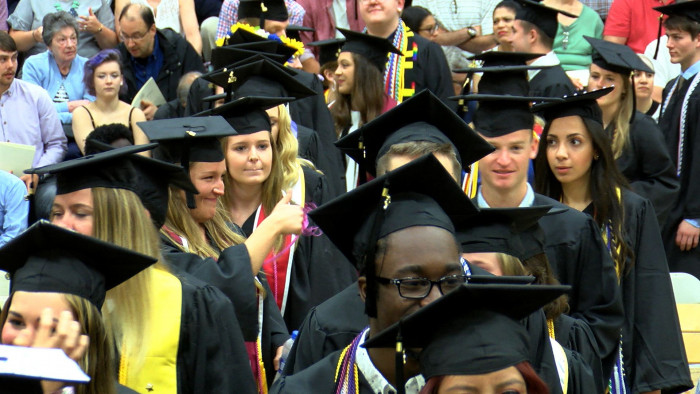 the Middle, True Blood, Ponderosa, The Office, House,and ER.
A native of Lebanon, Indiana, Powell recalled driving to California after his graduation from DePauw with a goal of making a living as an actor.
"Turns out, life is like building an IKEA desk," he told the 505 members of the Class of 2019 seated before him. "Lotta parts with confusing instructions that make you want to scream and cry at times but if you do it right, when you finish and step back to look at it, it's really quite stylish and useful and fits nicely in a small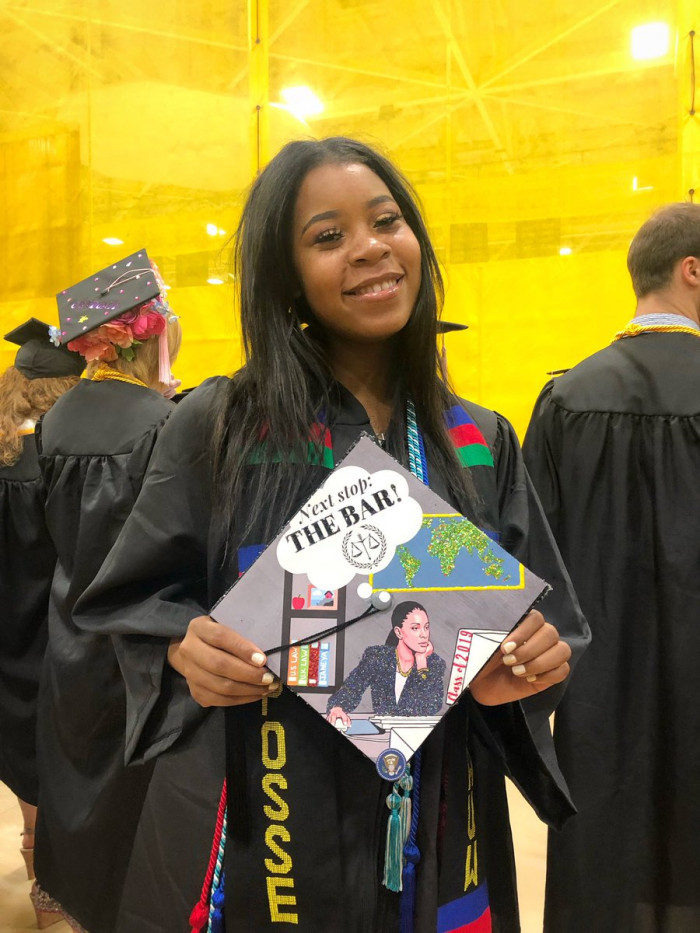 apartment."
He added, "The world you're about to enter is, yes, terrifying – but also exciting. It's like a carnival ride that has never been inspected for design flaws. As you will soon find out, life after college is a series of transitions, of highs and lows, of absolute certainties and absolute confusion!"
Powell received the University Arts Medal during the program, and honorary doctoral degrees were awarded to three individuals -- Iraqi American artist and educator Wafaa Bilal; historian, author and professor Ann G. Carmichael; and noted jazz trumpeter Eddie Henderson.
Powell advised the new graduates, "As I stand here today and look back on the path I took, the twists and turns and mountains and valleys are incredible and I could have never predicted any of it when I was sitting where you are now. I can tell you that it does help to talk to folks who have gone before you. One of the things that is most impressive to me about DePauw is how it's alumni look out for each other. I've heard many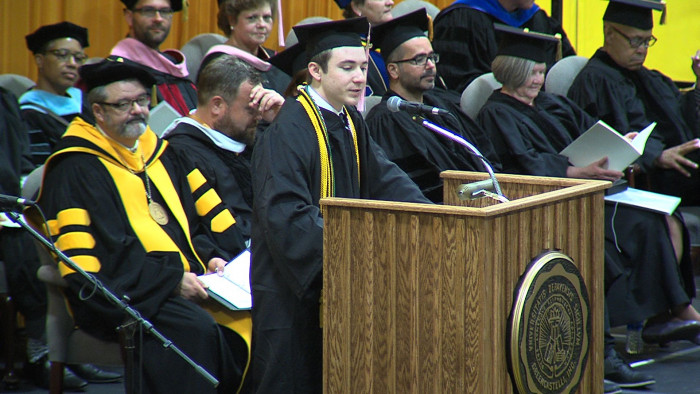 stories of recent grads getting a helping hand from a fellow alum. I encourage you to look for folks who have been down the path before you to help when they can and then be sure return the favor when the next generation comes to ask you advice. A little kindness goes a long way."
The audience also heard from Liam Byrnes '19, this year's recipient of the Walker Cup, which goes to the senior who has done the most for DePauw during their four years on campus.
Graduates and their families who wish to own a high-quality, permanent video of DePauw's 2019 commencement may order a limited edition commemorative DVD. The disc, which is professionally replicated, will include footage of each graduate receiving their DePauw diploma as well as a range of bonus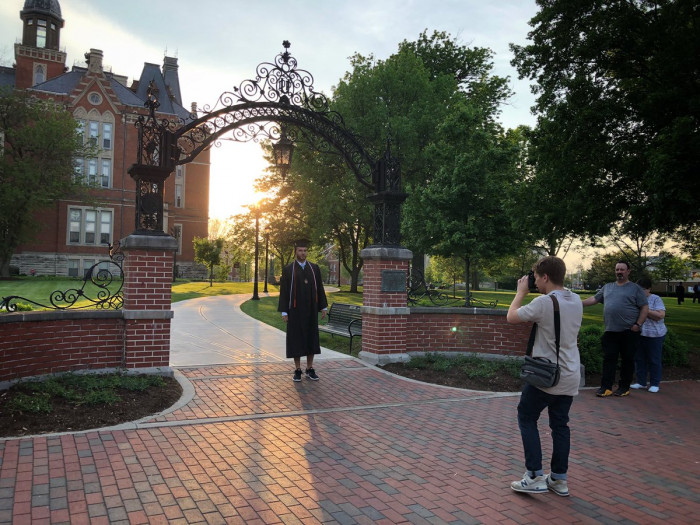 materials, including clips of some of the most memorable moments of the past four years, starting with the arrival of the Class of 2019 on campus in August 2015 and clips of Ubben Lecturers such as Malala Yousafzai, David Hanson and Sophia, David Cameron, Bill Rasmussen '54, John Kasich, Arne Duncan and Leslie Odom Jr.; The DVD will also include a photo gallery of commencement day activities; and vintage film from the DePauw Archives.
Orders are now being accepted at $19.95 for the first disc; additional DVDs sent to the same address will be $8 each (7% sales tax will be added to Indiana orders). An online order form is available here; you can learn more about the disc in this article.
For more information on DePauw's commencement, click here.
Back