Newspaper Profiles Veteran Statesman Lee Hamilton '52
June 11, 2019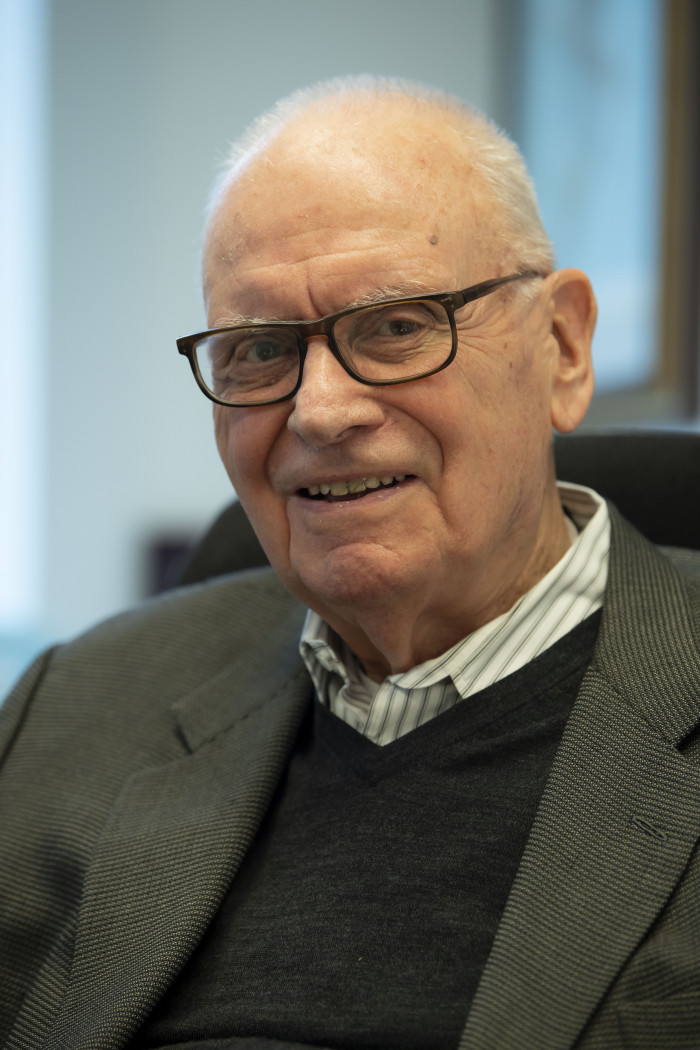 "Lee Hamilton, now 88, has spent the better part of his life trying to improve the country," notes the Herald-Times of Bloomington, Indiana. "He spent 34 years drafting, debating and voting on legislation as a member of the U.S. House of Representatives. He served as vice chairman of the 9/11 Commission, a body created to examine the Sept. 11, 2001, terrorist attacks. He is a distinguished professor in the Hamilton Lugar School of Global and International Studies at Indiana University, a school named after him and the late Sen. Richard Lugar in 2018. He's written a column nearly every week since he was elected to Congress in 1964 and two books since leaving office."
The piece traces Hamilton's path from Daytona Beach, Florida, where he was born, to his days at DePauw University, where he starred on the Tiger basketball team. After earning his degree at Indiana University, Hamilton pursued a career as an attorney but was drawn to politics. As a young congressman he worked to get Medicare approved and honed the skills of negotiation and compromise which he is now well known for.
Michael Reschke writes, "When Hamilton discusses the divisions that seem to be pulling the nation apart today, he often cites a line from President Abraham Lincoln's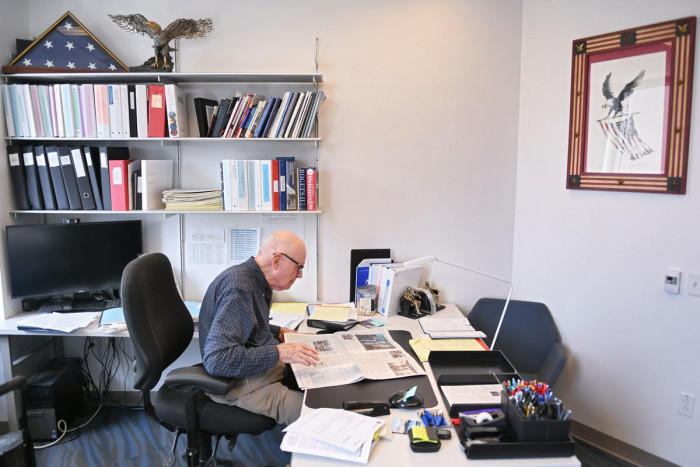 Gettysburg Address from 1863: 'Now we are engaged in a great civil war, testing whether that nation, or any nation so conceived, and so dedicated, can long endure.' The answer was in doubt then and it's in doubt now, Hamilton said. It's not guaranteed that the nation will succeed, but it has benefited from an extraordinary system. That system will sustain itself and the country will prosper if each person does their job." (at left: Hamilton at work in his Bloomington office; courtesy: Chris Howell/Herald-Times)
Hamilton, who graduated from DePauw in 1952, tells the newspaper, "Representative democracy puts a heavy burden on citizens. We have to respond the best we can."
The complete article -- "At 88, Lee Hamilton still preaching virtues of democratic system" -- is available via the Associated Press.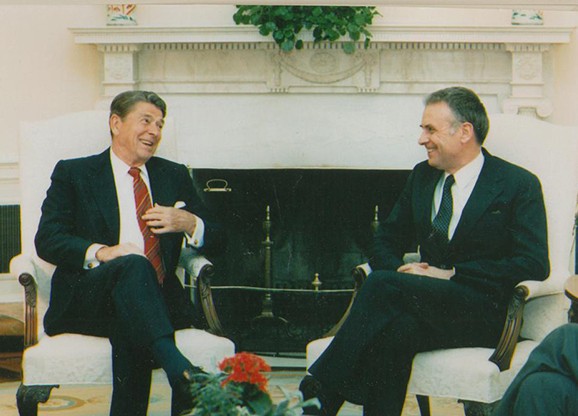 A history major and Rector Scholar at DePauw, Lee H. Hamilton remains a prominent voice in American politics. A leading figure on foreign policy, intelligence, and national security, he has received many honors, including the Presidential Medal of Freedom in 2015. Hamilton is a member of the Indiana Basketball Hall of Fame and DePauw's Athletic Hall of Fame.
Hamilton presented an Ubben Lecture at DePauw in 2011 and has received the University's McNaughton Medal for Public Service as well as an honorary doctorate from DePauw. The longtime congressman spoke to graduates at his alma mater in 1971 and 1998.
Last month he was back on campus for a program marking the 100th anniversary of the Rector Scholar program. Video of the presentation is below.
Back