Michael Mayfield Receives Battey National Educator of the Year Award
June 13, 2019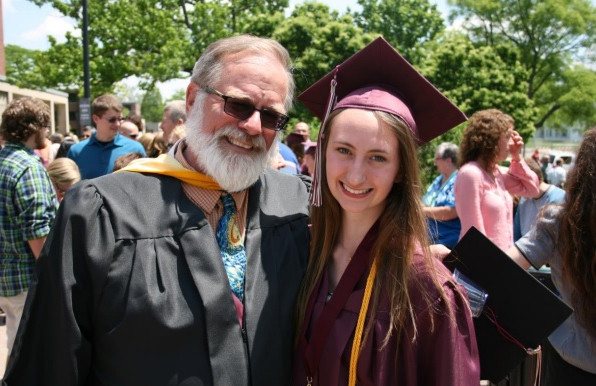 Michael R. Mayfield, who teaches science and is the science division chair at the Indiana Academy for Science, Mathematics in Muncie, Indiana, is the recipient of the 2019 Battey National Educator of the Year Award. Presented by DePauw University's Honor Scholar Program, the Battey Award recognizes a teacher who inspired a current DePauw Honor Scholar while that student was attending high school.
"Mr. Mayfield did not inspire me to change what I was passionate about or what I wanted to pursue in life, rather he helped me realize where my passions already lied," wrote Kiara Goodwine in her letter of nomination. Goodwine, who received her DePauw diploma last month (and is pictured with her teacher at the top of this article), added, "Undoubtedly of the best teachers I have ever had in my life, Mr. Michael Mayfield believed in my future before I myself even understood it."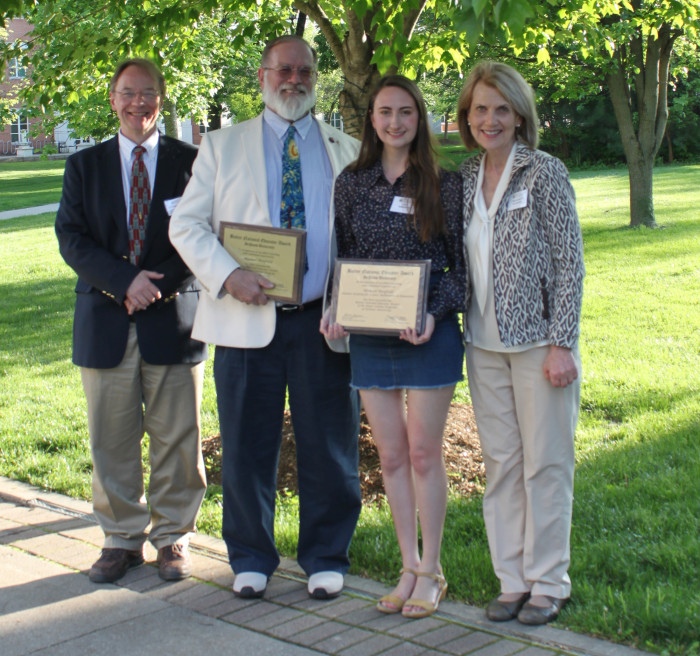 Mayfield earned his bachelor's degree from Grand Valley State University, earned an M.S. in evolutionary biology from the University of Michigan's Rackham School of Graduate Studies, and did additional graduate work at Ball State University and Long Island University. (at left: Kevin Moore, professor of psychology and neuroscience and director of the Honor Scholar Program; Micahel Mayfield; Kiara Goodwine '19; and Nancy Lovett '74, major gifts officer).
As the recipient of the Battey National Educator Award, Mayfield receives an honorarium of $7,500. The Battey Award also includes a $2,500 grant for his school.
A gift by Charles and Joan (Westmen) Battey created the endowment which funds the award, which was first presented in 2008. The Batteys wanted DePauw Honor Scholars to reflect on and recognize the long-term impact of a teacher; as a result, nominating students must be in their senior year to make a nomination. Mrs. Battey is a 1954 graduate of DePauw.
Back