DePauw Students' "Substantial, Real-Life Investing Experience" Featured in Indianapolis Business Journal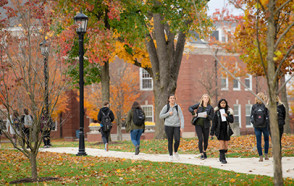 June 15, 2019
"With large amounts of money comes large responsibility -- and pressure. Brooke Bandy knows that, and she is excited," begins an Indianapolis Business Journal story. "Bandy, a 2019 alumna of DePauw University in Greencastle, was co-president of the DePauw Investment Group during the 2018-19 school year. For most of the school year, the student-managed investment group only oversaw about $160,000. But the stakes skyrocketed in April when DePauw's board of trustees added $1 million from the university's $731 million endowment."
"Obviously it's an additional sense of responsibility, now that we're managing not just our own funds," Bandy (seen below left) tells the publication.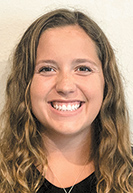 Justin Chapman writes, "Jeff Cozad, a member of DePauw's board of trustees and chairman of its investment committee, said that after he learned about the student investment group a couple of years ago, he wanted to provide it an even more substantial, real-life investing experience. 'I thought, boy, this could be a really neat collaboration between the students, the faculty, the administration … and the trustees,' said Cozad, co-founder and managing partner of Stonerise Capital Partners in San Francisco."
IBJ notes, "The idea that DePauw students would someday be managing more than $1 million was unthinkable back in 1963, when the Arie and Ida Crown Memorial Fund contributed $4,000 to kick off the program. Now the group of 50 students, who come from a wide range of majors -- including economics, computer science and communications -- meets in the McDermond Center, the management and entrepreneurship building, weekly during the school year to discuss and monitor their portfolio. They also occasionally check on the investments over the summer."
The report points out that the DePauw students' investment portfolio outperformed the S&P 500 last year.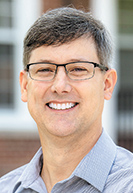 "Jeff Gropp, professor of economics and management and the group's advisor, said the investment group is organized like a real asset management company. An analyst or portfolio manager presents a stock to the investment group's executive team, leaving them to decide whether to approve or reject the proposal. Gropp must approve the investment decision as well," Chapman reports. "Gropp said he is thankful the university entrusts students with real money to manage. He said it is a big responsibility for them to protect and grow that money in order to fund future educational opportunities at DePauw."
According to Professor Gropp, "It's been a sincere honor to be a part of this group and it's really been a blessing to see the hard work that students have put into it and to see the rewards that are coming for DePauw and the future students."
Access the complete text -- headlined "DePauw grants $1M from endowment to student investment group" -- here.
Source: Indianapolis Business Journal
Back