Condoleezza Rice Coming to DePauw Oct. 8 for Ubben Lecture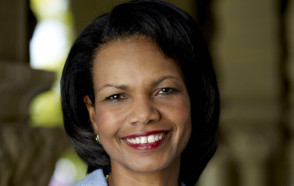 July 5, 2019
Condoleezza Rice, who the New York Times called "one of the country's most distinguished and widely respected diplomats," will come to DePauw University on Tuesday, October 8, to deliver a Timothy and Sharon Ubben Lecture. Details of the event -- including time and venue -- will be issued at a later date. Like all Ubben Lectures, the event is presented free of admission charge and is open to all. Seating will be on a first-come, first-served basis, and no tickets will be distributed.
Dr. Rice is currently the Denning Professor in Global Business and the Economy at the Stanford Graduate School of Business; the Thomas and Barbara Stephenson Senior Fellow on Public Policy at the Hoover Institution; and a professor of Political Science at Stanford University. She is also a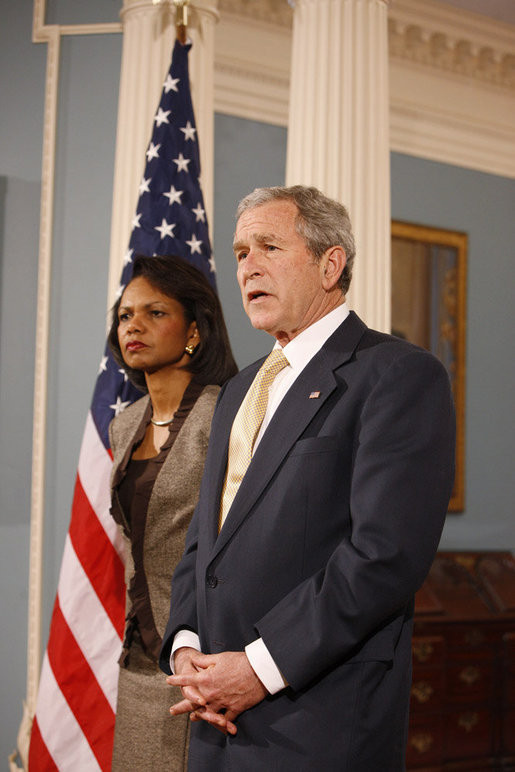 founding partner of RiceHadleyGates, LLC.
From January 2005 to 2009, Rice served as the 66th Secretary of State of the United States, the second woman and first African American woman to hold the post. Rice also served as President George W. Bush's Assistant to the President for National Security Affairs (National Security Advisor) from January 2001 to 2005, the first woman to hold the position.
Rice served as Stanford University's Provost from 1993 to 1999, during which she was the institution's chief budget and academic officer. As Provost, she was responsible for a $1.5 billion annual budget and the academic program involving 1,400 faculty members and 14,000 students. In 1997, she also served on the Federal Advisory Committee on Gender -­‐-­‐ Integrated Training in the Military.
From 1989 through March 1991, Rice served on President George H.W. Bush's National Security Council staff. She served as Director; Senior Director of Soviet and East European Affairs; and, Special Assistant to the President for National Security Affairs. In 1986, while an international affairs fellow of the Council on Foreign Relations, Rice also served as Special Assistant to the Director of the Joint Chiefs of Staff.
As professor of political science, Rice has been on the Stanford faculty since 1981 and has won two of the highest teaching honors: the 1984 Walter J. Gores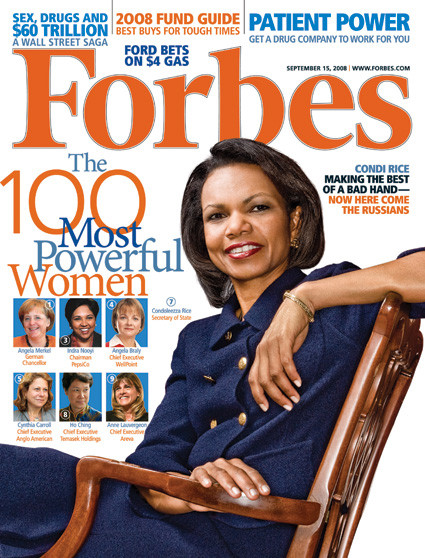 Award for Excellence in Teaching and the 1993 School of Humanities and Sciences Dean's Award for Distinguished Teaching.
Rice has appeared four times on TIME magazine's list of the world's 100 most influential people, one of only nine people in the world to have made the list so frequently.
She has authored and co-authored numerous books, including three bestsellers, Democracy: Stories from the Long Road to Freedom (2017); No Higher Honor: A Memoir of My Years in Washington (2011); and Extraordinary, Ordinary People: A Memoir of Family (2010). She also wrote Germany Unified and Europe Transformed: A Study in Statecraft (1995) with Philip Zelikow; The Gorbachev Era (1986) with Alexander Dallin; and Uncertain Allegiance: The Soviet Union and the Czechoslovak Army (1984).
"I have watched, as people in Africa, Asia and Latin America have insisted on freedom," Dr. Rice wrote in her most recent book. "As a child, I was a part of another great awakening: the second founding of America, as the civil rights movement unfolded in my hometown of Birmingham, Ala., and finally expanded the meaning of 'We the people' to encompass people like me. … There is no more thrilling moment than when people finally seize their rights and their liberty."
In 1991, Rice co-founded the Center for a New Generation (CNG), an innovative, after-­school academic enrichment program for students in East Palo Alto and East Menlo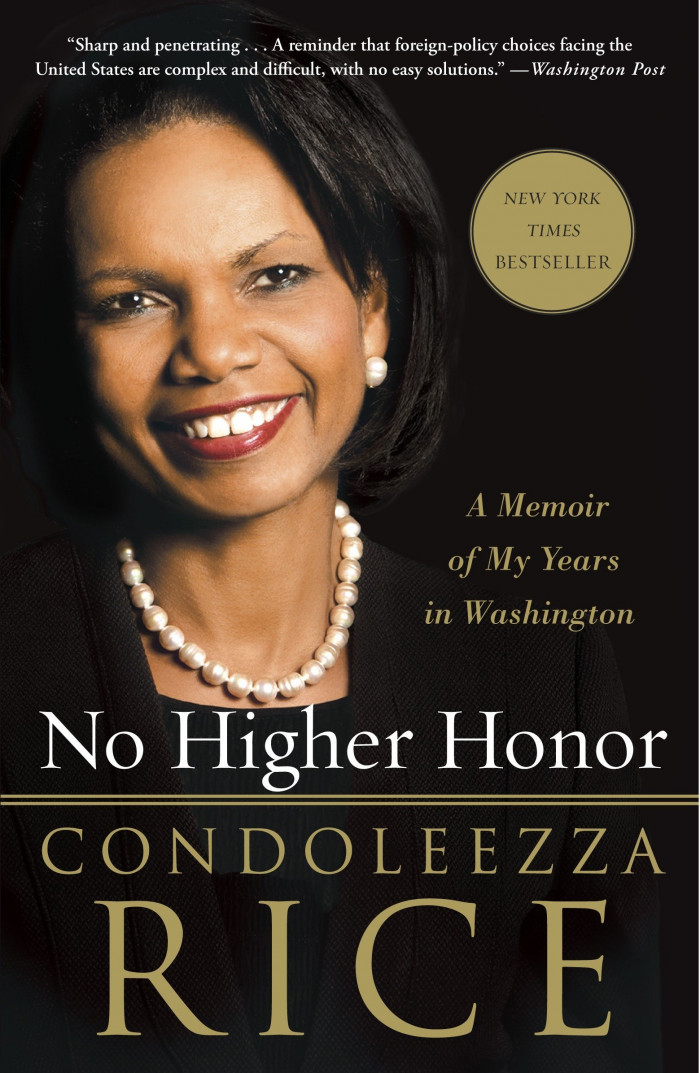 Park, California. In 1996, CNG merged with the Boys and Girls Club of the Peninsula (an affiliate club of the Boys and Girls Clubs of America). CNG has since expanded to local BGCA chapters in Birmingham, Atlanta, and Dallas. She remains an active proponent of an extended learning day through after school programs.
Since 2009, Rice has served as a founding partner at RiceHadleyGates, LLC, an international strategic consulting firm based in Silicon Valley and Washington, D.C. The firm works with senior executives of major companies to implement strategic plans and expand in emerging markets. Rice currently serves on the boards of Dropbox, an online-­‐storage technology company; C3, an energy software company; and Makena Capital, a private endowment firm. In addition, she is vice chair of the board of governors of the Boys and Girls Clubs of America; a member of the board of the Foundation for Excellence in Education; and a trustee of the Aspen Institute.
Her previous board service includes service to the Commonwealth Club, the University of Notre Dame, the John F. Kennedy Center for the Performing Arts, and the San Francisco Symphony Board of Governors. In 2013, Rice was appointed to the College Football Playoff Committee, formerly the Bowl Championship Series.
Born in Birmingham, Alabama, Rice earned her bachelor's degree in political science, cum laude and Phi Beta Kappa, from the University of Denver; her master's from the University of Notre Dame; and her Ph.D. from the Graduate School of International Studies at the University of Denver. Rice is a Fellow of the American Academy of Arts and Sciences and has been awarded fifteen honorary doctorates. She currently resides in Stanford, California.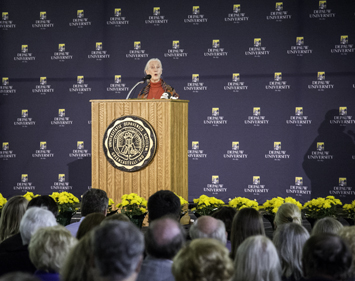 Established in 1986 through the generous support of 1958 DePauw graduates Timothy H. and Sharon Williams Ubben, the Ubben Lecture Series was designed to "bring the world to Greencastle." The series has presented 113 events over the past 33 years.
Previous Ubben Lecturers have included Malala Yousafzai, Margaret Thatcher, Bill Clinton, Spike Lee, Jimmy Kimmel, Vernon Jordan '57, Mikhail Gorbachev, David Cameron, Jane Goodall (seen at right), Tony Blair, David Brooks, Leslie Odom Jr., Doris Kearns Goodwin, John Kasich, Mike Krzyzewski, Julian Bond, Jenna Fischer, General Colin Powell, Michio Kaku, Piper Kerman, Barbara Bush, Jimmy Wales, Jesse Jackson, Todd Rundgren, Martin Luther King III, Willy Brandt, Bob Woodward, Carl Bernstein, Ambassador L. Paul Bremer, Bill Rasmussen '54, General Wesley Clark,Greg Mortenson, Arne Duncan, Ken Burns, Ron Paul, Karl Rove, Howard Dean, Eric Schlosser, Dan Quayle '69, Jane Pauley, Harry Belafonte, Sam Donaldson, David McCullough, John Major, Lee Hamilton '52, Ralph Nader, Bret Baier '92, Mitch Albom, Brian Mulroney, Yeonmi Park, Candy Crowley, Peyton Manning, Liz Murray, Jason Reitman, William J. Bennett, Richard Lamm,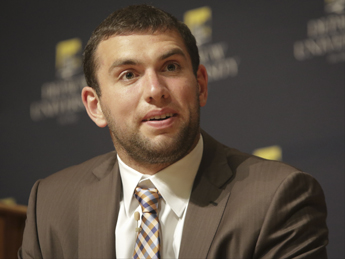 Andrew Luck (pictured at left), Mary Frances Berry, Jim Lovell, Gwen Ifill, ice cream entrepreneurs Ben Cohen & Jerry Greenfield, Douglas Hallward-Driemeier '89, Stephen Levitt, Allan Bloom, Andrew Young, Paul Volcker, David Hanson and his robot creation Sophia, Naomi Wolf, Ross Perot, Sister Helen Prejean, Bill Bradley, Ferid Murad '58, Paul Tsongas, Nicholas Carr, Rebecca Skloot, Seymour Hersh, Zbigniew Brzezinski, George Will, Carl Rowan, and many others.
To view a complete roster of Ubben Lecturers -- which includes links to video clips and news stories -- click here. Video montages of many events are available on YouTube.
Back