Bruce Armbrust '94 Named Lake Tahoe Community College's 'Distinguished Faculty Member of the Year'
July 4, 2019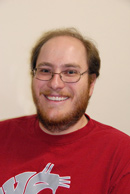 Bruce Armbrust, instructor of mathematics and physics at Lake Tahoe Community College and 1994 graduate of DePauw University, is the recipient of LTCC's "Distinguished Faculty Member of the Year" award. Selected by his faculty colleagues, Armbrust receives $500 and another $500 for the LTCC academic program or student scholarship of their choice.
A member of the faculty since 1999, Armbrust is "known for his student-centered approach and expertise in the classroom along with his total dedication to all students, including the many students he's personally assisted who are in LTCC's Incarcerated Students Program (ISP). In the nominating application for this award, one of his fellow faculty members wrote that Armbrust understands 'that all students, regardless of their circumstances, should be afforded access to higher education. Whether teaching Calculus students at LTCC or basic arithmetic in High Desert State Prison, Bruce loves to teach math and help students meet their highest potential.'"

Read more here.
A Rector Scholar at DePauw, Armbrust earned an M.S. from Colorado State University. In 2017 he was named LTCC's "Teacher of the Year."
Back