Coach Kris Huffman to be Inducted Into the University of Northern Iowa Athletics Hall of Fame
July 10, 2019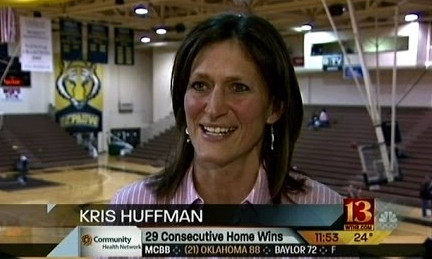 DePauw University's head women's basketball coach, Kris Huffman, is among the 2019 inductees into the University of Northern Iowa Athletics Hall of Fame. A 1990 graduate of UNI and the coach of two national championship teams at DePauw, Huffman and the other honorees will be inducted in ceremonies on Saturday, September 21, in the McLeod Center.
"This year's UNI Hall of Fame class earned national championships and All-American honors," said David Harris, director of athletics at UNI. "Their names appear throughout our record books and the men's basketball win over Kansas in the NCAA tournament [in 2010] brought UNI to a new level of national recognition. But more than their impact to Panther Athletics, they've continued to impact their respective communities into their careers. We are proud to have these outstanding people as alumni of the University of Northern Iowa and more proud to call them Panthers."
"Huffman hung up her basketball shoes at UNI nearly three decades ago, but her legacy remains," the university notes. "She still holds the career mark for the best three-point percentage (.483) in UNI history and ranks in the career top-10 in points, scoring average, field goals made, free throw percentage, assists and steals. She also recorded the only triple-double in program history with 12 points, 10 rebounds and 10 assists against Eastern Illinois in the 1985-86 season. Her accomplishments as a player at UNI pale in comparison to her record as a coach. She was an assistant at Wartburg before becoming the head coach at DePauw University in Greencastle, Indiana, in 1993. She went 22-26 during her first two se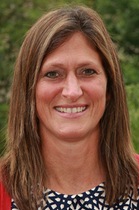 asons, but since that time, she has not had double-digit losses in a single season. She led the Tigers to DIII National Championships in 2007 and 2013 and 20 NCAA DIII Championship appearances, including 16 consecutive trips to the tournament. Huffman has seven National Coach of the Year honors and has been named the Conference Coach of the Year 12 times. She served as the court coach for the 2008 USA Basketball Women's U18 National Team Trials. She is also the assistant athletics director at DePauw and currently serves on the NCAA DIII Women's Basketball Committee."
Read more here.
Coach Huffman is also a member of the Iowa Women's Basketball Hall of Fame and the Indiana Basketball Hall of Fame. Get the latest on the women's basketball program at the team's online page.
Back