"Information Chaos" is a Disservice to American Citizens, Opines Prof. Jeff McCall '76
July 13, 2019
According to Jeffrey M. McCall, professor of communication (media studies) at DePauw University, "in the 21st Century, the role and effectiveness of the American press must be scrutinized to assess whether it can truly measure up to its constitutional promise. The news media may now be more of a hindrance than a help to national understanding."
In a column for The Hill, Dr. McCall observes, "The nation suffers today from information chaos characterized by competing political narratives, fake news and social media mayhem. Citizens struggle to make sense of confusing messages entering the public sphere from propagandists, provocateurs, corporatists, political activists and other self-serving sources. America's constitutional framers created a First Amendment that allowed for a free press. The free press, presumably, would then provide a wide range of information, thus helping citizens sort out the superficial, emotional and irrational from the reasonable. The "news" was to be the conversation of democracy. The press was to serve as surrogate for the public, holding the powerful accountable. The press was expected to manage information chaos."

The professor points to recent examples of a media engaged in "cringeworthy performance," stating, "The overall news agenda is no longer designed to enlighten the nation on matters of substance as to sensationalize and generate emotional hype. 'News' is now defined as what the shrillest of political agitators has to say or which nonsensical pop culture fad is going viral on social media."
According to McCall, "The objectivity standard eroded in the late 20th Century as a core of academics contended that the standard stifled journalists. Stanford's Theodore Glasser wrote, 'Objective reporting has stripped reporters of their creativity and imagination.' That, of course, was the point of objectivity. The public seemed to prefer that standard to today's ill-defined journalistic, 'creative' crusaderism. The news industry might consider how a return to principles of objectivity could reverse the public's growing disenchantment with its supposed surrogates."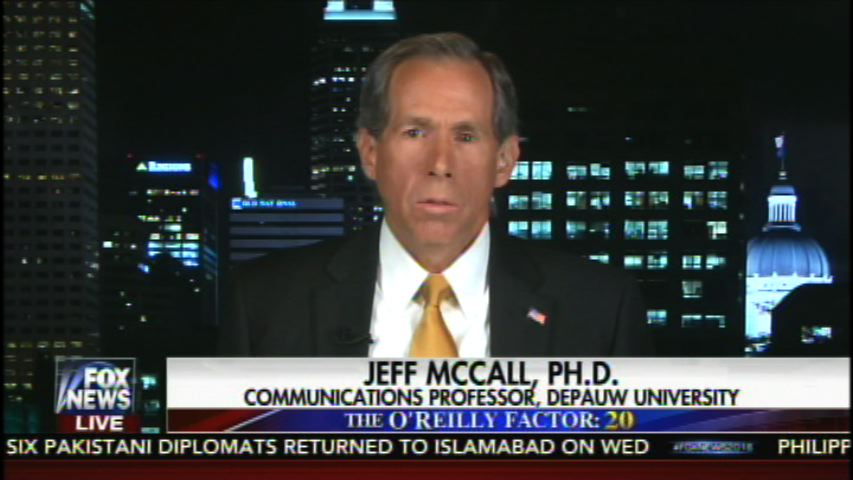 You can read the complete column at the newspaper's website.
Jeff McCall is a 1976 graduate of DePauw, where he was a Rector Scholar and speech (communication) major. He went on to earn a master's degree from the University of Illinois and a Ph.D. from the University of Missouri. He joined the DePauw faculty in 1985 and is the author of Viewer Discretion Advised: Taking Control of Mass Media Influences.
A former journalist himself, McCall is regularly quoted in stories on media matters. Another recent column for The Hill is accessible here.
Source: The Hill
Back