ESPN Founder Bill Rasmussen '54 Reveals "New Chapter" and Calls for "Enthusiastic Effort" to Tackle Parkinson's Disease
July 15, 2019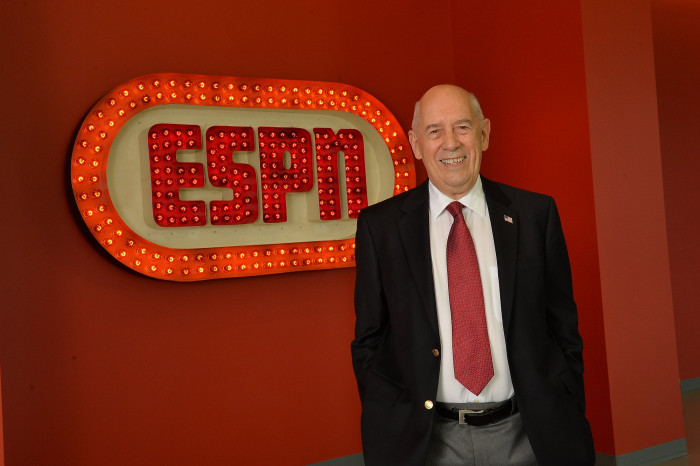 "I'm a positive guy," Bill Rasmussen, founder of ESPN and 1954 graduate of DePauw University, writes today for the network's website. In an open letter Rasmussen announced that he was diagnosed with Parkinson's Disease in 2014 and has now decided to share the news publicly in hopes it well help others.
"I always look at the positive side of people, projects, ideas, etc.," Rasmussen states. "For some reason, Parkinson's is kind of an orphaned malady -- people don't like to talk about it, as if it were taboo. Well, 40 years ago, people didn't want to talk about a 24-hour sports network either as if competing with 'The Big Three' broadcast networks was taboo. We never stopped asking questions, solving problems and selling the dream. A lot of really good people did believe and we see the results of that effort today.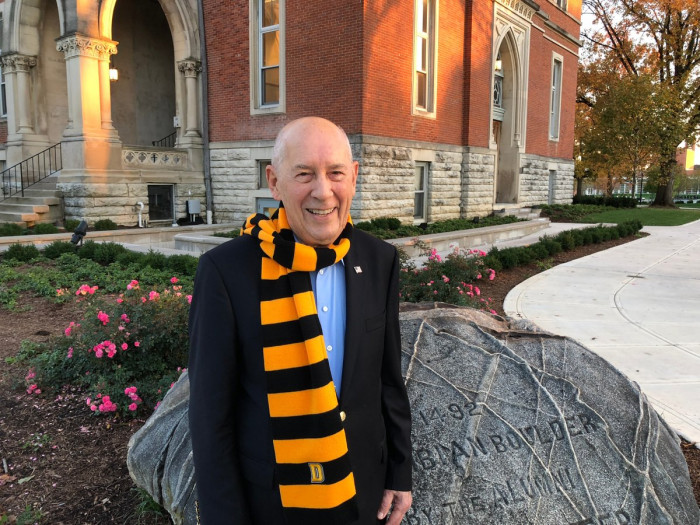 "Let's tackle Parkinson's with the same enthusiastic effort. I'll be talking a lot about PD in the weeks and months ahead -- not as a victim, but as living, breathing proof that when you or a loved one hears the dreaded words, 'You have Parkinson's disease,' life is not over -- it's just the beginning of a new chapter."
The entrepreneurial broadcast pioneer asserts, "I can still walk, talk, think and . . . throw a baseball. I've been doing that for over 75 years growing up in Chicago, then at DePauw University and in the United States Air Force; as well as a couple of ceremonial 'first pitches' at Citizens Bank Park in Philadelphia for our 30th anniversary and last August at T-Mobile Park in Seattle for a Mariners' game. Now as part of the 40th Anniversary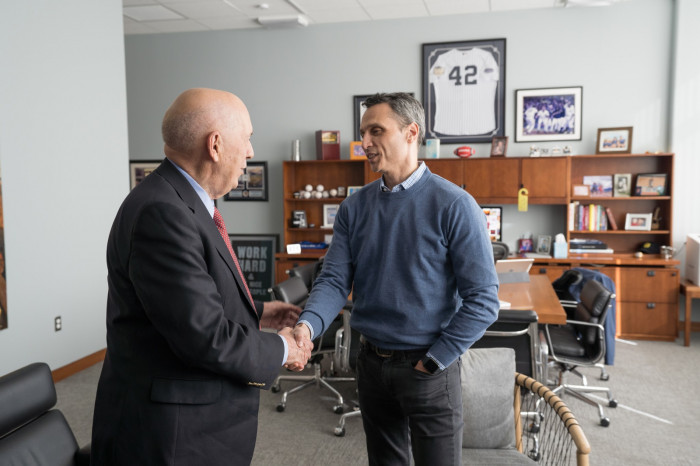 edition of Sunday Night Baseball, Sept. 8, I'm thrilled to be doing First Pitch honors along with ESPN President Jimmy Pitaro at Fenway Park when the Red Sox entertain the New York Yankees. This is all part of a series of visits I'll make with ESPN employees in Charlotte, New York, Bristol and Los Angeles that same week." (at right: Rasmussen with Pitaro at ESPN's headquarters)
Rasmussen's letter concludes, "So that's my new story. People with PD can live active, healthy lives by adding physical fitness, awareness, good nutrition habits, a strong positive attitude and more to their daily routine."
Read more here or at Yahoo! Sports.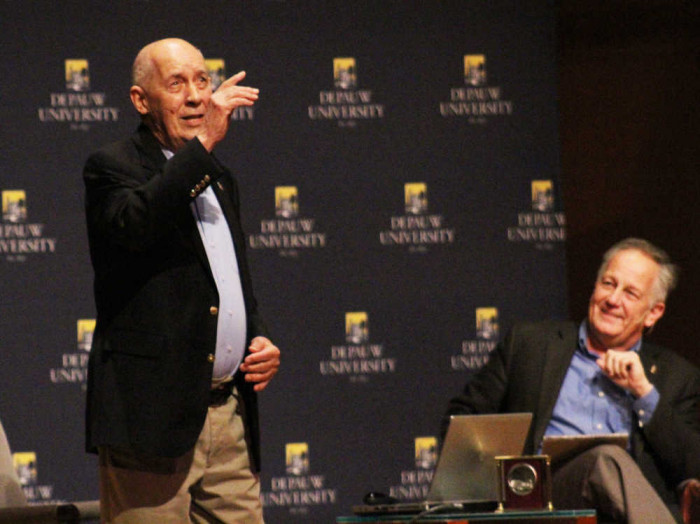 A Rector Scholar and economics major at DePauw, Bill Rasmussen went on to earn an M.B.A. from Rutgers University. He's been called "the father of cable sports" by USA Today, was recognized as one of "The Champions: Pioneers & Innovators in Sports Business", and was named in 1994 by Sports Illustrated as one of 40 individuals who altered and elevated the world of sports in the second half of the 20th century. He created the network with his son, Scott, a 1986 DePauw graduate.
Rasmussen returned to DePauw in November 2017 for a week-long residency that included meetings with students and an Ubben Lecture, which is embedded below.
Back