Reporter Robert Sherman '18 Gets Shout-Out on Network Morning News Program
August 6, 2019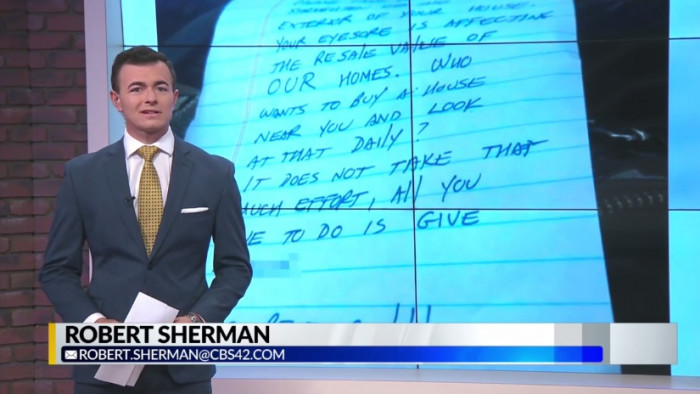 "The reporter who did this, Robert Sherman of our CBS 42 station in Birmingham, said, 'Sticks and stones can break your bones, but words can inspire a whole community," noted today's edition of CBS This Morning. The program shared a story originally reported by Sherman, a 2018 graduate of DePauw University, on a Pinson, Alabama woman who received an angry, anonymous note from a neighbor complaining about the condition of her yard. She shared the note on social media and a group of strangers came together for an impromptu clean-up session.
The woman, Randa Ragland, has a 3-year-old who is battling neuroblastoma stage four cancer.
"My whole point was to show people you don't know what somebody's going through," Ragland told Sherman, who first broke the story. "Kindness goes such a long way. Gratitude goes such a long way."
Access his original story at the station's website. A clip from the morning program is embedded below.
Robert Sherman was a communication major and Media Fellow at DePauw, where he was active in student media on WGRE-FM and D3TV. Learn more in this previous story.
Back