At Age 23, Giramata '17 "Is Considered One of the Leading Poets" in Rwanda
August 24, 2019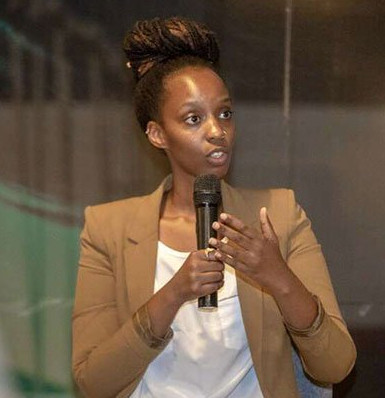 "At only 23 years old, Giramata has made a name for herself as a poet, blogger, feminist, gender activist and a grass roots community organizer," begins a piece on the 2017 DePauw University graduate in the East African. "No stranger to the public, and preferring to use just one name, Giramata, she is considered one of the leading poets in the country having performed at the 20th commemoration of the 1994 Genocide against the Tutsi in Washington D.C., in the U.S. and the 20th Liberation Day at Amahoro Stadium in 2014; the 2015 Rwanda Day in Atlanta and recently at the 25th Liberation Day at Amahoro Stadium on July 4 this year, where she was the lead spoken word performer."
Born in Rwanda as Amata Giramata, she began writing poetry in the eighth grade and studied economics and women's, gender and sexuality studies at DePauw, where she was also known as Inès Giramata. She is now working toward a Ph.D. in gender and women's studies at the University of Arizona.
Giramata is the founder of Sistah Circle, which she describes as "a black feminist and womanist grass roots community dedicated to black women's lives and narratives told through radical love and storytelling."
Access the piece at the weekly newspaper's website.
Also available is this previous summary.
Source: East African
Back