Pro Football Stint of Former Congressman Winfield Denton '19 Noted in Newspaper
August 25, 2019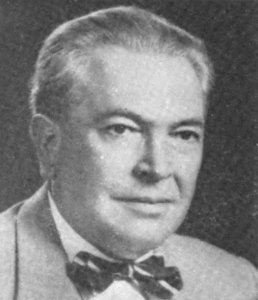 Ohio's Canton Repository offers an article with "a look at some notable pro football players who served in federal government," and the rundown includes Winfield K. Denton, a 1919 DePauw University graduate who served seven terms in the U.S. House of Representatives after a brief athletic career.
"Winnie, as he was known, went to DePauw University in Greencastle, Ind.," writes Jon Kendle. "He later played one game for the Evansville Crimson Giants of the NFL. The team was one of 18 NFL teams during the 1922 season but folded after just three games."
The piece begins by noting, "Recently U.S. Representatives Anthony Gonzalez (R-Ohio) and Collin Allred (D-Texas) attended the Pro Football Hall of Fame's Enshrinement Week. The politicians enjoyed the festivities shortly after holding a joint town hall meeting. If those names ring a bell, it may be you remember watching them on Sunday when they played in the National Football League. The two, now freshmen in Congress, want to showcase the bipartisanship and collaboration they learned from football and use it to help the country. The rigors of playing pro football and the values it teaches certainly seem ideal to condition an individual to compete in political circles."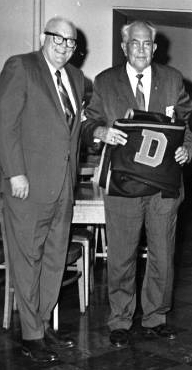 After earning his bachelor's degree from DePauw, Winfield Denton earned a J.D. from Harvard Law School. He served in both world wars, as a member of the United States Army Air Corps in World War I and with the United States Army during the Second World War. He was prosecuting attorney of Indiana's Vanderburgh County from 1932 to 1936 then served in the Indiana state legislature from 1937 to 1942, and was the minority leader in 1941.Read more here. (at right: Denton receives a "D" blanket from James Loveless, director of athletics, at a 1969 50th reunion of the Class of 1919)
A Democrat from Indiana's eighth district, Denton served two terms in Congress (1949–1953) before losing a re-election bid. He reclaimed the seat in 1955 and served through 1966. He was on hand on May 11, 1957 as Vice President Richard M. Nixon received an honorary doctorate from DePauw.
Denton died on November 2, 1971, in Evansville, Indiana.
Back