Founder Bill Rasmussen '54 Joins in the Celebration of ESPN's Sign-On, 40 Years Ago Today
September 7, 2019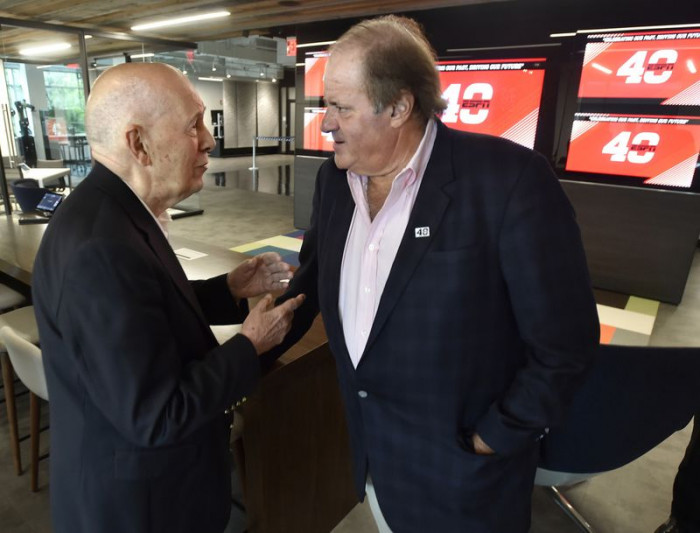 "Saturday marks the 40th anniversary of ESPN's first telecast, an edition of SportsCenter taped from the network's Bristol studios," reports today's Hartford Courant. "To recognize the occasion, ESPN held an in-house celebration Friday, featuring a state-of-the-company address from President Jimmy Pitaro, a visit from NBA rookie Zion Williamson, the unveiling of an on-site company museum, and a panel featuring past and present ESPN personalities ... Afterward, 10 employees who had worked at ESPN since at least 1980, along with founder Bill Rasmussen and the recently retired Ley, gathered for a screening of a SportsCenter special that aired on ESPN2 later Friday night, featuring 40 behind-the-scenes anecdotes from the network's first four decades." (photo by Brad Horrigan/Courant; Rasmussen chats with anchor Chris Berman at yesterday's event)
Alex Putterman notes, "ESPN's anniversary celebration will continue Sunday night, when Rasmussen throws a ceremonial first pitch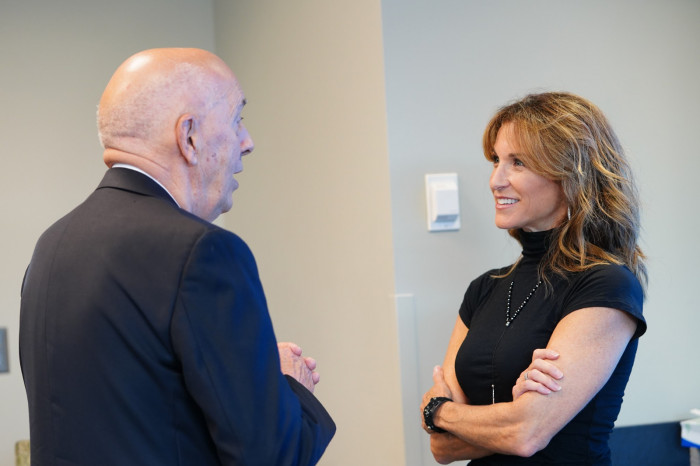 ahead of the Red Sox-Yankees game, with Pitaro as his catcher. (Rasmussen, 87, practiced this week in Southington, throwing a near-perfect strike from 60 feet, 6 inches away.) On Monday night, the sports magazine show E:60 will air an episode about the first ever live event broadcast on ESPN, a softball professional slo-pitch softball game between the Kentucky Bourbons and the Milwaukee Schlitz." (at left: Rasmussen chats with Suzy Kolber)
Read more at the newspaper's website. There's also a piece at ESPN.com.
The anniversary of ESPN is celebrated in a music video by Queen Latifah, who name checks Rasmussen. It is embedded below.
ESPN "Rapper's Delight" Remix | Queen Latifah from ESPNFrontRow on Vimeo.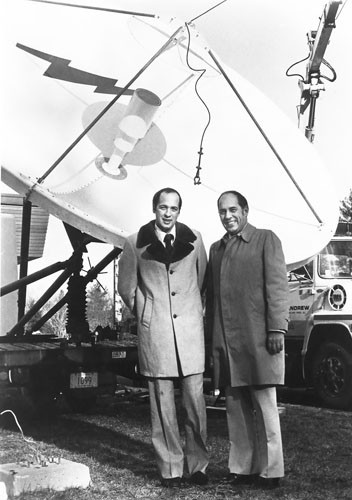 Bill Rasmussen, a 1954 graduate of DePauw University, came up with idea of a 24-hour sports satellite network while stuck in traffic with his son, Scott '86, 41 years ago.
A Rector Scholar, economics major and baseball player as an undergraduate, Rasmussen went on to serve in the United States Air Force and earned an M.B.A. from Rutgers University. He's been called "the father of cable sports" by USA Today, and "the George Washington of ESPN", by Chris Berman. "His accomplishments, however, transcend the boundaries of the sports arena into areas beyond our wildest dreams."
Rasmussen was recognized as one of "The Champions: Pioneers & Innovators in Sports Business", and was named in 1994 by Sports Illustrated as one of 40 individuals who altered and elevated the world of sports in the second half of the 20th century. He's on the Media Wall of Fame at DePauw University's Pulliam Center for Contemporary Media and is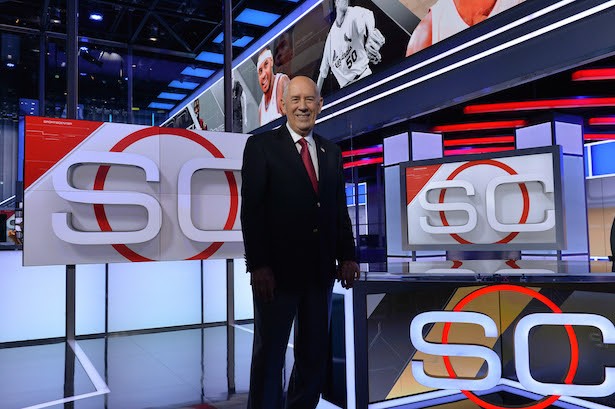 the author of Sports Junkies Rejoice! The Birth of ESPN.
On July 15 in an open letter, Rasmussen announced that he was diagnosed with Parkinson's Disease in 2014 and has decided to share the news publicly in hopes it well help others.
Rasmussen has made many visits to DePauw. In November 2017 he had a week-long residency that included meetings with students and an Ubben Lecture, which is embedded below.
Back