Important Information on Tuesday's Ubben Lecture by Condoleezza Rice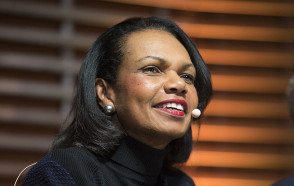 October 6, 2019
Those planning to attend Tuesday's Ubben Lecture by Condoleezza Rice should be aware that doors to Kresge Auditorium will close at 7:25 p.m., five minutes before the event begins. It is advised that guests arrive early to the venue, which is located within DePauw University's Green Center for the Performing Arts (600 S. Locust Street).
Please note that all attendees will be required to show a photo ID to enter Kresge Auditorium and the following items are strictly prohibited inside the venue: bags, purses, coats, weapons or sharp objects, and signs will not be allowed.
Parking will be limited due to construction so visitors to campus should allow extra time to park and walk. A campus map is accessible here. Consider curb parking along Locust Street or use the following parking lots and sidewalks to enter using the north entrance into the Judson and Joyce Green Center of Performing Arts, 600 S. Locust Street: Ohio Street(19), Hogate Hall South lot(11), Pulliam Center for Contemporary Media lot (6), Elm Street lot (8), Emison Admission Building lot (9),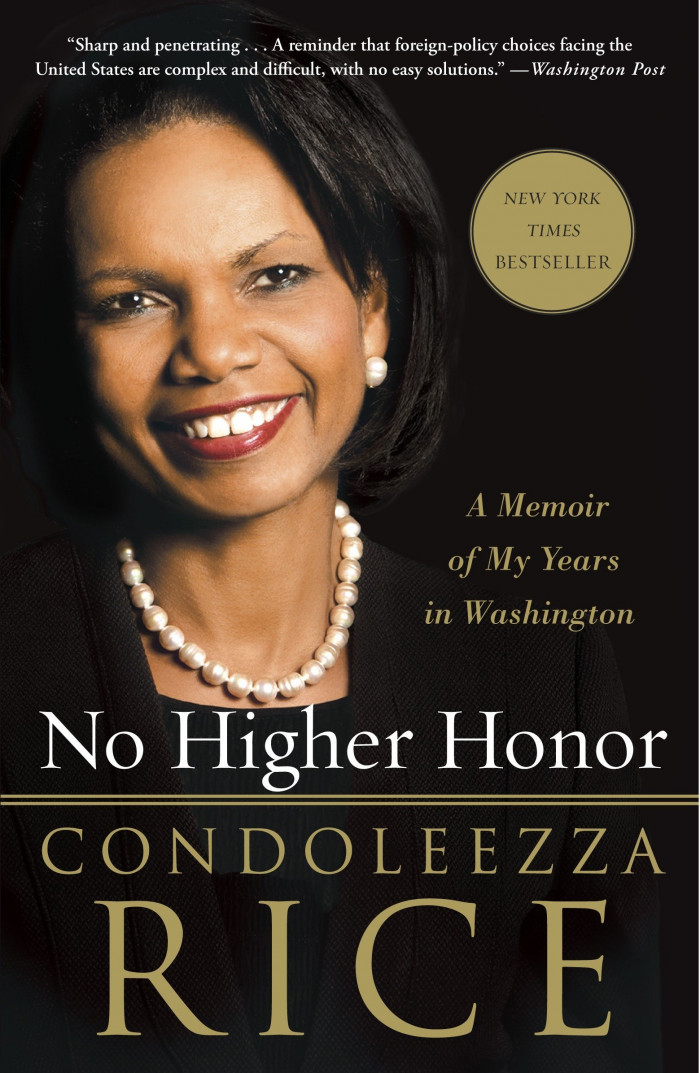 Gobin Church lots on south and north sides (corner of Seminary and Simpson Streets), or the Administration Building lot (1).
See current campus construction projects here.
As was originally announced July 5, the event will be presented free of admission charge and is open to all, as is the case with all Ubben Lectures. Seating will be on a first-come, first-served basis, and no tickets will be distributed.
Dr. Rice is currently the Denning Professor in Global Business and the Economy at the Stanford Graduate School of Business; the Thomas and Barbara Stephenson Senior Fellow on Public Policy at the Hoover Institution; and a professor of Political Science at Stanford University. She is also a founding partner of RiceHadleyGates, LLC.
From January 2005 to 2009, Rice served as the 66th Secretary of State of the United States, the second woman and first African American woman to hold the post. Rice also served as President George W. Bush's Assistant to the President for National Security Affairs (National Security Advisor) from January 2001 to 2005, the first woman to hold the position.
Her latest book, To Build a Better World: Choices to End the Cold War and Create a Global Commonwealth (co-authored by by Philip Zelikow, White Burkett Miller Professor of History and J. Wilson Newman Professor of Governance at the University of Virginia's Miller Center of Public Affairs), was released last month.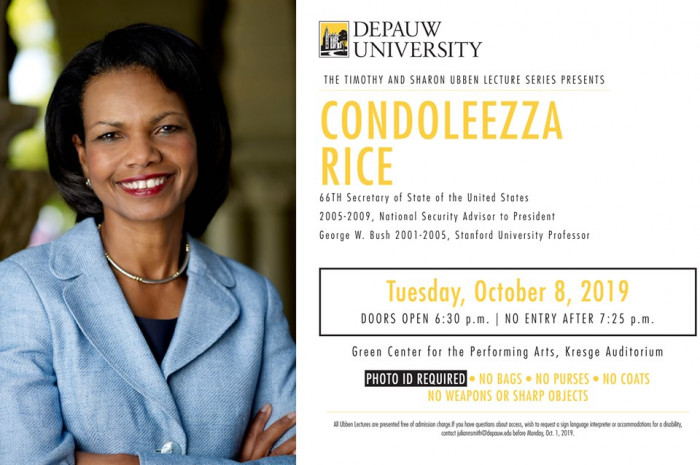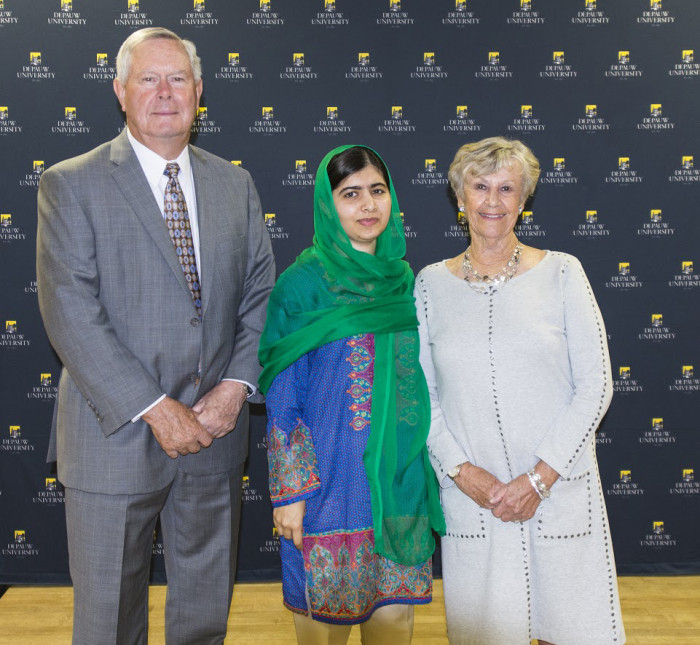 Established in 1986 through the generous support of 1958 DePauw graduates Timothy H. and Sharon Williams Ubben, the Ubben Lecture Series was designed to "bring the world to Greencastle." Tuesday will be the 114th program the series has presented, with notable past visitors including over the past 32 years, including Mikhail Gorbachev, Elie Wiesel, Spike Lee, Margaret Thatcher, Jimmy Kimmel, Tony Blair, Peyton Manning, Malala Yousafzai (seen with the Ubbens at right), and Bill Clinton.
To view a complete roster of Ubben Lecturers -- which includes links to video clips and news stories -- click here. Video montages of many events are available on YouTube.
Back