DePauw Billboard Featuring ESPN VP Jill Frederickson '92 in Indy Star
October 3, 2019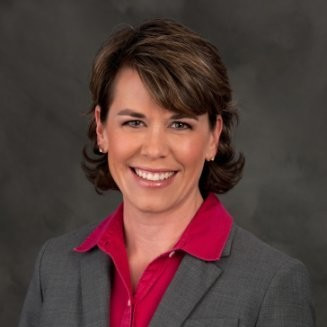 "My kids are excited their mom is on a billboard," Jill Frederickson, vice president of production at ESPN and 1992 graduate of DePauw University, tells the Indianapolis Star. The newspaper notes that a new DePauw campaign includes billboards featuring Frederickson. "It would be weirder if I lived in Indianapolis, but the fact I live (in Connecticut) makes it more of an out-of-body experience," she says.
The article includes a question-and-answer session with Frederickson, who is asked how the billboards came to be.
"Obviously, I keep in touch," the philosophy and religion major states. "When they have students interested in talking to somebody about their future or careers in media, I get a lot of emails from the folks in the alumni association. They just emailed and asked. I think they did an article in the magazine of how there are a number of members of the class of '92 are in media. I think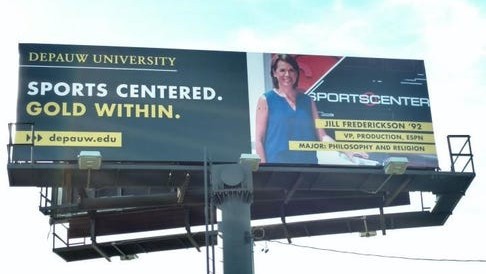 it was maybe a year ago that it came out, and I had done an interview and taken some pictures. So I think they had that picture on file and I'm sure it's nice to have a SportsCenter brand on a picture associated with DePauw."
Of her alma mater, she recalls, "I was a Pi Phi there. My mom and my dad met at DePauw in the late '50s. My mom was a Pi Phi, my dad was an ATO. My sister met her husband at DePauw in like '85, '86, maybe earlier than that. She was a Pi Phi and he was a Beta. It's just very nostalgic to go back because I lived in the exact same house that my sister and my mom and my aunt lived in. I just think about the history there and the things that make that place so important to me personally."
Tyler Kraft asks Frederickson what being featured on the billboards means to her. "It means a lot.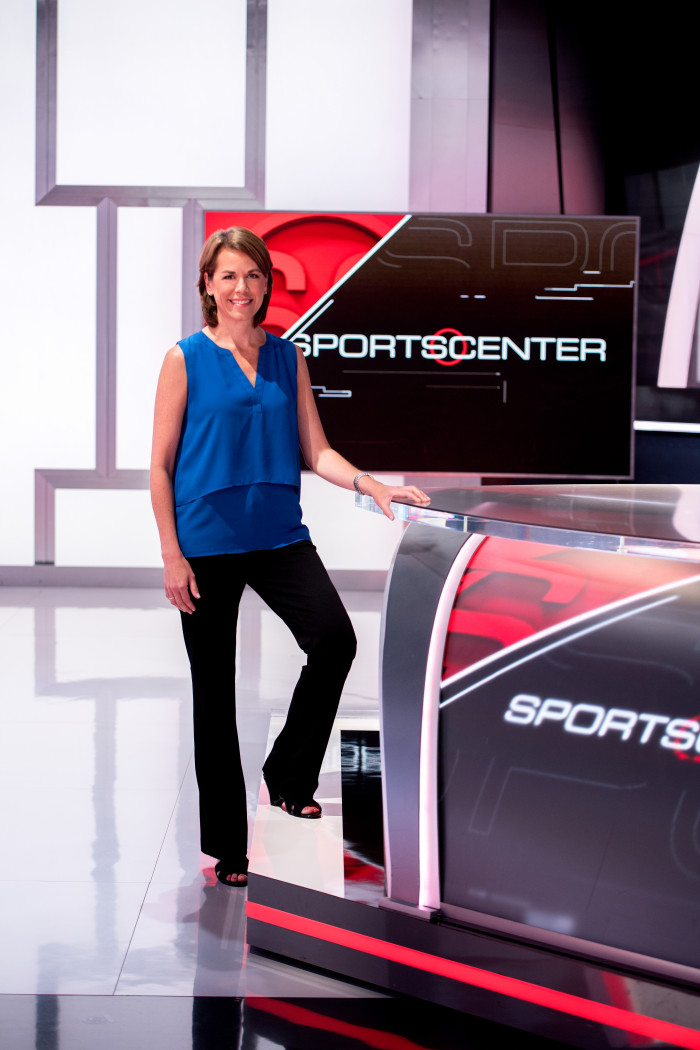 Especially DePauw, a small school. I never realized how small it is until I talk to my colleagues, who went to so much bigger schools. I think the alumni network is what keeps DePauw going, financially and emotionally. I think it's important to give back to the school that has given us so much. So, I think the fact that they looked to me and that I would even be worthy of going on a poster or speaking or much less a billboard is flattering and kind of overwhelming."
Access the complete piece at IndyStar.com.
Frederickson was previously senior coordinating producer of SportsCenter and news editorial operations and before that led all of ESPN's event motorsports production, including NASCAR and the IndyCar Series. he has won multiple Sports Emmy Awards, including for her work on NBC's coverage of the 1996 Summer Olympics.
Learn more in this previous summary.
Source: Indianapolis Star
Back