Greencastle Students Learn About Construction at Site of New DePauw Residence Hall
October 5, 2019
"Students from Ridpath Primary School got an opportunity to see the construction of a new dorm on DePauw University's campus firsthand Thursday morning," reports Greencastle's Banner-Graphic. "Classes taught by Heather Miller, Kellina Croan and Julia Stevens were invited by Messer Construction leaders to learn about safety at the job site, as well as to get some insight into what goes into creating a new building. The classes first met inside the Pulliam Center For Contemporary Media to hear from project superintendent Gino Martino, as well as project engineer Nathan Heine and project executive Daren Shoemaker. Rob Harper of DePauw's facilities management team also supervised the visit."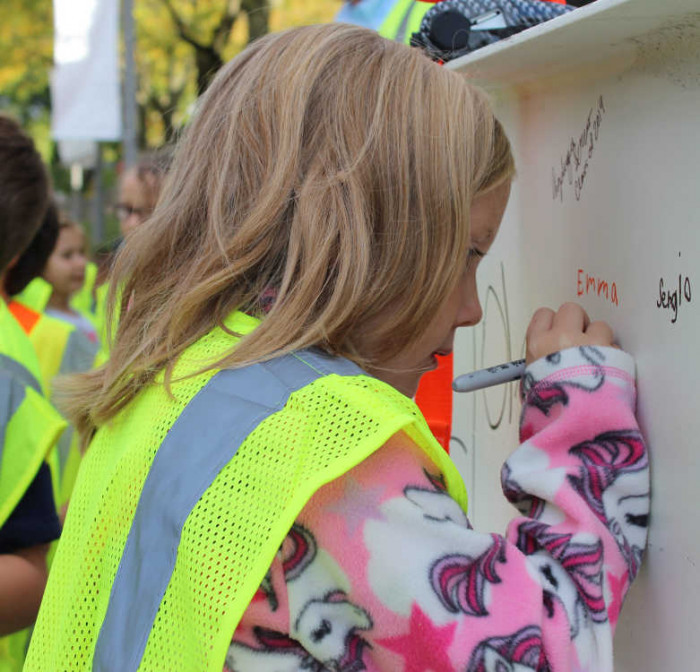 Brand Selvia writes, "Before the group walked to the construction site just across the street from the Pulliam Center, the students were provided with their own safety vest, as well as a carpenter pencil and small, squishy hardhat. Though they were unable to go directly into the heart of the work being done, the students got excited when a crane lifted a beam to the top of the skeleton of the new dorm, cheering as it was then secured by a worker. They also got to sign their names on a beam which will be installed at a later date. All three classes are currently studying buildings and construction, and have watched the ongoing work since it began last March. As such, Messer Construction took the initiative and reached out to Miller to set up Thursday's visit."
Access the article at the newspaper's website.
Learn more about the plans to build four new residence halls on campus in this previous summary.
Back