Indy Star Spotlights "Latest Chapter Added to Thrilling Monon Bell Rivalry"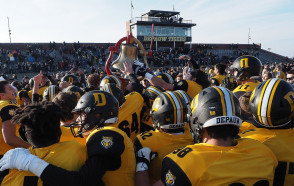 November 17, 2019
"If the previous 125 Monon Bell games have taught us anything, it's expect the unexpected. And expect late drama," begins an article in today's Indianapolis Star. Ryan Gregory writes, "Saturday's annual meeting between DePauw and Wabash was no different. A 62-yard touchdown pass from Chase Andries to Gavin Ritter with 38 seconds left lifted the Tigers to a 17-13 win over the Little Giants in yet another thriller. Just moments before, Wabash had taken the lead on a 30-yard field goal from Schuyler Nehrig." (photos by Linda Striggo)
Andries, a junior quarterback who was playing in his second Bell game, fumbled early in yesterday's game on a play that resulted in a Wabash touchdown. He told the newspaper, "I have no words. This is always such an emotional game. It's unbelievable and I am so proud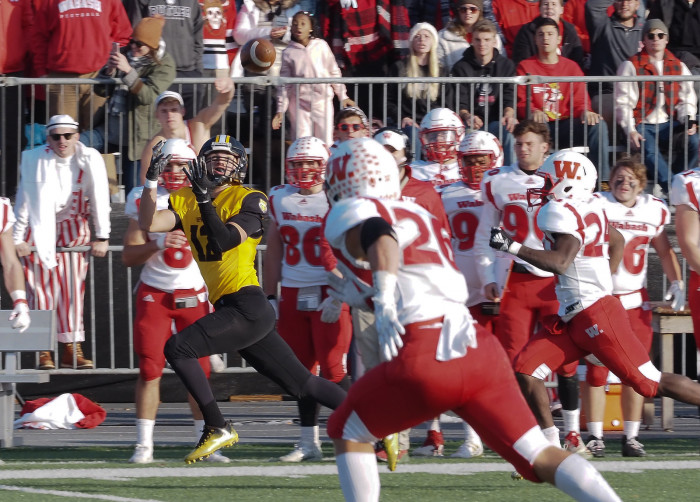 of this team. Our defense gave me relief and kept us in it. That feeling when I threw that pass all the way down there? Surreal."
Tiger head coach Bill Lynch says, "Chase is a really good quarterback. He missed a lot of time (this season) due to injury but, in the two weeks since he's been back, we've been a different offense. It's interesting, he hit Ritter for some big shots like that during practice this week.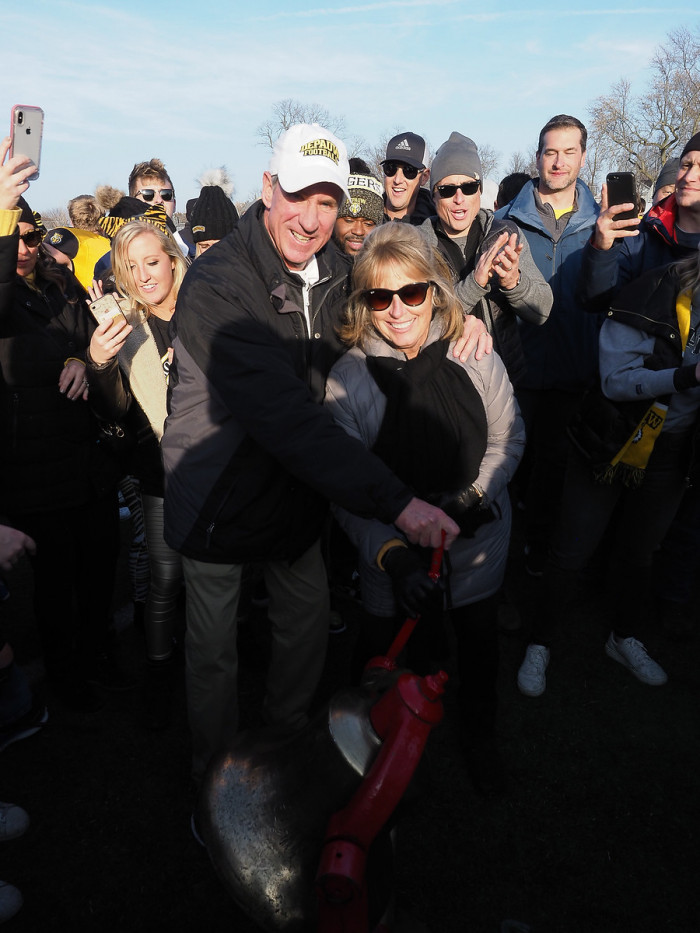 You could tell they were focused. They didn't let the moment get to them."
The paper points out, "This was the fourth straight Monon Bell game that was decided by a touchdown or less. Winning a rivalry game like this one relies on an unwavering focus on ringing that bell. Andries had some lows in this game. He nearly lost his team the game, but he remained resilient. The highs are what he will be remembered for."
You'll find the complete text and accompanying photos -- "Last-minute DePauw touchdown pass the latest chapter added to thrilling Monon Bell rivalry" -- at IndyStar.com.
A recap of the 126th Monon Bell Classic is available here. Videos are embedded below.
Back