Coach Rob Doyle '82 and Bishop Chatard Win State HS Football Championship
November 30, 2019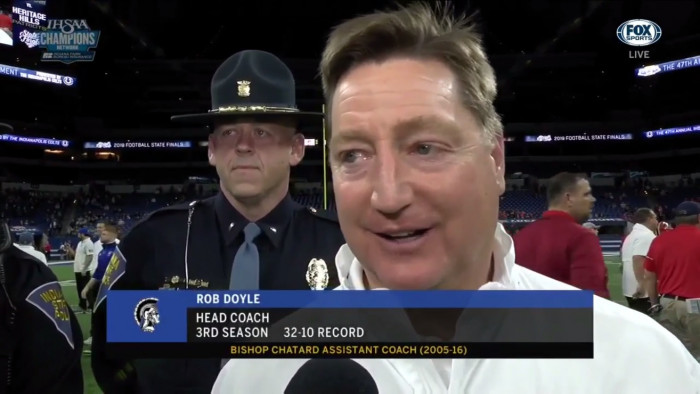 "Our kids worked really hard," said Rob Doyle, head coach of the football team at Bishop Chatard High School in Indianapolis, moments after winning the Class 3A state championship game. Doyle, a 1982 graduate of DePauw University, led Chatard to a 34-3 victory over Heritage Hills at Lucas Oil Stadium in Indianapolis yesterday.
"This senior class, I've been with them four years, it's a special group," Doyle said. "I love every single one of them, we're blessed to have them."
See the interview at the website of FOX Sports Indiana.
"Chatard was the better team, at least for one evening. It did so by beating Heritage Hills at its own game," reports the Evansville Courier & Press.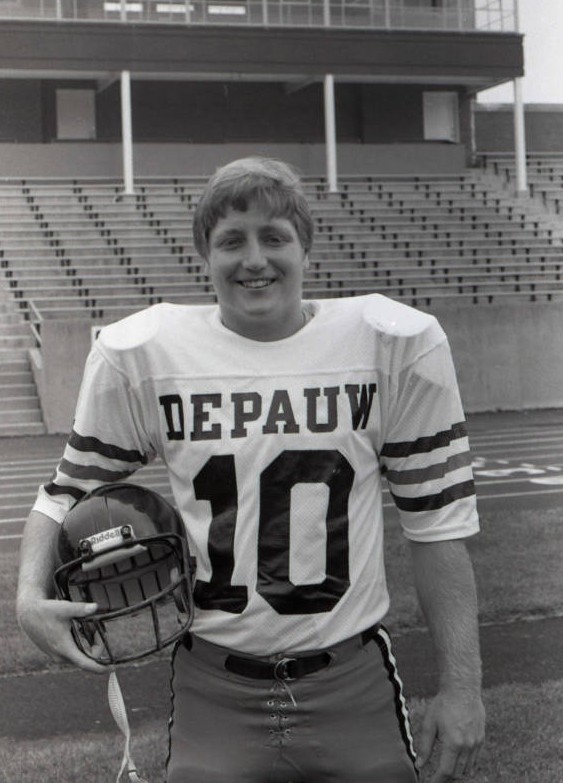 "The Trojans were bullies on the ground, amassing 267 rushing yards on 7.6 per carry. It was the type of performance the Patriots had made a living doing this fall."
Read more here.
Doyle, who is also a partner in the law firm of Due Doyle Fanning & Alderfer, was a political science major at DePauw. He started at quarterback for three seasons and broke Tiger season marks in attempts, completions, yards passing and touchdown passes, and twice tied the school record of four TD passes in one game. His senior season, Doyle led his team to a 9-1 record and a #9 ranking in the final NCAA Division III poll.
Doyle was inducted into the DePauw Athletic Hall of Fame in 1999; the 1981 team was inducted in 2016.
Doyle told Boomer TV last year, "In both jobs, we teach." As an attorney, he works to "teach our clients, to give them good advice, to say 'here's where you need to be, here's where you don't want to be' and get them in the right position to be successful. It's the same in coaching football, it's really teaching."
He added, "Throughout college I was blessed with great coaches. My last coach, Nick Mourouzis, is pretty famous around the country and a great man and was a huge influence."
Back