Treats and a train give students a break from finals' stress
December 10, 2019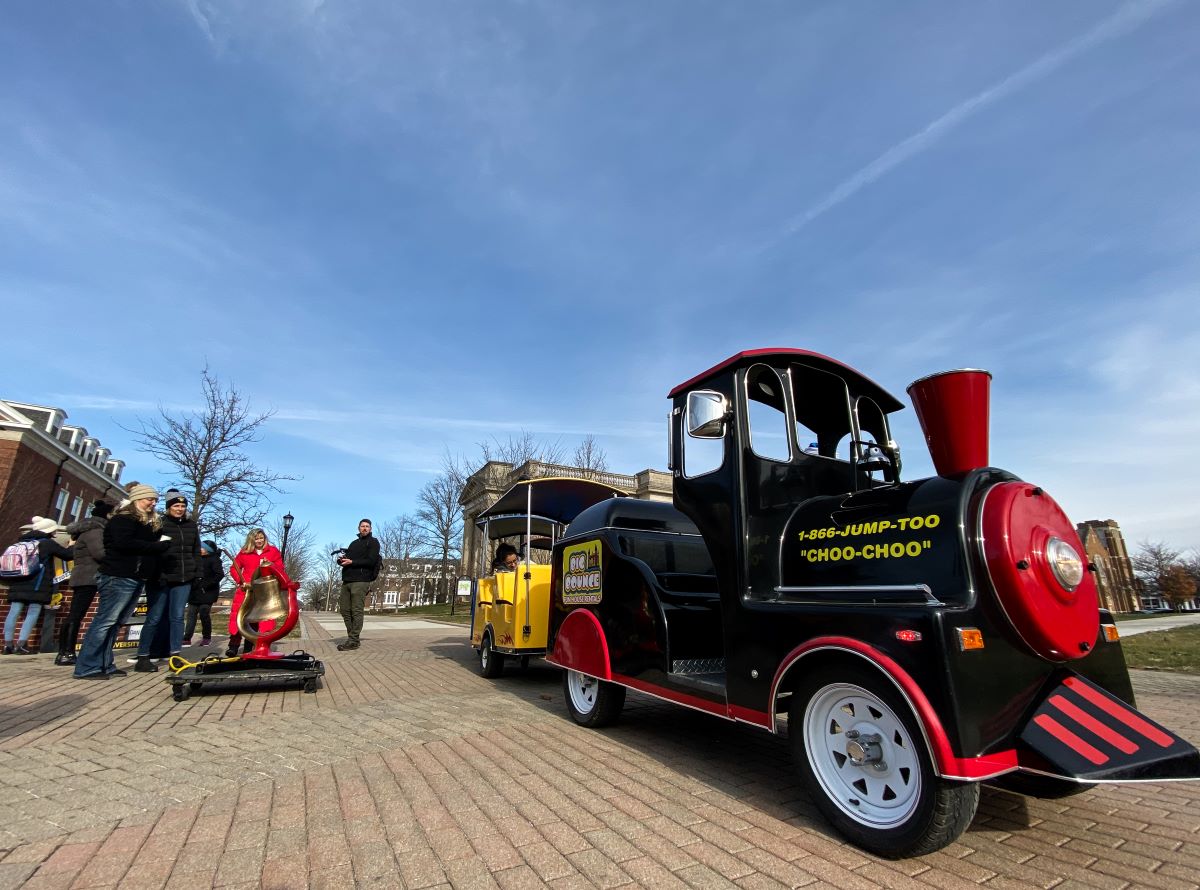 It's finals week and it's cold and students are stressed. How to combat that?
With hot chocolate, cookies and other goodies. Gold Within t-shirts, Tiger keychains and highlighters. An opportunity to ring the Monon Bell. And rides on the Mini Monon. The DeChooChoo.
Staff members from the Office of Communications and Marketing braved the weather to pass out the goodies and usher students onto the miniature train, which traversed DePauw's own Gold Line, a straight shot from the circle in front of Roy O. West Library to the Percy L. Julian Science and Mathematics Center.
"Why are we doing this? We won the bell! Students are finishing their finals! It's a great day, and we wanted to have a good time," said Chris Wolfe, who handles social media for DePauw and who conceived of the project to support students during finals week.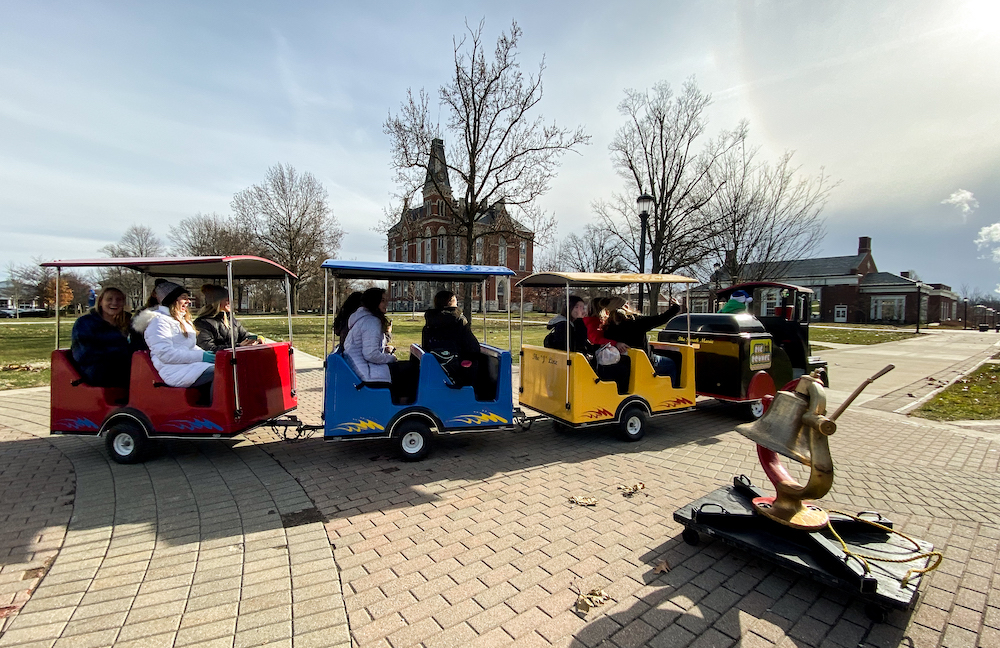 With one exam down and two to go, Quinn Wright '21 said she's "excited to go home, so I'm pushing through.
"I think it's so cool," she said of the event. "I feel like the university cares about the students when they do things like this and shows they know it's a tough time during finals week. And the fact that they're out here, helping us and having cookies and standing out in 19-degree weather, means a lot."
Brandon Collins '23, experiencing his first college finals week, took two exams on Monday and has another scheduled for Friday; an essay is due in between.
"Yesterday was probably the worst just because there were two at the same time, so most of the weekend was spent just studying," he said. "But overall I'm feeling pretty good. I feel pretty supported here as well. People are constantly checking up on you, making sure you're doing all right and it seems like they're pretty vocal about the availability of resources around here."
Drew Hudgins '23, who strode to the treat staging site in shorts ("I'm very cold," he said. "I just have no more pants.") also appreciated the treats, which he deemed "pretty cool. It's a nice thing to do." Likewise Angie Mendez '20 and Mitchael Evans '20, the first students to board the train, Tiger paw print cookies in hand.
"I think it's awesome," Mendez said. Added Evans: "I really like it."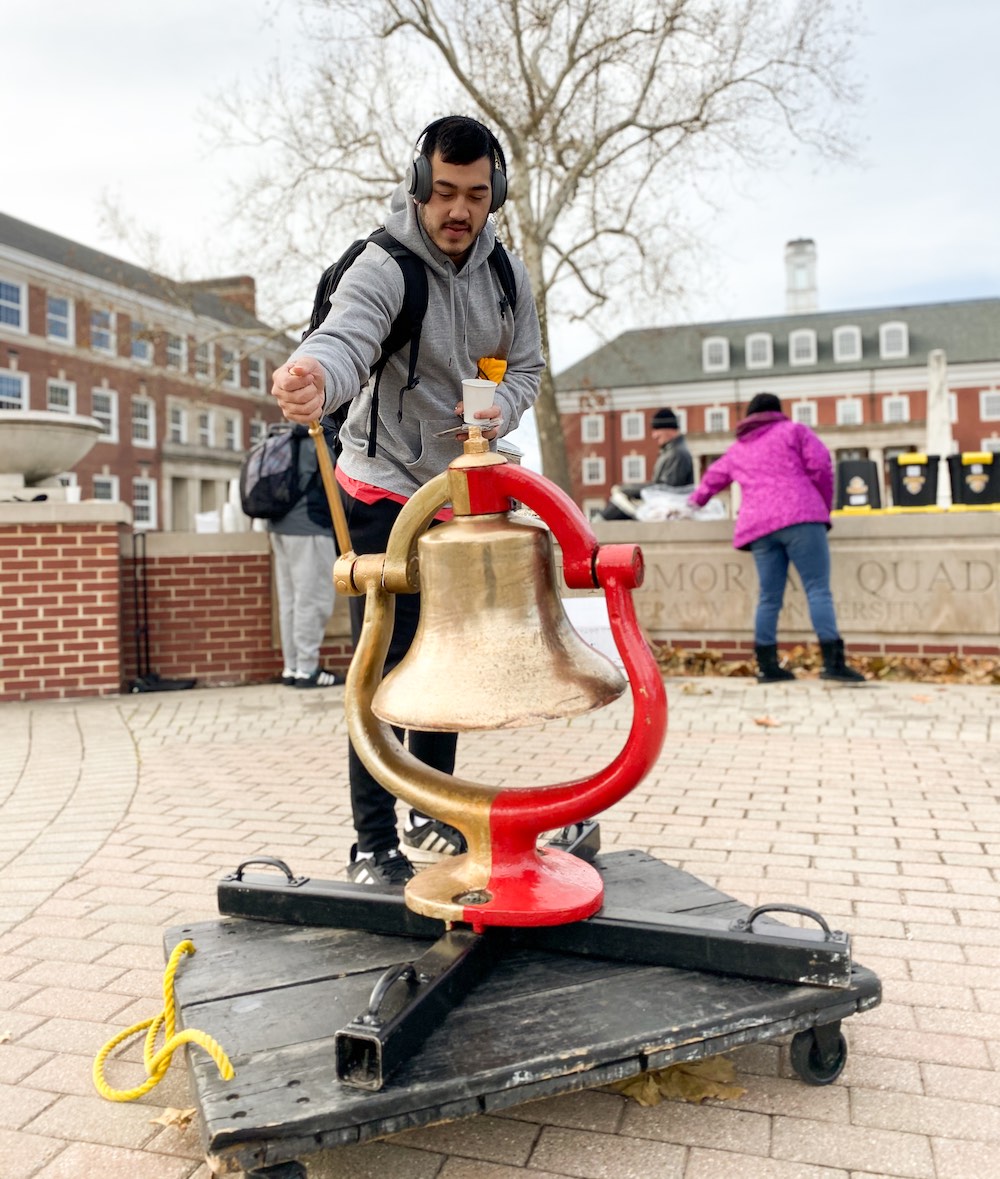 Malorie McGee, the mental health and wellness educator in Counseling Services, was recruited by Wolfe to offer coping tips and pass out stress balls to students feeling anxious about exams. She was joined by Gina Hopf '20, a student wellness advocate.
"My advocates and other students I have been working with have expressed a lot of stress around finals," McGee said. "It's been a while since I've been a student, but I can remember it very well too. So I think it's wonderful."
Said Hopf: "Any time something is done for students during finals week, it puts a smile on people's faces, even if they're walking into Roy to study for several hours. … It's a great pick-me-up. Anything that puts a smile on students' faces is a great boost."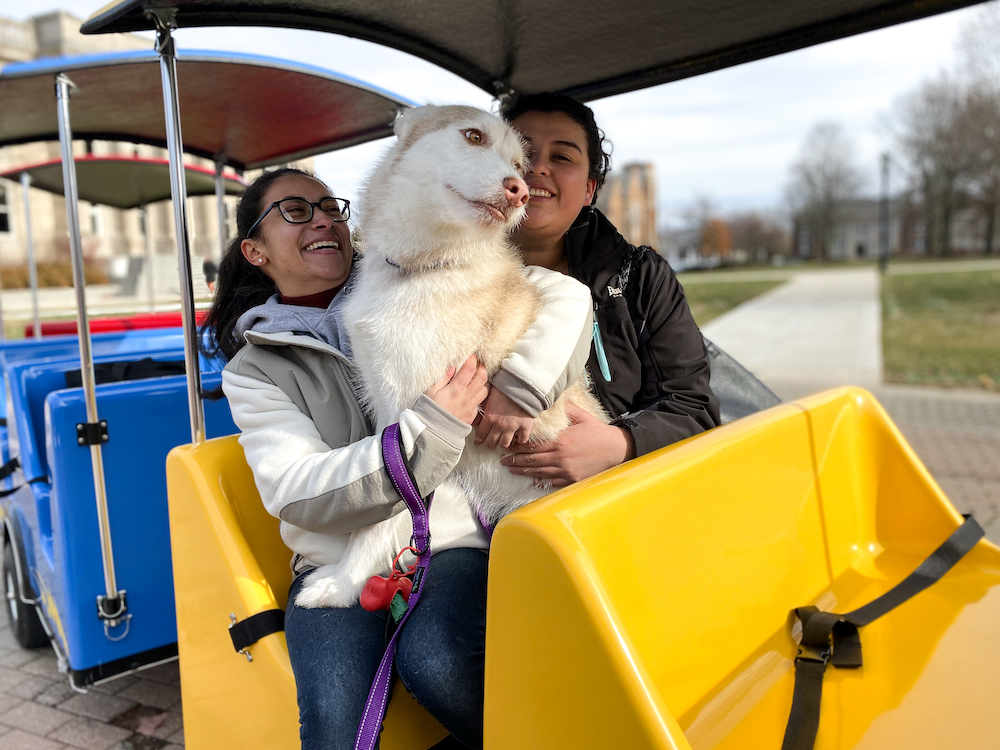 10 tips for getting through finals week from Counseling Services:
Strive to get eight hours of sleep.

Make a list of tasks ranked by priority/create a study schedule and try to stick to it.

Take short, frequent study breaks.

Move your body. Even just a quick walk can help relieve tension and stress.

Change up/switch your study space.

Make your bed, complete a load of laundry, pack for break.

Eat a health snack/meal.

Listen to music.

Watch your favorite show/movie.

Breathe.
Back