Percy Julian '20 Among "Inventors Who Changed the World"
December 10, 2019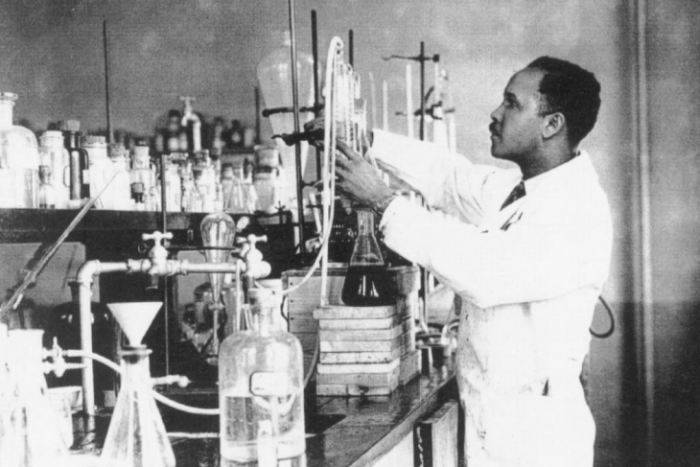 Percy Lavon Julian, pioneering chemist and inventor and 1920 graduate of DePauw University, is listed in a Montgomery Advertiser feature among "Five inventors who changed the world." The piece is timed to preview Saturday's grand finale of Alabama's bicentennial celebration.
Brad Harper writes, "Born a grandson of a slave in Montgomery, Julian fought through Jim Crow restrictions to graduate from DePauw University in Indiana, earn a master's from Harvard University, and achieve a doctorate in chemistry from the University of Vienna. His work led to the synthesis of cortisone, used to treat rheumatoid arthritis, among other breakthroughs. He was inducted into the National Inventors Hall of Fame in 1990."
Access the item at the newspaper's website.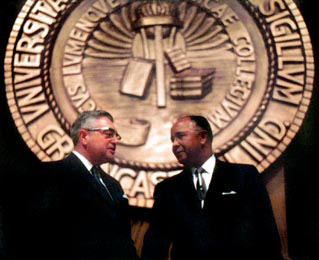 The founder of research laboratories in the United States, Mexico, and Guatemala, Percy Julian was a member of DePauw's Board of Trustees, and was the first recipient of the University's McNaughton Medal for meritorious public service (seen at left with President Russell Humbert). He also received an honorary degree from his alma mater in 1947. He died on April 19, 1975 in Waukegan, Illinois.
The University's Percy Lavon Julian Science and Mathematics Center -- where a bust of Dr. Julian greets visitors -- stands as a tribute to the great chemist.
In 1993, the U.S. Postal Service issued a stamp in Dr. Julian's honor.
Back