Three students secure scholarships to study abroad
December 11, 2019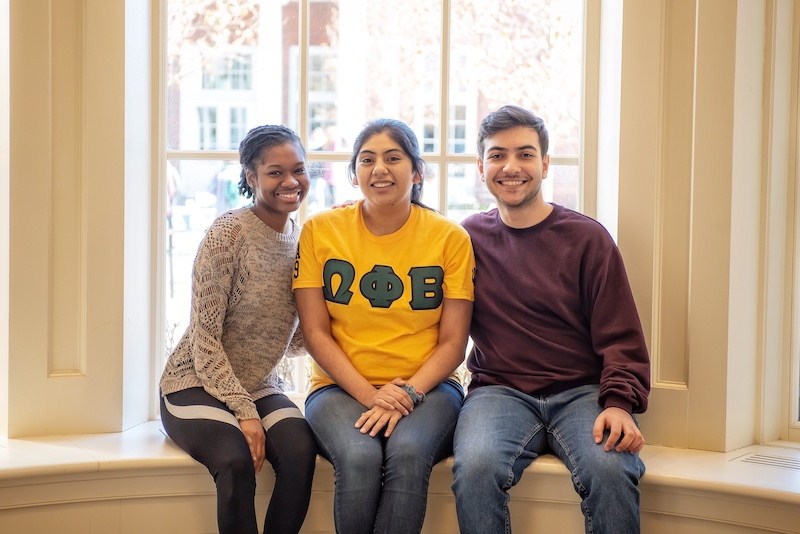 Three DePauw students have won U.S. State Department-sponsored scholarships that will enable them to study abroad over the next several months.
The Benjamin A. Gilman International Scholarship, established in 2001, enables students with high financial need to study abroad.
Ja'na Baylor '21 received a scholarship of $4,500 to spend the spring semester in Botswana, where she will study theatre. At DePauw, she has created her own interdisciplinary major – art therapy – with the goal of someday working as a theatre art therapist with differently abled students.
Jennifer Rivera '21, having won a $4,500 scholarship, will head to Chile and Argentina for the spring semester to study comparative education through a program of the School for International Training. She double-majors in education studies and peace and conflict studies at DePauw.
Solomon Alhakeem '22 plans to participate next summer in an archaeological dig in Italy, a project on which DePauw students have worked for several summers through the Trasimeno Archaeology Field School. Alhakeem, a baritone, is studying vocal performance and archaeology, a major he has created; his scholarship was for $2,000.
All three students credit Neal McKinney '09, associate director of DePauw's off-campus programs, with encouraging them to pursue the scholarships and helping them through the extensive application process.
"We go deep and have heard some really, really heart-wrenching pieces of students' stories that make you want to root for them," McKinney said. "I tell them, 'I don't want you to feel like you have to expose yourself and make yourself a sob story in order to be competitive,' because that's not the point. The point is you have been through a journey to get to where you are now and that should be celebrated. How do you see this next step fitting into your narrative?
"It's like this whole mapping out of their lives. Jenny will tell you the way that I go about it, some students think of it as therapy."
Rivera, who plans a career in teaching and ultimately school administration, nodded animatedly at his last comment. "I really wouldn't be here if it wasn't for Neal," she said. "He helped me figure out that I am capable and that I do have a sense of leadership and this, at the end of the day, is going to benefit me."
She is a first-generation college student from suburban Chicago who, as a fifth grader, tutored her father, a Mexican immigrant, so that he could receive his GED.
Baylor volunteered to work with differently abled students at her Chicago high school and interned as a DePauw student at a nonprofit theatre for adults with different abilities. Next summer, after her semester in Botswana, she is slated to be a theatre instructor at a New York camp for differently abled children.
"DePauw actually helped me prepare for the internship," she said. "I saw the administrative side but, when I did get to have the hands-on experience, it was the best. I said I could see myself doing this in the future. I'm really drawn to the passion and keeping this field alive. That's why I chose the field. It's not here, so I had to create the major."
Alhakeem was born in the United States but moved with his family to his parents' native Syria when he was a baby. They lived there until late 2012, when they moved to Houston to escape violence in the escalating civil war.
The destruction of Syrian antiquities caused him to recognize "not much attention was given to the intangible history. What I really want to do in the future, hopefully, is do research on ancient near Eastern music."
Back