Brad Stevens '99 Named to Indiana Basketball Hall of Fame's 2020 Silver Anniversary Team
December 10, 2019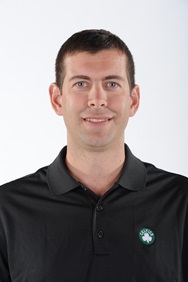 Brad Stevens, a 1999 DePauw University graduate who is head coach of the NBA's Boston Celtics, has been named to the Indiana Basketball Hall of Fame's 2020 Silver Anniversary Team.
The 18 individuals are being honored "based on outstanding accomplishments as a senior basketball player 25 years ago," notes an announcement. The Silver Anniversary Team members will be honored at the Indiana Basketball Hall of Fame's 59th Annual Men's Awards Banquet on Wednesday, March 25, 2020.
The Hall's biography of Stevens notes that he "played in all 103 games of four-year career at DePauw University, totaling 791 points, earning Coaches Award as a senior and three-time Academic All-American nominee… as head coach of Butler University from 2007-2013, he led
them to a 166-49 record, five NCAA Tournament appearances, four Horizon League championships, and back-to-back national runner-up finishes in 2010 and 2011 and earned two-time Horizon League Coach of the Year and 2011 National Coach of the Year awards… in his 7th season as head coach of the Boston Celtics, had a 270-222 NBA record in his first six seasons, making two Eastern Conference Finals appearances and earning 2017 NBA All-Star Game head coaching duties."
Read more here.
Paul White, a 1924 graduate of DePauw, will be inducted into the Indiana Basketball Hall of Fame as the 2020 recipient of the Centennial Award, which recognizes "those who contributed to Indiana high school basketball at least 100 years ago."
An economics major and Management Fellow as an undergraduate, Brad Stevens was inducted into the DePauw Athletic Hall of Fame this year. He will return to DePauw on March 9 for an Ubben Lecture. Details can be found here.
Back