Former Fed Chairman and Ubben Lecturer Paul Volcker Dies at 92
December 9, 2019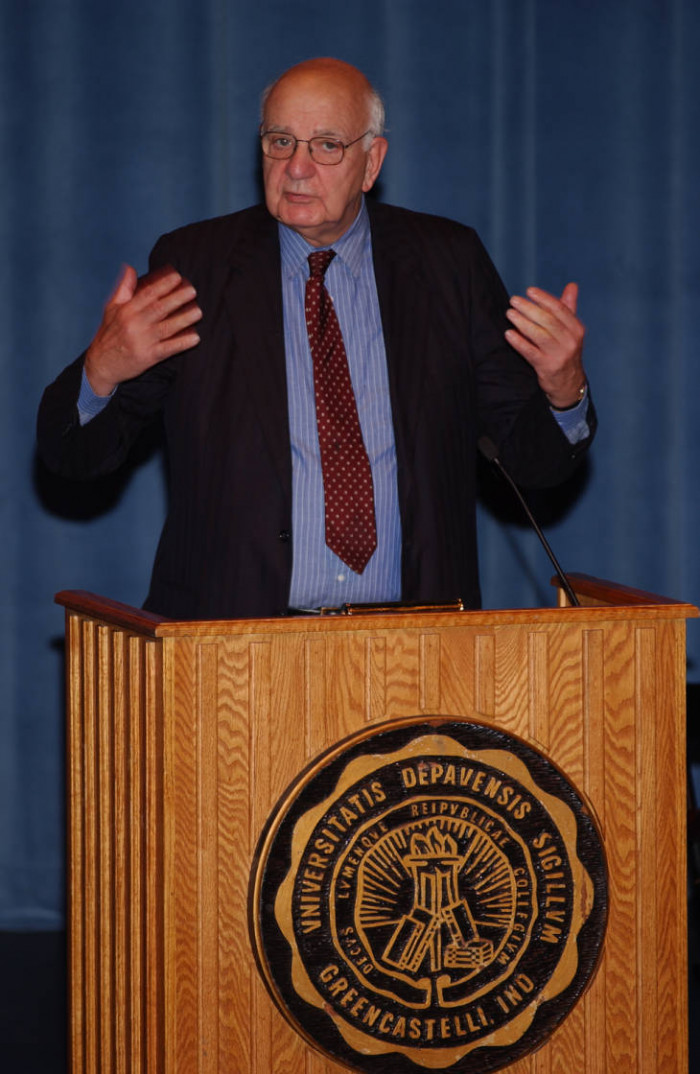 Paul Volcker, the former chairman of the Federal Reserve who delivered an Ubben Lecture at DePauw University in 2003 and returned two years later for DePauw Discourse, died Sunday at the age of 92. CNBC is today remembering Volcker, who served under Presidents Jimmy Carter and Ronald Reagan, as someone who "helped tame inflation with 22% interest rates that also crunched American manufacturing, farming and real estate but led the way to two decades of expansion." (at right: Volcker in 2003; below: Volcker with DePauw students in 2005)
In 2013, he founded the Volcker Alliance, a nonpartisan, nonprofit organization designed to promote public service. The president, Thomas W. Ross, offered, "Paul A. Volcker was a giant among American public servants. He was a man of great courage and integrity who committed most of his working life to the public good. He believed in the importance of an effective government to our democracy. He cared deeply about the future of America and those who serve in our government."
Read more here.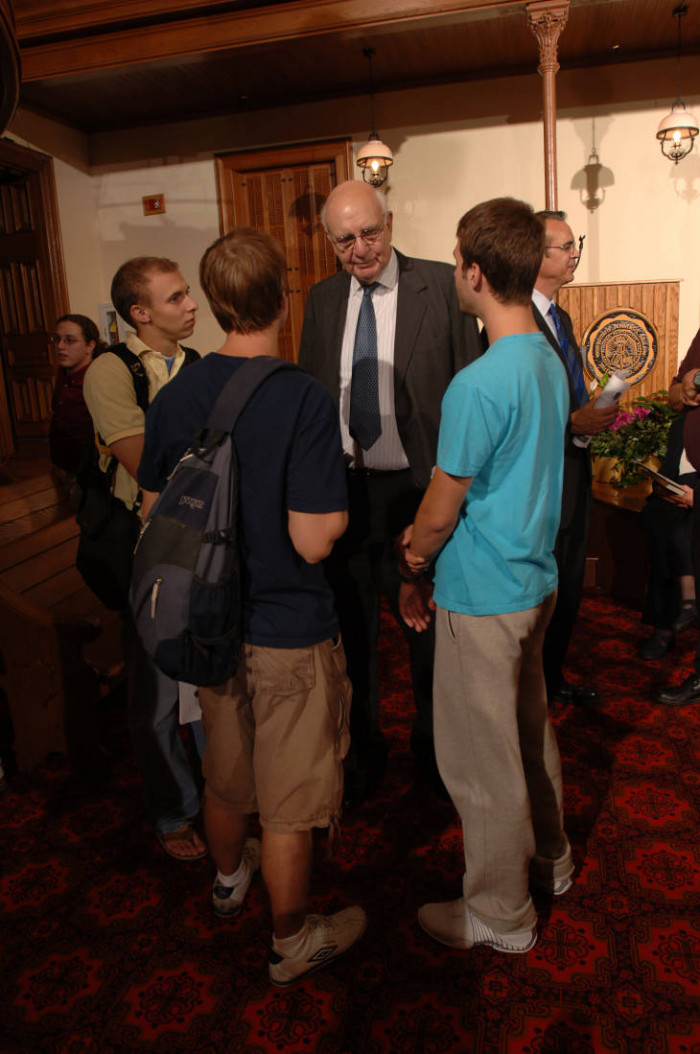 In his October 8, 2003 Ubben Lecture at DePauw, Volcker said of the U.S. economy, "This country has some pretty serious imbalances that are going to have to be addressed sooner or later, and they're not being addressed right now." He noted, "We are very consumption prone. We are the world champion consumers. The corollary is, we're the world's worst savers. And we are utterly dependent, aggravated by the big budget deficit, on the savings of foreigners. We're dependent upon the largesse of strangers, as Blanche DuBois put it in A Streetcar Named Desire. So far it's worked out, but it's not gonna work out forever. We cannot run an external deficit of 6% of the GNP (gross national product), which I guess it's rising to, and an internal budget deficit of 5% of the GNP-- and it's no coincidence that they're more or less alike, because they're mutually dependent -- indefinitely. Something's gonna happen. We're gonna have an adjustment. The question is whether its an orderly adjustment or a disorderly adjustment. They tend to be disorderly if you haven't anticipated the adjustment, and we're not doing any anticipating right now in our fiscal or other policies."
The Ubben Lecture Series has brought distinguished individuals to the DePauw University campus since 1986, including Malala Yousafzai, Margaret Thatcher, Spike Lee, Mike Krzyzewski, and Jane Goodall. To view a complete list of Ubben Lecturers, which includes links to video clips and news stories, click here.
Back