Academic Journals
Academic journals maintained by DePauw faculty members.
Science Fiction Studies
Science Fiction Studies is a peer-reviewed, triannual scholarly journal that publishes criticism on the genre of science fiction. The SFS website publishes abstracts of all articles, as well as the full texts of all reviews, historical documents, and selected essays appearing in the journal since its founding in 1973.
Website:
www.depauw.edu/sfs
Editor & Publisher:
Arthur B. Evans
Professor of Modern Languages
aevans@depauw.edu
765-658-4758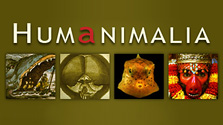 Humanimalia
Humanimalia has three aims: to explore and advance the vast range of scholarship on human/animal relations, to encourage exchange among scholars working from a variety of disciplinary perspectives, and to promote dialogue between the academic community and those working closely with animals in non-academic fields.
Website:
www.depauw.edu/humanimalia
Managing Editor:
Istvan Csicsery-Ronay Jr.
Professor of English
icronay@depauw.edu
765-658-4683