Posts occurring in October 2017
October 24, 2017
Dear Faculty and Staff,
I write with an update on our ongoing efforts to improve the University's website. As many of you know, we have been working alongside an agency, Dartlet, to create a more dynamic, accessible and navigable space. Prospective students and their families are the primary target audience for our website, and current students, alumni, faculty, staff and community members will continue to be important constituents.
On November 1, 2017, you will see the first of many changes to our site when the homepage and other top-tier pages get a fresh look in Phase I of the website rollout. These are pages that prospective students and their families are likely to land on as they discover DePauw.
Web transitions take time, ongoing feedback and continued monitoring of visitor analytics. To keep you informed, we have created a Web Updates Blog where you can track our progress and provide suggestions.
Throughout the next few months, the Communications and Marketing division and…
Continue Reading | &nbsp 0 Comments
---
October 4, 2017
The week of October 31, DePauw will launch the first in a series of major updates to the University website.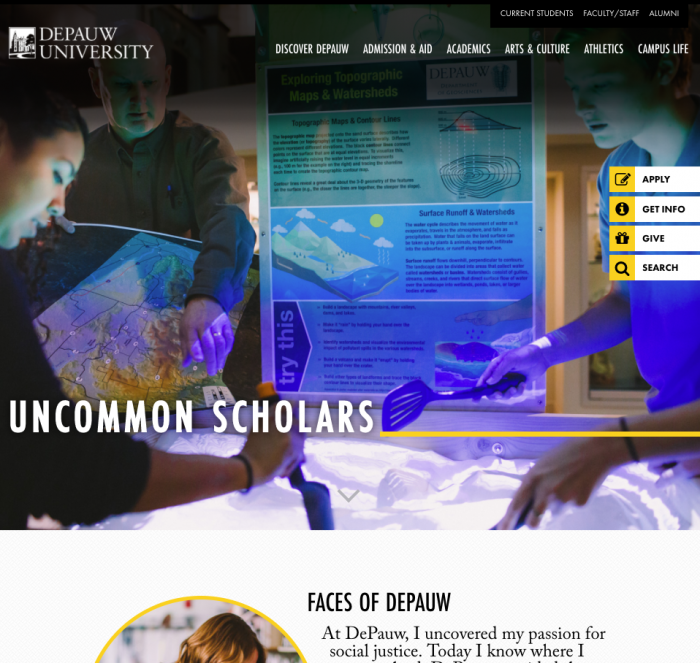 During Dr. McCoy's 32 listening sessions over the course of last academic year, what we knew to be true was made very clear: we need a new, updated, more user-friendly website. Alongside the work of our partner, Dartlet, the Communications and Marketing Team and the Web Team have been working to create a more updated, user-friendly website.
After extensive research and planning, and several months of internal development, we have created a space for prospective students, their families, and visitors to find out about DePauw in a more engaging, effective manner.
Suggestions from those listening sessions you'll find in the site update:
Stories of student success, rotated throughout the site
More faculty stories - front and center
Promote alumni success
Improved layout and styles for mobile devices
Enhanced and better quality video
Many others simply asked us…
Continue Reading | &nbsp 0 Comments
---