University Website Redesign Progress
February 5, 2018
In November, the Office of Communications and Marketing launched a new university homepage and other top-tier pages aimed primarily at prospective students, their families, and visitors. That was Phase I of a larger, ongoing website redesign project. Phase I created an attractive new entry point to all our public web content and a revised main navigation, which provides quick access for those audience groups to discover DePauw in a more engaging, effective manner.
We began Phase II of the redesign in January. In this phase, we will help administrative and academic departments audit and update the content of their websites, then transition those pages into the fresh look of the new templates.
In addition to the unified design and layout, these new templates include: better support for mobile devices; more options for page layout and displaying photos; a wider variety of "callouts" — customizable blocks of content; and enhanced opportunities for storytelling. In all, the new design is a suite of tools that gives us a platform to highlight all of the things we do well in a more engaging format for today's reader.
Updated Page Examples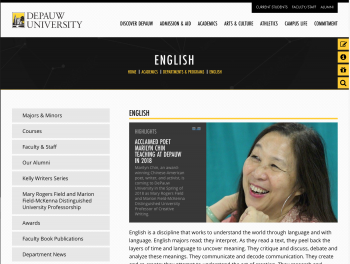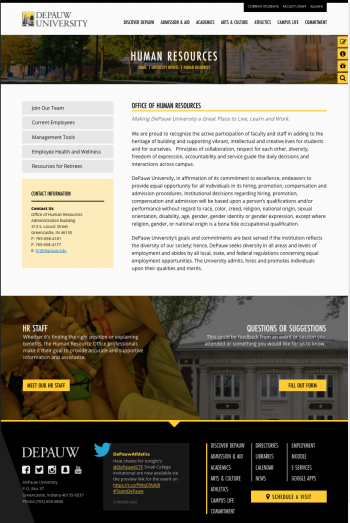 Next Steps
A member of the C&M team will contact your department head or academic chair to schedule a content audit and start working towards converting your site.

In The Meantime
There are several things you can do with your site to prepare for the content audit and conversion to the new design templates:
Check for outdated content. Refresh or archive it.

Check for unused forms and uploaded files (PDFs, Word docs). Forms pages can be archived or deleted. Outdated documents can be removed by request through this link.

Convert uploaded files (PDFs, Word docs) to content in BigTree pages. This improves accessibility — HTML is much better in this regard than those other formats — and makes your content native to the web, rather than an afterthought from another publication.

If you have videos on your site, they must have closed captioning. YouTube provides this service for free.
comments powered by

Disqus