Communications and Marketing Dashboard
October 1, 2019 - December 31, 2019
Dashboard report on Google data studio
Twitter (depauwu)
Followers: 8,983
Engagements: 39,990
Facebook (DePauwUniversity)
Fans: 14,130
Engagements: 18,539
Snapchat (depauw_u)
Instagram (depauwu)
Followers: 9,229
Engagements: 36,084
---
WEB SITE
Additional changes and updates to the web:
Homepage Speed optimizations
More Homepage refreshes (Boulder full-width, change to Faces, smaller youVisit, addition of faculty recognition, some speed improvements)
Home header slides
Updates to GTM/GA homepage tracking for the new look
3 new digital signs
Additional RFI form improvements - flyout & music
Navigation/AI updates per Collegis
Retire campaign.depauw.edu
Restored several crashed Chromeboxes (2 in UB, 1 in HR)
Add Canonical Tags to e-Services dynamically generated pages
Update Parents gateway with current look
Stats dashboard for Bob & Deedie
SEO health - Collegis - add Structured Data + Canonical Tags to home & API pages
Site health improvements per reports from Dubbot and SEMRush
Italian Cultural Studies splash page & Update Classical studies with new 1-page data
11 Big Tree trainings & 2 digital sign trainings completed
---
Merit
22 achievements recognized across 2 categories
7,299 online page views across all achievements
135 news stories delivered to local media
26 High schools received updates
208,000 est. social media impressions
42 emails sent to students and parents
---
PRINT PUBLICATIONS AND GRAPHIC DESIGN
29 Publications for Admission and Financial Aid

30 Publications for Development, Alumni Engagement, Annual Giving and Stewardship

20 Publications/Projects for additional departments across campus

Gold Within marketing: 12 swag items, campus banners, online storefront
---
Videography
YouTube video views:
41.7K impressions
7.9K views
226 hours watch time
+40 subscribers
PHOTOGRAPHY
2070 asset downloads in the last 90 days
44 assignments
---
Magazine, Storytelling and Internal Communication
The fall 2019 issue of DePauw Magazine:

Profiled 18 DePauw alumni who are visual or musical artists.
Featured the last of DePauw's eight centers: the 21st Century Musician Initiative.
Included regular features about or produced by three other alumni and a professor.

Updates from "The Boulder," our online storytelling platform:

33 new stories were posted, including 18 online-only magazine profiles and a cartoon produced for the magazine.

10,741 Boulder pageviews

Average time on page: 2:09

"DeBrief," a biweekly newsletter for DePauw faculty and staff members, is published weekly.
A parents' e-newsletter is published monthly.
A students' e-newsletter is published weekly.
An alumni e-newsletter is published monthly.
---
Marketing, Branding and Digital Advertising
28 billboards active in the Indianapolis area
TSA Bins active at the Indianapolis Airport through April 2020
Digital advertising began 9.16.2019 for fiscal year 2019-20 (last updated 2.17.2020)

115,567,179 impressions
69,445 clicks
.45% CTR
3,771 total conversions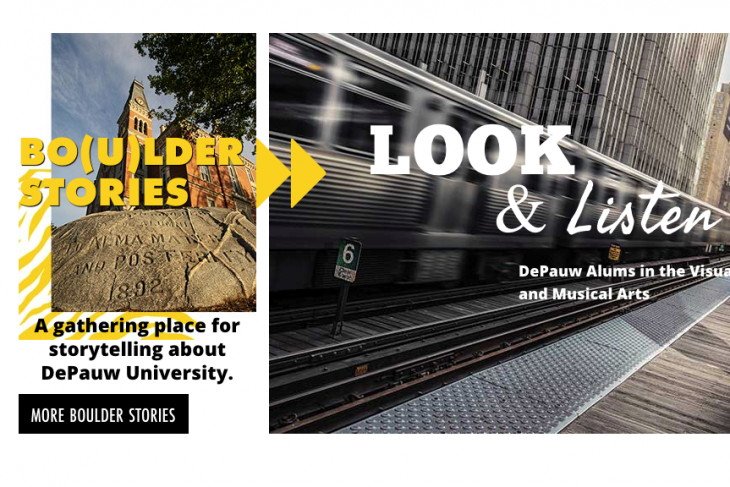 Homepage Update - Boulder Stories