Music Performance Awards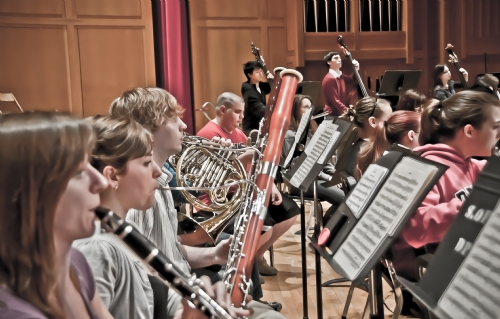 DePauw grants Music Performance Awards to music majors who demonstrate exceptional talent during an audition for music faculty. Depending upon the audition rating and ensemble needs, Music Performance Awards can vary in amount from $10,000 up to full tuition. Music Performance Awards for music majors supersede Academic scholarships and are limited to tuition expenses only.
Non-music majors who commit to participating in large ensembles and enroll in private lessons (in areas other than female voice) may also audition for Music Performance Awards during their senior year of high school. Award amounts for non-music majors range from $1,500 to $3,000 and do not require that the recipient be enrolled in the School of Music full-time.
---
Music Performance Awards are announced in mid-March. The award is renewable each year for a total of four years contingent upon meeting the following criteria:
enroll full-time as a music major in the School of Music
maintaining a minimum 3.0 cumulative grade point average in all music courses
enrolling in applied music lessons every semester while in residence earning a grade of "B" or higher
participating in a large ensemble every semester in residence earning a grade of "B" or higher
Students accepted to DePauw's five-year double degree program are eligible to receive a fifth year of scholarship and need-based financial assistance.
For more information regarding Music Performance Awards, please contact George Palton at georgepalton@depauw.edu.
US citizens and permanents residents wishing to be considered for need-based financial aid should follow the instructions for prospective students by the February 15th deadline.