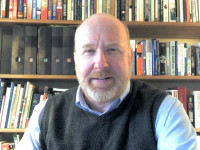 Bill Tobin has been Director of Institutional Research at DePauw since 1999. He earned his doctorate in higher education administration and research from Indiana University, and has written and lectured on college student retention, strategic planning, incentive budgeting models, and education policy analysis. His graduate work included research on the economics of higher education, statistics and measurement, assessment in higher education, state and federal higher education policy analysis, budgeting and finance, as well as organizational theory and behavior.
During a career in higher education spanning over 30 years, he has worked in institutional research, academic affairs, budgetary administration and planning, enrollment services, and academic advising. Back when colleges still used chalk and blackboards, he taught first-year seminars.
His current research interests include the adaptation of business intelligence methods to higher education, and data visualization techniques for decision making.
Bill is reputed to be one of the last people on Earth who has never been connected to social media, and credible reports abound that he has never seen a reality television show.