DePauw Campus Farm

Ullem campus farm and center for sustainability (Coming spring 2018)
The DePauw Campus Farm will move from its one-acre property to a new, 12-acre location and become the Ullem Campus Farm and Center for Sustainability in spring 2018. Located behind DePauw University's Indoor Tennis and Track Center, pictured below (Google Maps here), the generous gift from Scott Ullem '89 and Beth Daley Ullem provides an opportunity to create a nationally-recognized campus farm and sustainability program.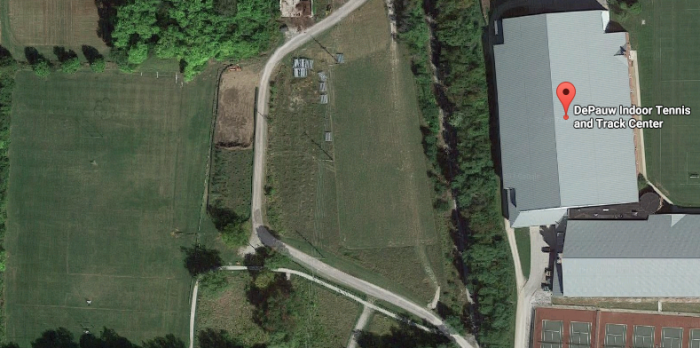 We are especially proud of the role students have played in this process. From first-years to seniors, over a dozen DePauw students were integral to the original gift proposal, donor meeting, and subsequent design discussions, with dozens more providing additional feedback.
Thanks to student input, the future site will include a new building and significantly expanded agricultural operations, including additional acreage, a greenhouse, and multiple hoop houses to extend the growing season. The building will feature an indoor and outdoor classroom/kitchen, renewable energy, student programming and dining space, and additional sustainability features.
This generous gift will allow DePauw students to, through year-round operations, gain practical and applied experience, enhance well-being and community rootedness, and contribute to global environmental solutions.
Read the original press release here. Questions? Contact DePauw's sustainability director Malorie Imhoff (malorieimhoff@depauw.edu).