Who We Are
Malorie Imhoff, Director, Center of Sustainability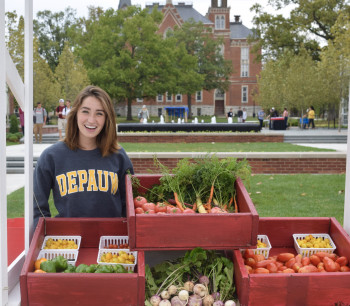 Malorie works to oversee the Sustainability Leadership Program at DePauw and direct the the 3-acre sustainable Ullem Campus Farm. After starting her career on a vegetable garden at St. Norbert College, she went on to receive her master's degree in Environmental Conservation from University of Wisconsin-Madison, intern with the International Crane Foundation, and work for the Policy Center for Environment and Peace with Conservation International. Her work at DePauw focuses on reinforcing the connections between students, the environment, and local food systems.
contact: malorieimhoff@depauw.edu
Joseph Garbe, Assistant Director of the Center for Sustainability & Campus Farm Manager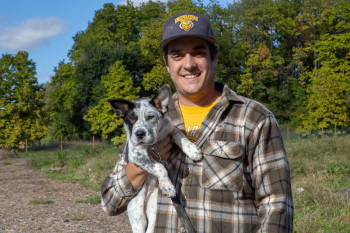 Joe manages the 3-acre Ullem Campus Farm and assists with initiatives of the Sustainability Leadership Program, such as the Thrifty Tiger and conservation efforts at the DePauw Nature Park. He grew up on a family-owned perennial nursery and continued on to receive bachelor's degrees in Agricultural & Applied Economics and Environmental Studies from the University of Wisconsin-Madison. This led to positions at several agricultural operations across the Midwest, including the founding of his own organic farm. He brings a breadth of experience in sustainable farming and a passion for uniting agricultural concepts and environmental stewardship with community leadership and practical education beyond the classroom.
contact: josephgarbe@depauw.edu
Dr. Jeane Pope, Faculty Sustainability Coordinator
Dr. Jeanette Pope joined the Department of Geosciences at DePauw University in 2002 and is now an Associate Professor and the Faculty Sustainability Coordinator. She teaches several environmental geoscience courses, including hydrogeology, geochemistry, and environmental science seminar. She hopes that her classes are pathways to more sophisticated understandings of the powerful, interacting physical and chemical systems that govern our planet. She is also working with DePauw students and the Big Walnut Creek Watershed Alliance to determine the effects of agricultural runoff on water quality.
Contact: jpope@depauw.edu