Who We Are
Malorie Imhoff, Director, Center of Sustainability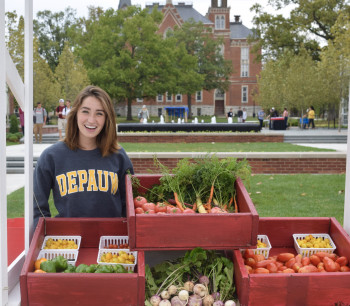 Malorie Imhoff began her career as a vegetable gardener in northeastern Wisconsin where she co-founded the St. Norbert College Garden as an undergraduate student. She went on to receive her master's degree in Environmental Conservation from University of Wisconsin-Madison, facilitate an urban organic farming operation, and work on global sustainable production landscape initiatives with Conservation International. Malorie is elated to be digging in the dirt again at DePauw where she works with the Sustainability Leadership Program and manages the 1-acre sustainable campus farm to reinforce the connections between students, the environment, and local food systems.
contact: malorieimhoff@depauw.edu
Dr. Jeane Pope, Faculty Sustainability Coordinator
Dr. Jeanette Pope joined the Department of Geosciences at DePauw University in 2002 and is now an Associate Professor and the Faculty Sustainability Coordinator. She teaches several environmental geoscience courses, including hydrogeology, geochemistry, and environmental science seminar. She hopes that her classes are pathways to more sophisticated understandings of the powerful, interacting physical and chemical systems that govern our planet. She is also working with DePauw students and the Big Walnut Creek Watershed Alliance to determine the effects of agricultural runoff on water quality.
Contact: jpope@depauw.edu