Green Certified Events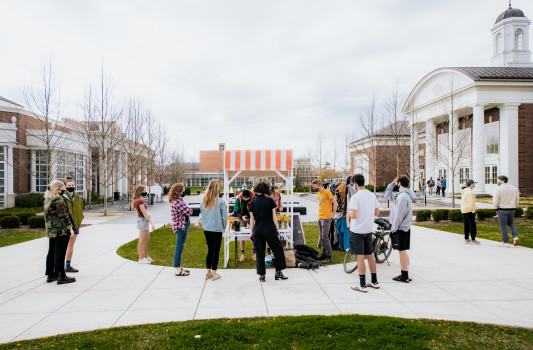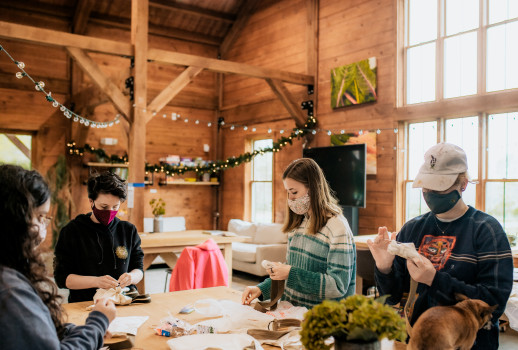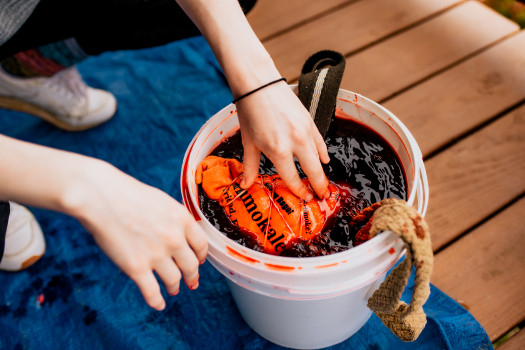 Green Certified events, developed by the Sustainability Leadership Program, serve as a great way to help reduce your organization or department's environmental impact on DePauw's campus. Our Green Events Guide and student consultants make it accessible for all of campus to make simple yet impactful adjustments during the event planning process.
"Having Green Certified events will add education, action and community building to DePauw as we go through these tough times and in the future." -Sustainability Consulting Project Managers, Spring 2022
Explore the sections below to learn about planning your own Green Certified event, resources to assist you, and how to share feedback so we can improve the program as we go.
'Green Certification' Requirements
For your event to qualify as Green Certified, you must commit to at least one checkbox in each category (Food, Advertising, Venue/Décor, Waste, and Content) listed in the guide/checklist. If you have any questions about the process or would like to set up a consultation for assistance planning the event, please email Claire Dorner at sustainability@depauw.edu.
Follow these steps:
If this event is for a campus organization or other recognized group/department (Environmental Fellows, GeoClub, CDI, etc):
Register your event on Campus Labs as you normally would

Be sure to select "Green Certified Event" as a Category

Select "yes" for the question "Would you like your event to be Green Certified through the Office of Sustainability?"

Make your commitments in each category of the checklist
All other events (including being hosted by faculty/staff):
Email sustainability@depauw.edu to get details on making your event Green Certified
NOTE: Existing events registered through Campus Labs that have not yet taken place can be edited to become Green Certified.
Using Items from the Green Events Kit
Items include:
Recycling Bin

Compost Bin

Reusable Cups, Plates, Bowls, Silverware (serves up to 12)

Green Event Sign with a whiteboard version of the checklist
If you select that you'd like to use these items in the checklist, you may borrow them by filling out this request form.
Please note: All items must be returned clean and without damage. Sustainability Staff will replace the linings in the compost and recycling bins. Bags of compost must be dropped off at the Ullem Campus Farm compost pile (to the right of the bee hives) before the empty bin is returned to the Adventure Outpost. All Green Events Kit items must be returned within 24 hours of the event taking place.
Our consulting interns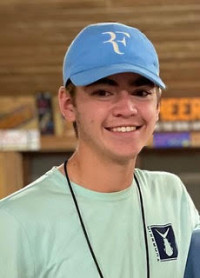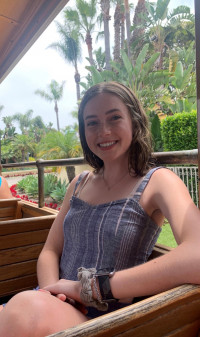 Zack Jobs: sindinjobs_2025@depauw.edu Katelyn Adams: katelynadams_2024@depauw.edu
Set up a consultation with an intern to discuss getting your event Green Certified HERE.
PRevious and planned Green Certified Events
Fall 2022
8/30/22 - 12/6/22
Office of Sustainability

Sustainability Leadership Program

Weekly Meeting

9/9/22
Center for Spiritual Life
Fridays at the Table
9/15/22 - 10/27/22
Ullem Campus Farm
Farm Days!
9/21/22 - 10/26/22
Office of Sustainability
Sustainability Wednesdays
9/24/22
The X-Cell Dance Team
Family Weekend Performance
10/2/22
Alpha Phi
Fall Informal
10/4/22
Alpha Kappa Alpha Sorority, Inc
Pastries with Pi Lambda
10/6/22 - 12/8/22
DePauw Improv Club
Weekly Meetings
10/7/22
Grounded
Grounded Tabling
10/7/22
Housing and Residence Life
Upperclassman Bonfire
10/7/22 - 10/8/22
Duzer Du
Insomniac Theater
10/8/22
Alpha Kappa Alpha Sorority, Inc
Old Gold Tailgate
10/13/22
Kappa Alpha Theta and Phi Gamma Delta
Bark-B-Que
10/19/22
Alpha Kappa Alpha Sorority, Inc
"Girl, Just Let It Go"
10/20/22
Alpha Kappa Alpha Sorority, Inc
"Girl, We Outside"
10/24/22
DSG
Domestic Violence Awareness Tabling
10/25/22
DSG
Tie Dye Tuesday-Dometic Violence Awareness Week
11/4/22
Phi Gamma Delta and Kappa Kappa Gamma
Fiji x Kappa Pumpkin Bash
11/6/22
DePauwCappella
DePauwCaFormal
11/8/22
Alpha Kappa Alpha Sorority, Inc.
"Girl, Go Vote."
11/9/22
Alpha Kappa Alpha Sorority, Inc
"Girl, Just Let It Go"
11/10/22
Alpha Kappa Alpha Sorority, Inc
"Girl, We Outside"
11/11/22
Alpha Kappa Alpha Sorority, Inc
"Girl, Get To The Bag"
11/12/22
Alpha Kappa Alpha Sorority, Inc
Pi Lambda Monon Tailgate
11/16/22
DePauw Softball Team
Softball events
11/19/22
Contemporary Ensemble Club
Contemporary Ensemble Concert
12/8/22
DePauw Softball Team
Softball events