Description
While the content of the typical undergraduate economics course has remained stable in recent decades, computers have become more powerful, easier to use, and as common as pencil and paper. In spite of these developments, teaching methods in the classroom remain virtually unchanged, with chalk-and-talk the dominant mode of delivery. This two-day professional development workshop will demonstrate how to utilize computer-based, active learning techniques to teach economics in a variety of subfields and at different levels, enabling participants to create new course materials and content.
The workshop is designed to provide both ready-to-go classroom material and tools that can be used to generate your own examples and content. You can test drive a single application and gradually expand your teaching repertoire. This is an ideal, low cost way to improve and re-energize a course you have taught many times or to create an entirely new course.
Individual lectures, lab modules, or entire courses can be reworked and enhanced, including flipping the classroom. Each day concludes with time for participants to explore workbooks and ideas on their own, with consultation if needed.
Target Audience: INTRO ECON
Each year, I tweak the topics. This year, the focus is on Introductory Micro and Macroeconomics. The first day is devoted to basic tools (add-ins) and the second day focuses on micro and macro topics, such as supply and demand, elasticity, and monopoly. The idea is to explore Excel as an alternative delivery method. Participants will gain a fresh look at how to teach standard topics and improve their course content.
Bio
Dr. Barreto is interested in using computers (especially Microsoft Excel) to improve the teaching and learning of economics. He is the Q. G. Noblitt Professor of Economics and Management at DePauw University and has published papers and books on pedagogy, including (with Frank M. Howland) Introductory Econometrics using Monte Carlo Simulation with Microsoft Excel (Cambridge University Press, 2006), Intermediate Microeconomics with Microsoft Excel (Cambridge University Press, 2009) and Teaching Macroeconomics with Microsoft Excel (Cambridge Univeristy Press, 2016). He has been a Fulbright Scholar, won several teaching awards, and has presented the materials used in this workshop at many colleges and universities around the world.
Dates and Location
June 17 and 18, 2019 in the computer lab in Room 702 at Kwantlen Polytechnic University Civic Plaza Campus 13485 Central Ave. Surrey, BC.
If you prefer, guest wifi is available for your laptop (Windows with Excel, of course, or a Mac emulating Windows is required).
We will begin on Monday, June 17, 2019, at 8:30 AM and follow the schedule below.
Schedule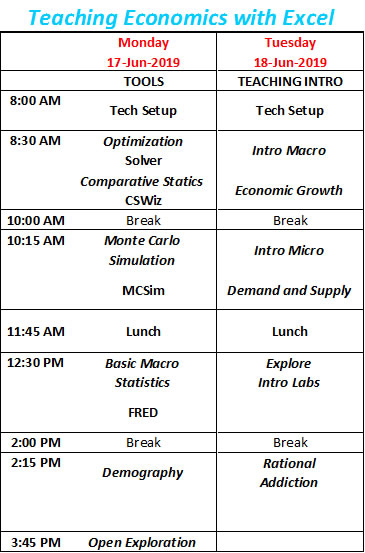 The first day will focus on general-purpose tools that can be applied to any course. We will begin with Excel's built-in numerical optimization add-in, Solver, and then learn how to use the Comparative Statics Wizard add-in. The MCSim add-in is a powerful, free tool that enables easy simulation and is ideal for statistics and econometrics courses. The FRED add-in offers instant access to the St. Louis Fed's FRED data resource directly from Excel. Finally, we will use Excel to create population pyramids for countries, with projections to 2050.
The second day is devoted to teaching Introductory Economcs with Excel. I will show Excel can be used to teach in a lecture format in the morning. The afternoon sessions will showcase how Excel can be used as a lab component to a standard Intro course. Participants will have the opportunity to explore a pre-prepared lab (taking on the role of a student) and then present their evaluations of the lab to the group.
Costs and Funding
This workshop is made possible by generous support from DePauw University and Kwantlen Polytechnic University. There is a non-refundable CDN$50 registration fee to attend. Participants are responsible for all lodging (see below) and transportation costs.
Questions and Registration
Email hbarreto@depauw.edu if you have questions or would like further information about this workshop.
Space is limited. Participants will be accepted on a first-come-first-served basis.
Lodging
TBA
Previous Workshops
Click on a date below to see a list of participants, comments, photos, and a description of that year's workshop:

You can also view a map of all Econ Excel Workshop Home Institutions. Faculty from a wide variety of institutions, ranging from small liberal arts colleges to large public universities, have attended.
Last Updated: 26 February 2019