Paige Burgess '25 got involved early in DePauw Student Government as a first-year senator. Tasked with drafting resolutions for a campus community they'd just joined, Burgess started to think about changes that would make an immediate difference.
"I wanted to make something that would be the most impactful to the community, and something that I was personally involved with," Burgess says. "And in that, I thought about how menstrual products aren't free, and that's not very good for equity on campus. … I thought I might as well push for a big change."
Their resolution — to make menstrual products free on campus — passed unanimously. Up next, the difficult part: implementing change across campus.
Burgess sought guidance from DePauw Women's Center director Sarah Ryan, having heard of her as a person who could "get things done." Sure enough, Ryan helped Burgess map a path forward, creating a budget, publicity materials, and a plan for what products would be supplied.
The project quickly grew to involve input from many others, including Facilities director Tony Robertson, who helped Burgess figure out how existing bathroom vending machines could be converted to work without coins.
"It was very, very helpful to have all these people, as well as [Vice President for Student Affairs] Alan Hill, who told me, 'Hey, this is something we can make happen. You have to keep pushing for it, keep being passionate about it, and all these people will come together and make it happen,'" Burgess says.
"And many of us from many different corners did eventually make it happen."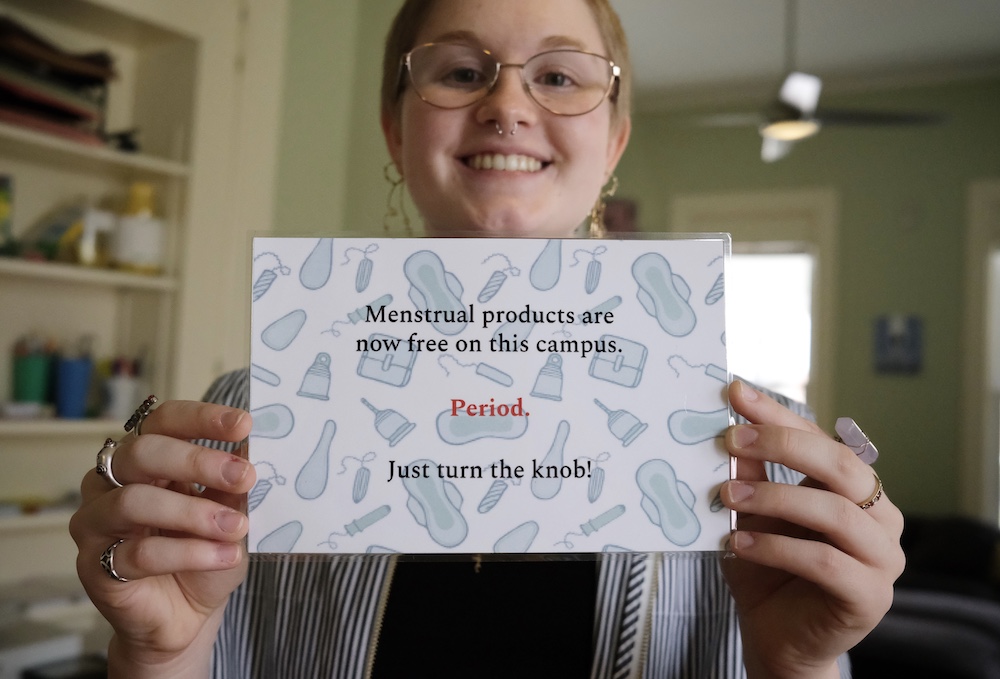 Just months after Burgess drafted their first Senate resolution, they had made a lasting impact at DePauw.
"Working with DePauw students is really a privilege," says Ryan, who has been at DePauw since 2003. "I am continually, continually humbled and impressed by what our students can do. DePauw students are motivated, they're creative. They are getting things done and making our campus a more welcoming and inclusive place."
Whether we are writing about the intellectual challenge of our classrooms, a campus life that builds leadership, incredible faculty achievements or the seemingly endless stories of alumni success, we think DePauw has some fun stories to tell.

101 E. Seminary St.
Greencastle, IN, 46135-0037
(765) 658-4416

News and Media