Meet the Staff
Aliza Frame
(she/her/hers)

Director of International Student Services
Aliza attended DePauw University and received a degree in Conflict Studies and Spanish in 2005. In 2014, she completed a Master of Arts in Executive Development for Public Service from Ball State University. Aliza is passionate about helping international students take full advantage of the DePauw experience, as well as providing opportunities for intercultural exchange and identity development for all members of the DePauw community. Aliza has worked in the field of International Education since 2005. In her spare time, Aliza loves to spend time with her family, travel, exercise, read and cook.
Alesha Bowman
(she/her/hers)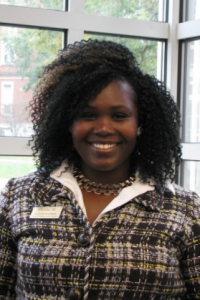 Director of Multicultural Student Services
Alesha received both of her degrees from the University of Central Missouri. A degree in Fashion Merchandising in 2013 and a Master of Science in College Student Personnel Administration with a certificate in Diversity in Higher Education in 2016. Alesha has worked in Multicultural Affairs since 2014. She enjoys working with underrepresented students to help prepare them to navigate future careers, being proud their identities. In her spare time, Alesha likes to thrift shop and travel, combining the two whenever possible.
Sarah Ryan
(she/her/hers)

Director of the Women's Center
Sarah attended the State University of New York Brockport and received her degree in English Literature in 1995. She then attended Kansas State University and received a masters degree in College Student Development in 1998. Sarah enjoys working in Intercultural Life because she has great colleagues who care deeply about all of the students, particularly those students from historically marginalized and underrepresented groups. Both students and staff who are part of Intercultural Life are creative, collaborative, and inspiring to work with. In Sarah's spare time she likes to check out live music and take walks at the DePauw Nature Park.
Matt Abtahi
(he/him/his)
Assistant Director for the Center for Diversity and Inclusion
Matt joined DePauw in the fall of 2017. Matt's work on campus focuses on the educational success, celebration, and advocacy for the LGBTQIA+ and men of color communities on campus. Matt serves as the CDI liason for United DePauw, Queer Students of Color (QSOC), Exhault! Gospel Choir, X-Cell and the Brotherhood. Matt's interest and education has focused on the intersections of leadership development and critical social theory. In his free time, Matt enjoys exploring the national parks and state parks in Indiana and visiting family and friends in Indy, Chicago, and Champaign. Prior to DePauw, Matt worked at Purdue University and the University of Colorado Boulder. Matt earned his Bachelors in Integrative Biology at the University of Illinois and Urbana-Champaign and his Master's in Higher Education at Loyola University Chicago.
Teresa Roberts
(she/hers/hers)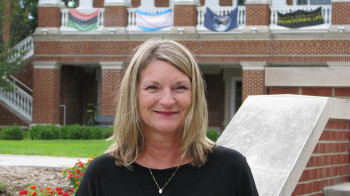 Office Manager of Center for Diversity and Inclusion
Teresa comes to the Center for Diversity and Inclusion after working in the Office of Admission for ten years and assisting International students in their application process. She has a passion for working with students on all aspects of life and experiences and to make sure they all feel welcome when they step into the Center for Diversity and Inclusion. In her spare time, she enjoys running and spending time with her family.