Meet the Staff
Dr. Karin Wimbley
Interim-Director of the Center for Diversity and Inclusion

Tamika Smith
Interim-Director Multicultural Student Services
Tamika joined DePauw in the Fall of 2018. She was raised in Moreno Valley, CA. Tamika's work focuses on enhancing the academic, out-of-class success, retention and persistence of graduation of students from historically underrepresented identities while also supporting the intercultural development of all DePauw students. She completed her Bachelors in Interpersonal Communication at Michigan State University, a Masters in College Student Affairs at The Pennsylvania State University and a Masters in Applied Biblical Studies at Moody Bible Institute. Prior to DePauw, Tamika worked at Ball State University, Northeastern University and Michigan State University. Tamika is a member of Sigma Gamma Rho Sorority Inc. In her free time, Tamika enjoys spending time with family and friends, crafting and thrift shopping.
Yoanna Sayili
CDI Coordinator for International Student Services

Matt Abtahi
(he/him/his)
Assistant Director for the Center for Diversity and Inclusion
Matt joined DePauw in the fall of 2017. Matt's work on campus focuses on the educational success, celebration, and advocacy for the LGBTQIA+ community, students of color, and DACA and undocumented students. Matt serves as the CDI liason for Prism Leadership Program, Queer Students of Color (QSOC), Exhault! Gospel Choir, X-Cell and the Brotherhood. Matt's interest and education has focused on the intersections of leadership development and critical race theory. In his free time, Matt enjoys exploring the national parks and state parks in Indiana and visiting family and friends in Indy, Chicago, and Champaign. Prior to DePauw, Matt worked at Purdue University, the University of Colorado Boulder and Loyola University Chicago. Matt earned his Bachelors in Integrative Biology at the University of Illinois and Urbana-Champaign and his Master's in Higher Education at Loyola University Chicago.

Sarah Pearson
(she/hers/hers)
Interim Coordinator of the Center for Diversity and Inclusion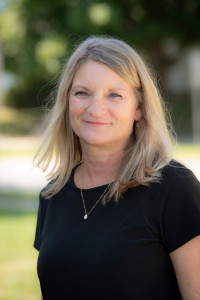 Teresa Roberts
(she/hers/hers)
Office Manager of Center for Diversity and Inclusion
Teresa comes to the Center for Diversity and Inclusion after working in the Office of Admission for ten years and assisting International students in their application process. She has a passion for working with students on all aspects of life and experiences and to make sure they all feel welcome when they step into the Center for Diversity and Inclusion. In her spare time, she enjoys running and spending time with her family.