DePauw Service Opportunities
Highlights
Spanish Enrichment
DePauw Service has 2 Spanish Enrichment programs to teach introductory Spanish to 2nd-5th grade students in Greencastle. Pictured here are some student volunteers and a student coordinator for the programs.
jumpstART Silent Film
Local Putnam County students at a monthly jumpstART program hosted by DePauw student volunteers.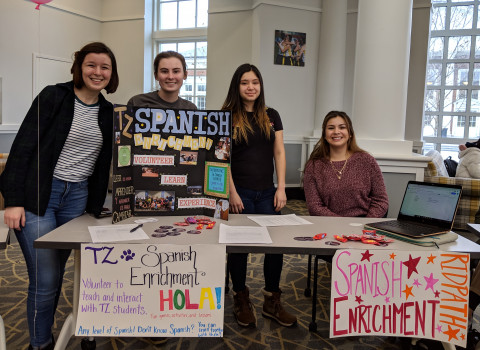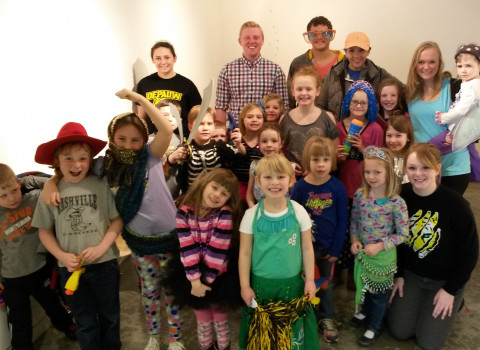 get involved with your new community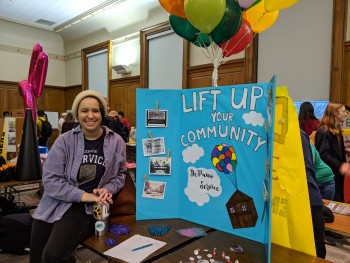 Your DePauw education will prepare you to make an impact wherever you go, but what will you do now, as a member of our community? Every year, hundreds of DePauw students dedicate their time and passions to engaging with our surrounding community.
Choose from over 20 programs focused on: mentoring and tutoring local youth; educational enrichment; relationship building; and other community initiatives throughout Putnam County.
How can you engage?
Volunteer Opportunities
The majority of our volunteer programs ask for a weekly (sometimes monthly) commitment from volunteers. With a variety of programs serving a multitude of issue areas, there's an opportunity for everyone.
Asbury Tower Senior Friend: Develop individual friendships with senior citizens through weekly visits or assist with group activities at Asbury Towers retirement home and nursing facilities.

Comprehensive Services: Build relationships with individuals with disabilities through art activities, spending time together, and assisting the staff with other tasks.

GMS After School: The GMS After School program provides 5-8th grade students a safe and fun environment to learn and work on homework.

Head Start: Play with preschool aged children, assist at mealtimes, and help staff with learning activities or be a bus monitor and make the children's bus ride an enjoyable experience.

Humane Society of Putnam County: Support our local animal shelter by helping with various tasks, including cleaning cages, walking and playing with dogs, and playing with cats.

jumpstART: Connect Putnam County youth grades K-5 to different types of art movements, styles, and artists in a fun and engaging way. This program meets the first Saturday of every month.

Knoy After-School Tutoring: Serve in Cloverdale Community School Corporation tutoring students after school and helping them complete their homework. This program meets after school Mon.-Thurs.

Non-Food Pantry: Assist with monthly distributions of non-food necessities, including toiletry and other hygiene products, to Putnam County families at St. Andrew's Episcopal Church.

Rescued Treasures: Assist in organizing inventory, stocking shelves, and greeting customers at this thrift store whose proceeds support the Humane Society in Putnam County.

Spanish Enrichment Programs: Expose elementary school students to basic Spanish language skills. Work with 2nd graders at Ridpath Primary School or 3rd-5th graders at Tzouanakis Elementary School.

Sports Night: Engage Putnam County youth in sports-related activities to foster a fun environment for teaching athletic skills and the value of being a team player. This program meets monthly on the first Friday.

TALKS Mentoring: Mentor middle school and high school students to encourage their personal commitments to integrity and excellence in the pursuit of life paths, in partnership with Gobin Memorial United Methodist Church.

Tot's Time: Engage children, newborn to five years old, in games and other activities at this free service offered through a partnership between Putnam County Family Support Service and Gobin Memorial United Methodist Church. This program meets every Tuesday.

YMCA After-School Program: Assist YMCA staff in an after-school program to help children with homework, tutor students in math and reading, and encourage kids to enjoy new experiences with friends.
DePauw Service Student Coordinators
Each DePauw Service site has designated student leaders who manage the program, volunteers, and communication with the community partner. Our student leaders are dedicated to engaging our campus with the surrounding community, and can help students take all the necessary steps to start volunteering.