First-Year Seminars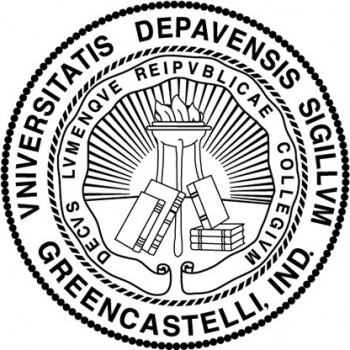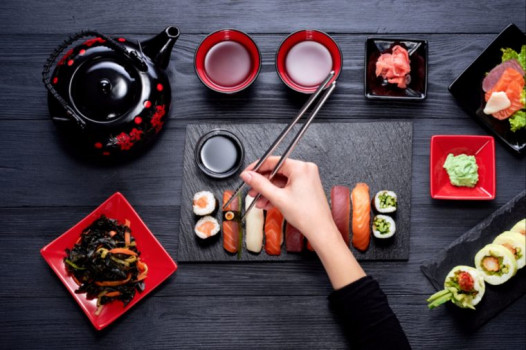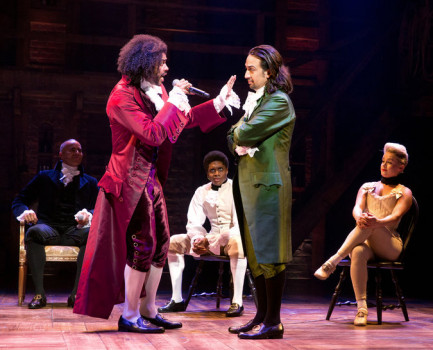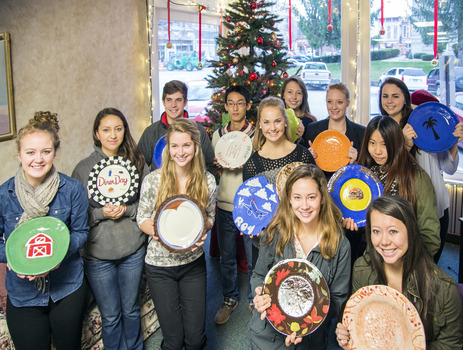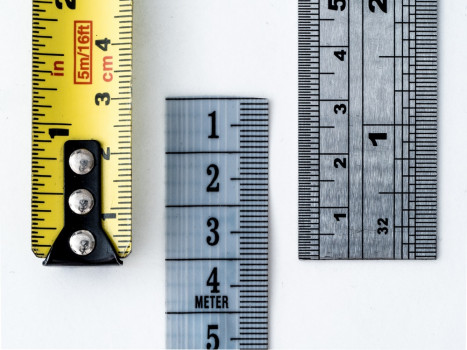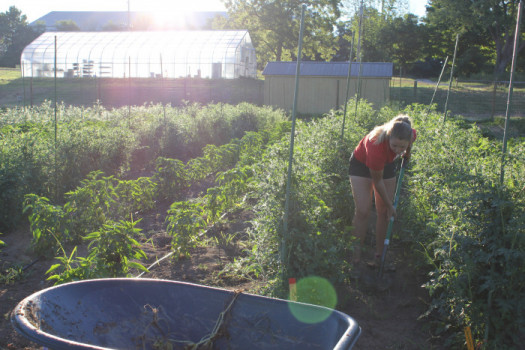 Each first-year student's fall schedule will include a first-year seminar. A first-year seminar is a small, discussion-based class that fosters academic discussions where students are encouraged in the exploration of ideas, careful reading of texts, and critical thinking. A first-year seminar is writing-intensive and serves as the first level of DePauw's writing curriculum. In most cases, the instructor is also the students' academic advisor until they declare a major.
First-Year Seminars are not intended to be the first step toward a specific major or career. Instead, they are designed to open new areas of interest and to allow students to think in new ways. Most seminars are interdisciplinary, introducing ideas and ways of thinking from more than one discipline (e.g., political science and environmental studies or chemistry and forensics).
For seminar requests, you will list eight seminars you are interested in taking. Students in the Honor Scholar Program do not request first-year seminars because they are assigned to their seminars.
SEMINARS ARE LISTED IN ALPHABETICAL ORDER. BE SURE TO REVIEW THE ENTIRE LIST. IMPORTANT: SEMINAR OFFERINGS MAY BE ADJUSTED OVER THE SUMMER BASED ON STUDENT INTEREST AND OTHER FACTORS.
A More Perfect Union
Emmitt Riley
Since the founding of the United States equality has been an essential element in American democracy yet the realization of this equality is not the political, social, or economic reality for many marginalized groups in the United States. This course will examine the dimensions of inequality within the United States. This course will explore some of the problems in American politics by specially examining the economic, social, and political inequalities that exists in the United States. This course will highlight these problems by analyzing the American political system and how its structure facilitates these inequalities. The emphasis in this course will be on the systemic causes, consequences, and the solutions that have been proposed for remediating economic, gender, racial, political and social inequalities.
All About Sushi: Japanese Food, Culture & Society
Andra Alvis
Sushi is now the most widely enjoyed Japanese food around the world. Originally a method to preserve fish, it has evolved into an elaborate global cuisine--with variations such as buffalo chicken and even ice cream sushi!
But sushi is more than just "fun food." We will discover, in fact, that the study of sushi introduces us to many issues important to understanding present-day Japan: from the politics of rice production and the ethics of tuna fishing to the economics of tourism and the technology of robotics.
As our in-class exercises develop your ability to read, think and write critically, you will come to view both sushi and Japan in increasingly complex ways. You will also be honing academic skills important to all your courses at DePauw.
Our final exam "poster session" will bring together, in a lively and informative way, everything that we have learned. Throughout the semester, you will work with me to develop an original research question, formulate your ideas, design a poster and polish your communication skills—everything needed for a successful presentation. (And, yes, a sushi reception will be provided.)
Alternative Autobiographies
Deborah Geis
What's your life story? And how do you plan to tell it? We've all seen and read conventional stories that go from infancy to old age, with all of the "significant events" in between, and many of these are powerful and inspirational. But what if we go outside the box and consider unconventional ways to narrate our lives? This course is designed to explore alternative memoir methods that have received increasing attention in the postmodern era: short-form memoirs, visual and performance art memoirs, graphic memoirs, food memoirs, and performance poetry. In addition to giving short oral presentations, you'll be expected to do some intensive writing that uses a variety of approaches, including the personal essay, the research essay, literary analysis, and other forms.
Biology Writing
Dana Dudle
The U.S. National Academy of Sciences recently identified four areas of critical need for the next several decades: sustainable food production, protection of ecosystems in the face of global change, development of renewable energy, and improvement in individual human health. Each of these crucial issues relates directly to understanding biological patterns and processes. To collaborate on solving these problems, scientists and the general public need to engage with each other. Scientists need to write clearly about complex, interdisciplinary topics for a general audience; meanwhile, community members must learn to read scientific texts with confident minds and critical eyes. And all of us need to consider what roles science communication should play in our collective pursuit of equity, justice, and sustainability in society. In this first-year writing seminar, we will approach texts from the popular press and from the scientific literature that will help us learn about food production, human health, environmental conservation, and more. We will write clear, concise, precise, and creative prose exploring these texts, and practice ways to present data in ways that can inform and engage our communities. As a final project, students will have an opportunity to read and write about biological topics relevant to their own lives.
Campus Sustainability 101
Jeane Pope
In a finite world, the needs of our ever-growing population and rampant consumption strain the resources of the earth and threaten the environment. Due to their complex and global nature, modern environmental problems like climate change, water scarcity, or mass extinctions can be overwhelming and really, really scary. Many individuals who care about both other people and the planet around them are left wondering: "what am I to do?" Fortunately, the practice of sustainability – which balances the needs of people today with those of people in the future – can provide solutions to these challenging problems.
This seminar will explore both the theoretical concepts explicit in different definitions of sustainability as well as consider how to put these ideas into practice. Because there is no universally accepted definition of sustainability, students will critically examine crucial ideas central to the concept of "sustain" (as in "to make last") through readings and discussion to ultimately to build a class definition over the course of the semester. Examples of these ideas include: markers of environmental quality; the role of social justice; and organizational principles of systems thinking. The seminar also includes an applied aspect in which students will be able to incorporate sustainability practices into their own lives while also learning about how to participate in positive change at a local, regional, and even global scale.
Whether you take it as a blessing or a curse, there can be no doubt that we live during interesting times. One thing that sets DePauw graduates apart, though, is their ability to think critical, creatively, and compassionately, and therefore do what needs to be done. As the foundation of a DePauw education, this seminar will both challenge and support students in a balance that will helps them grow into the person they want to be.
Climate Change and Philosophy
Rich Cameron
​Climate change poses significant philosophical problems. For example, it poses problems in epistemology or the theory of knowledge: what do we know about climate and how do we know it? How do we explain the gulf between the scientific "consensus" on climate change and public skepticism? And so on. Moreover, it raises problems about who we are (e.g., what responsibilities do we have and why?) and what it means to be an educated person in the 21st century. Can we learn to imagine living well yet sustainably, what will we need to know in order to live well in a climate changed world? The course will introduce students to research from a wide range of fields and in both the physical and social sciences and responses to the climate crisis of many forms. But our primary focus throughout will be on climate as posing existential questions each of us needs to grapple with: who am I and what should I do given the world as it is?
Creating Community with Art
Meredith Brickell
In this class, we will explore handmade cups and their potential to bring people together through the making process and around a shared table. We will test the potential of this universal form by creating our own handmade ceramic cups in the studio. Artmaking will be complemented by research in the Peeler Galleries art collection, which includes contemporary handmade ceramic cups from around the world. We will also partner with the Senior Center in Greencastle, inviting members of our local community to share in our experience of handmade cups through discussion and studio sessions.
Through creative making, community collaborations, and reading and writing, we will ask questions about this seemingly mundane object. What values does a cup embody? What role does a carefully handmade cup play in our fast-paced culture? How does a ceramic cup distinguish itself from commonly used, disposable cups? How can an artist challenge conventions by reinventing the cup?
This class will be taught in collaboration with two other First Year Seminars that use theater and stories to build community. Our three classes will actively create community by meeting together to consider the ways art, story, movement, and theater can connect individuals and whole groups. We'll think about the ways handmade objects, language, story, music, and dance create bonds between us. No previous art experience necessary. An interest in creativity, community, and collaboration encouraged.
Creating Community with Story
Joe Heithaus
In this class, we will explore how story potentially brings people together. By telling and writing our own and others' stories and reading and listening to stories from around the world, we'll test the practice of creating community. We will also partner with the Senior Center in Greencastle, inviting members of our local community to share their stories with us. Through creative making, community collaborations, and reading and writing, we will wonder about how the narrative form -- experience collapsed into a beginning, middle, and end -- becomes a way to understand ourselves in relation to others. We'll also question the ways stories are told by reading and listening to poetry, podcasts, short fiction, and non-fiction.
This class will be taught in collaboration with two other First Year Seminars that use theater and the making by hand cups to build community. Our three classes will actively create community by meeting together to consider the ways art, story, movement, and theater can connect individuals and whole groups. We'll think about the ways handmade objects, language, story, music, and dance create bonds between us. No previous art experience necessary. An interest in creativity, community, and collaboration encouraged.
Creating Community with Theatre
Tim Good
In this class, we will explore Applied Theatre and its potential to bring people together through the shared processes of creating our own narratives. We will test the potential of this universal form by creating our original performance. Theatre making will be complemented by research with DePauw Theatre and student performing groups, such as XCell, Elite Precizion, Exalt!, La Fuerza, Wamidan, DePitches, and Improv Club. We will also partner with the Senior Center in Greencastle, inviting members of our local community to share in our experience of creating community with theatre games through discussion and group sessions. Through creative making, community collaborations, and reading and writing, we will ask questions about this, ourselves and our communities. What values does "community" embody? What role does a carefully handmade live performance play in our fast-paced culture? How does a shared experience in the same room distinguish itself from commonly used, disposable video/film? How can an artist challenge conventions by reinventing the shared performance space?
This class will be taught in collaboration with two other First Year Seminars that use art and stories to build community. Our three classes will actively create community by meeting together to consider the ways art, story, movement, and theater can connect individuals and whole groups. We'll think about the ways handmade objects, language, story, music, and dance create bonds between us. No previous theatre or art experience necessary. An interest in creativity, community, and collaboration encouraged.
Creating Peace and Healing Trauma
Rachel Goldberg
Do you want to learn to help people who have been harmed or help yourself after difficult times? You will learn about trauma, how it works, and how people can heal, even years after experiencing traumatic events, and develop what's called post-traumatic growth.
It is said in the trauma field that "Hurt people, hurt people." Current research suggests that a large proportion of people in our society are trauma survivors of one kind or another. It is also clear that trauma is deeply connected to a cycle of violence, and that trauma healing is connected to individual and collective peace.
This class will give students an opportunity to experience the Strategies for Trauma Awareness and Resilience (STAR) methods and provide an in-depth introduction of trauma and trauma healing. The method includes art, music, poetry, games, and video, as well as more conventional approaches. Inclusive circle processes will be used in most classes.
Students will also design a project of their choosing, do a presentation on that topic, and will be encouraged to be creative and incorporate art, music, dance, theater, and experiential components into their final work.
Cycling Efficiency; Research experience in Kinesiology
Pat Babington
How efficient are you at riding a bike? Most people learn to ride a bike at a relatively early age. Just because you can make the bike go doesn't mean you are going to be the next Tour de France winner. Efficiency of movement is really important in most activity. Humans tend to expend as little energy as possible to complete a task. In this class we are going to explore energy expenditure and ways of changing your energy expenditure (making you more or less efficient) while cycling. Working as a group in the lab (and at times small groups) we will develop a study in human performance relating to cycling efficiency. Through this process you will learn the basics of applied research in the field of Kinesiology. This class has a weekly lab component. Students may count this course as the Introduction to Kinesiology (KINS100) course.
Dystopian Economics
Jarrod Hunt
Standing in stark contrast to the perfection that could be experienced in a utopia, a dystopia is a world riddled with imperfection. Many fictional works, including novels, short stories, television shows, and movies depict such flawed existences. Are the fictional worlds created in dystopian works really so implausible? What parallels can be drawn between the experiences of characters in various fictional dystopian worlds and real-world episodes encountered both in the past and present? In Dystopian Economics, we will explore these questions and others as we analyze substantial contemporary issues, including scarcity, income inequality, and social mobility. An emphasis will be placed on examining the social, political, and economic institutions that perpetuate, and often exacerbate, the circumstances navigated by fictional characters. And through the lens of dystopian fiction, we will evaluate existing real-world institutions and the role they play in our everyday lives.
Great Books of Islamic Civilization, 600–1500
Nahyan Fancy
This seminar will introduce students to some of the classical literature of Islamic civilization. Popular discussions abound over what Islam is and is not, what Muslims can and cannot do, and the relationship between Islamic and Western civilization; however, these discussions are rarely based upon reading the works of actual Muslims from the classical era that continue to be treasured by many Muslims (religious and secular) across the world. And much like the great books of Western Civilization, these works of Islamic civilization are great precisely because they speak directly to many issues of our contemporary world, whether on science and religion, theories of knowledge, aesthetics and beauty, philosophy and ethics, etc. Some key works we shall read include: al-Jahiẓ's Book of Animals, The Brethren of Purity's The Case of the Animals Versus the Humans, Ibn Ṭufayl's Ḥayy ibn Yaqẓān—the philosophical fable that inspired Robinson Crusoe, and Rūmī's Masnavi—a book of poetry that is known as the Persian Qur'an and whose author is the best-selling poet in the United States.
Hello AI
Harry Brown
Nick Bostrom, director of the Future of Humanity Institute at Oxford University, predicts that the next century will see the emergence of machine superintelligence, a form of AI far superior to humans in the speed and quality of its thinking. Science fiction imagines a range of superintelligent machines, from resourceful and good-natured helpers to ruthlessly efficient killers. The reality could be even stranger. Bostrom says, "rather than thinking of a superintelligent AI as smart in the sense that a scientific genius is smart compared with an average human being, it might be closer to the mark to think of such an AI as smart in the sense that an average human being is smart compared with a beetle or a worm." This seminar will survey the speculations and anxieties about superintelligence in science, literature, and film. When will it emerge, and in what form? How can we survive and control it? If superintelligence is the next evolutionary leap, how will it force us to redefine the human?
History of the Italian Renaissance
Michael Seaman
Michelangelo, Leonardo da Vinci, Lorenzo the Magnificent, Machiavelli. These individuals immediately bring to mind the Italian Renaissance, an age that saw an explosion of human ingenuity and creative expression as well as economic development and social experimentation. We will uncover the histories of Florence, Venice, Rome, Milan, Urbino, Siena, and other centers of Renaissance culture, read the works of Renaissance writers, and study the artistic achievements of this influential period. In class, we will focus on close readings in translation and hold constructive discussions of the main problems raised in the historical texts in an effort to develop critical thinking skills. The topics explored in the course include the Florentine republic; Petrarch and the development of Humanism; The Renaissance debate over the ideal form of government; Renaissance Venice; The impact of religious reformation on theology and politics; The Renaissance Papacy; Women in Renaissance Italy; Renaissance education; and the end of the Italian Renaissance, to name a few. Students will gain a thorough understanding of the principles of Renaissance humanism and an appreciation for the supreme artistic achievements of the age. No prior knowledge of Italian history or culture is required.
Horror in Film and Literature
Angela Flury
What is horror and why is it so popular? In this interdisciplinary course we approach these questions and others as we study theories that explain and contextualize horror as a socio-cultural phenomenon; the horror film as genre, and literature invested in affecting, fear, dread, and terror in its readers. The texts cover a historical spectrum and include Dante Alighieri's 14th-century poem The Inferno, 19th century penny dreadfuls and gothic fiction, silent films, and contemporary global cinema.
How to Build a Better World: Social Movement Praxis in America
Christina Holmes
Abolition and suffrage, marriage equality and Janet Mock's #GirlsLikeUS hashtag activism, DREAMERS, criminal justice reform, climate justice—this course introduces students to some of the most important social movements in the United States. Drawing on the fields of sociology, history, political science, art, and communication, we examine the successes and failures of social movements in their efforts to build a better world for all of us. We bring theories of oppression and justice, identity, and coalition to bear on our in-depth historical review of activism in the twentieth century as well as to our analysis of more recent and emergent social movements. We will look at and practice tactics such as forum theater and culture- jamming art production. Students will leave the course with increased social movement literacy, passion for causes that grab them, and some strategies for becoming change agents themselves.
Leaders, Heroes and Superheroes
Smita Rahman
One of the central questions of political theory is-- what makes for a good leader? Should the leader be a philosopher-king as Plato argued, someone who has a deep love of wisdom or knowledge? Or is an effective leader a ruthless tactician who does not hesitate to use violence and fear to acquire and maintain power, as Machiavelli famously asserted? In this first-year seminar we will begin to explore the idea of leadership across a wide-ranging set of literary and visual texts. We will begin with the conceptual underpinnings of the idea of leadership by reading excerpts from some of the most famous texts of political theory such as Plato's Republic and Machiavelli's The Prince, to name a few. We will then look at the heroic model of leadership in myth and fiction, weaving from Homer's Odyssey and his epic quest to return home from the Trojan war, to the heroic figures of Harry Potter and Katniss Everdeen in young adult fiction. We will close with an examination of superheroes as leaders by watching films such as Wonder Woman and Black Panther. Superhero films and graphic novels continue to permeate our popular culture in deep and profound ways. What does our contemporary fascination with superheroes reveal about the models of leadership we yearn for today?
Man Up: Unpacking Manhood and Masculinity
Matthew Oware
What does it mean to be a man? Our mothers, fathers, uncles, aunts, teachers, friends, significant others and media have told us in blunt and subtle ways. Many times important people in our lives admonished "Boy, you need to man up because…" You may have a good understanding of their perspective, but this course will explore how literature and scholarly research addresses manhood and masculinity. For example, is there only one way to be a man biologically, socially, or culturally? How is manhood defined nationally and transnationally? Does masculinity differ based on race, ethnicity, and class status? Does size really matter? Is masculinity fluid? How do sexuality, gender construction, and sex roles inform our understanding of being a man? This course attempts to complicate our normative understandings of manhood by tackling these questions through thoughtful films, lively presentations, and exciting writing assignments.
On Justice: The Individual, State, and the Law
Dan Shannon
On the question of justice. The course involves the student in reading and discussing classic theories and interpretations of justice, especially how justice affects individuals and their relation to the state and its laws.
Pencils to Smartphones: Documenting DePauw's History Through the Archives
Samuel Autman
Students will dive into the DePauw University archives, which houses hundreds of thousands of images, videos, audios and documents online and on the third floor of Roy O. West Library. We will learn about the faces behind the places, unearth traditions and little known facts about the university founded in 1837. While mastering the discipline of crafting research papers, students will also hone their visual storytelling intelligence by using new media tools already at their fingertips. By the semester's end, each student will create their own video essay with the aid of the Tenzer Technology Center, a space housed in the library, dedicated to helping students learn technology, computing, and visualization skills.
Pirates, Sailors, and Revolutionaries
David Gellman
The Atlantic Ocean and its seaports gave rise to dramatic expressions of liberty and cruel systems of oppression during the age of revolution that birthed the United States and other new world nations. This course puts sea-borne and sea-bound historical actors—pirates and the navies that pursued them, the enslaved and their captors, sailors and their captains, seaport laborers and their employers, seafarers and their wives—on center stage. Out of conflict and collaboration new nations, economies, and identities formed that shaped the modern world. We will use a variety of sources, including autobiography, online data, scholarly narratives, fiction, and film, to tell this story. Studying people at sea forces us to rethink what we mean when we talk about freedom, slavery, and revolution more broadly—then and now.
Poetry and Politics
Meryl Altman
"Poetry is not a luxury," Audre Lorde wrote in 1985. Poems can tell hard truths about the world, can get to the painful heart of the matter of living, can take us to places we wouldn't otherwise know in ways we won't forget. For centuries, thoughtful writers and readers have turned to poems to argue out all sides of burning questions, and to find clarity and hope in dangerous times.
If you enjoy reading, and would like to learn how to understand poetry more deeply, this class may be for you. We'll look closely at poems from all ages and in many styles to explore how poets have responded to the world they see and have spoken out for social justice. Themes will include poetry and war; poetry against racism; working-class literature; poetry of women's experience; languages of beauty, anger, and power.
Popular Chinese Films and Culture
Louis Smogor
One of the basic qualities of a well-educated person is curiosity; curiosity often leads to the asking of questions; and once the questions are asked, humans have a need to know the answers. This observation is the basis for this course, which is meant for students who enjoy watching and thinking about films.

Popular Hong Kong films, meant solely for a Chinese audience, look strange to people who have grown up watching films that cater to Western audiences' cultural values. The subject matter is often different, the way it is treated is different, and the film-making techniques used to convey it are many times different. We will watch some of these films and learn to generate questions about what we see. Then, we will discover ways to start to answer these questions by consulting assigned texts, library resources and the Internet. In the process of answering, we will no doubt generate even more questions. In this way, we will form well-founded ideas about the differences between US and Chinese popular culture and develop analytical skills that will serve well in the future. This is a course in which there are no right or wrong answers, but there are right and wrong ways of coming up with and expressing answers; there are no good or bad questions, but there are good and bad ways of communicating these questions.

Please note that a few of the films we may see involve nudity, violence, and adult themes that are treated in more intense ways than is typical in popular US films. Students who may be upset by this or whose personal values would not allow them to engage fully with the materials might be wise to consider another seminar.
Remapping America Through Music, Poetry, and Stories
Eugene Gloria
Without borders, this course explores, among other things, first generation-American fiction, poetry, and memoir. We will explore issues of race and identity as well as place and cultural history. Music by the Beatles, Jimi Hendrix, and Fela Kuti may intersect our readings in order to develop and deepen an intercultural understanding of America.
Roman Myths: Love and Transformation
Jinyu Liu
Based on a close reading of the Roman poet Ovid's poem Metamorphosis (Transformation), the course discusses a wide range of issues including how the Romans recreated Greek myths, how the ancient Greek and Roman writers used myths, and, most importantly, how they conceptualized love, gender roles, sexuality, masculinity and femininity. Although the main text of the course is Ovid's Metamorphoses (723 pages in the Penguin translation), it will involve 1) constant comparison with canonical Classical works such the Homeric epics, Greek tragedies, Vergil's poetry, among others, 2) examination of Ovid's story telling in the historical context, that is, the formative stage of the Roman Empire, and 3) investigation into the impact of Ovid's work through reception and adaptation in later eras. The course will expose students to a wide range of literary productions from the Greek and Roman antiquity that have had profound impact on both European and non-European cultures, help students improve their skills in close analysis, and contribute to developing their historical perspective on issues of gender and sexuality.
Science Communication and Public Engagement
Avery Archer
This course is designed to look into the ever-growing need of effective communication between scientists and non-scientists. The course will cover effective ways to present scientific results to a nonexpert audience in a variety of settings. We will discuss the challenges faced by scientists in presenting complex information in a way that is broadly accessible but still communicates key scientific details. Public policy is often formed by scientific information and input, as such decision-makers (politicians, public-servants, etc.) should be well-informed. Some policymakers have little to know scientific training but need to be informed on scientific matters in making policy decisions. We will discuss and analyze the methods of some prominent science popularizers in translating the jargon-heavy science writing into an accessible form for the general public.
Smashing Images: Iconoclasm and Iconophobia in a Global Context
Lyle Dechant
Why do people destroy images? This course will flip the focus of traditional art history: instead of looking at the processes behind the creation of statues, paintings, and other artworks, we will examine the ways they are attacked, damaged, dismantled, erased, or shunned. Through close reading and careful looking, we will explore a vast range of iconoclastic activity, from the mutilation of ruler portraits in ancient Mesopotamia, to the tearing down of Confederate statues in the present-day American South. We will investigate the motivations, methods, and goals of image-breakers, and how these relate to politics, religion, class conflict, aesthetics, and other areas of culture. Ultimately our journey into destruction will teach us just how dangerous images can be, both as vehicles of communication and as sources of power in their own right.
Taking on the World
Michael Sinowitz / Rebecca Schindler / Erik Wielenberg
DePauw's Latin motto—"Decus Lumenque Reipublicae Collegium"—translates to "The College is the Splendor and Light of the Common Good." This motto encourages us to commit ourselves to a liberal arts education in leadership, an education that will enable us to make a difference as global citizens. In this seminar, students read, discuss, and write about influential works from the past and present that are shaping the world. Selected by DePauw faculty from across disciplines, the works in the fall of 2019 come from Classical Studies, English Literature, and Philosophy. This year's selections include Sophocles' Antigone, the Analects of Confucius, James Joyce's A Portrait of the Artist as a Young Man, along with the contemporary works Homefire by Kamila Shamsie, Tribe by Sebastian Junger, and Sula by Toni Morrison. They explore such themes as the conflict between religion and the state, resistance to political authority, race and colonialism, and the morality of tribalism.
Teaching as a Performing Art
Eva Weisz
Have you wondered why some of your teachers were more effective than others? Why you liked some more than others? What were the behaviors of those effective teachers? Was there an artistry to their teaching? In an attempt to answer such questions, this seminar explores the nature of effective teaching with a specific emphasis on teaching as a performing art, and the parallels between teaching and performing. How do the worlds of the classroom and the worlds of the theater interface? Via writing and speaking assignments, students will clarify their notions about what it means to teach with artistry and passion.
The curtain is about to rise. Are you prepared to develop performance skills, which will capture the interest and motivation of your students?
The Measure of All Things
David Harvey
From an early age we are drawn to count and to measure; from reciting nursery rhymes such as "One, Two, Buckle My Shoe," reading stories such as One Fish, Two Fish, Red Fish, Blue Fish, to stacking blocks by size, we have an innate desire to take our measure of the world. In this class, we will examine measurements as a way of learning to understand our world, considering questions, such as: Why do we measure things? What do we choose to measure? How do we make measurements? What are the limits of measurements? How do we improve measurements? How does the act of measuring change what we measure? How do we measure what we cannot see? What can we not measure? What do we choose not to measure? Through a combination of reading, writing, discussing, and making measurements, we will work together to understand better the measure of all things.
What Are You Listening to This Week?: Popular Music and Cultural Identity
Sylvia Yang
What are you listening to this week? How does that make you you? Our social groups (peers, colleagues, acquaintances) are often determined by shared affinities for specific musical styles, artists, and the world views they come to represent. Yet music is also frequently used to catalyze various forms of social and political activism, challenge our relationship to society and structures of power, and initiate change. This seminar explores the nature of popular music and its relationship to culture, politics, and identity. The first part of the course surveys the discourse of popular music studies and the various trends in cultural studies that have prompted new ways of examining the relationship between popular music and social and cultural identities. From there, we will use this theoretical landscape to analyze an array of popular music cultures in and beyond the United States. The second part of the course focuses on developing multifaceted research projects that put these theories to use.
What Comes Next? Revolutionary France in Game and Fiction
Carrie Klaus
Lin-Manuel Miranda's hit Broadway musical Hamilton examines the birth of the United States, not only the war that led to the colonies' independence from Britain, but also, and more importantly, the challenging project of building a nation and the question of who gets a voice in it. In this seminar, you'll learn about the Revolution in France, a nation whose past and present are linked closely to those of the United States. We'll spend the first few weeks of the semester in an immersive role-playing game in which students will reenact the gathering of the National Assembly in Paris beginning in the summer of 1791, two years after the storming of the Bastille. Some students will play conservatives who argue for a return to the Old Regime, others will be radicals who want to abolish the monarchy and create a republic, still others will hold moderate views or represent women and men of lower rank who may not vote but who seek other ways of influencing outcomes. We will grapple with issues of voice and representation throughout the semester, ending with a study of two novellas from the 1820s, one set in French colonies in the Caribbean just after a rebellion of enslaved people, and the other, based on true events, relating the experiences of a young girl from Senegal who is raised in France. This seminar offers students an opportunity to think through and engage with problems that remain critical in the United States, and in the world, today.