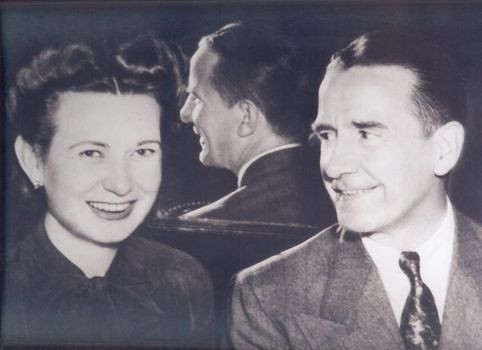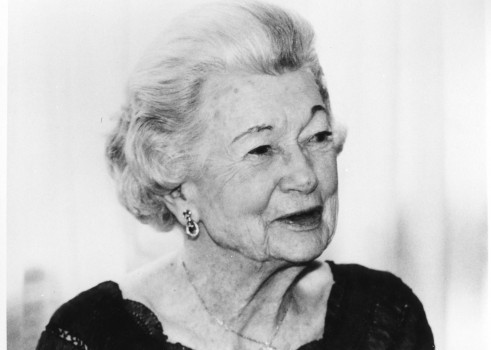 MEET COrella & Bertram Bonner
Corella Allen Bonner was no stranger to poverty. It surrounded her as a young girl growing up in the mining regions of Tennessee, West Virginia, and Southeastern Kentucky. It followed the 14-year-old and her divorced, job-seeking mother to Detroit in 1923. It confronted her as a middle-aged churchwoman each time she stopped to deliver a sack of groceries to a hungry family in Fort Lauderdale in the 1950s. Still vigorous in her early nineties, Mrs. Bonner spent the last few years of her life traveling to all of the colleges and universities which host the Bonner Scholars Program, usually accompanied by her daughter, Carol.
In contrast to the students who hold Bonner Scholarships, Mrs. Bonner didn't have the opportunity to juggle community service and college as a young woman. Money was scarce in her family, and by the time she was a teenager, Mrs. Bonner was working as a cashier in a cafeteria in Detroit by day, and taking high school courses at night. After high school she enrolled at Wayne State University. With a major in dietetics, she took classes in the morning and then walked ten blocks to her job in the restaurant at Detroit's ritzy Hotel Statler. She worked her way up from restaurant hostess to manager and was eventually transferred to the Statler chain's New York hotel.
In 1938 while living in New York she met an ambitious real estate developer named Bertram Bonner at a friend's dinner party. His office was a block from the hotel where she worked. Four years later, on September 18, 1942, they were married. The Bonners' involvement in community service actually evolved through Mrs. Bonner and her initial efforts to provide food for destitute families in Fort Lauderdale. When the Bonners moved in 1956 to Princeton, New Jersey to be closer to Mr. Bonner's real estate development and construction business, they started a crisis ministry program in the Presbyterian Church there. In the late 1980s, the Bonners began looking for a way to reach and help even more people with the millions they were ready to give.
After an initial gift to Kentucky's Berea College, the Bonners became close to President John Stevenson. Working together, the three of them came up with the premise for the Bonner Scholars Program: the idea of offering scholarships to needy college students who would return the favor by doing community service. Stevenson, in fact, helped the Bonners select the first 11 colleges for participation in the program. The next year another 11 colleges were selected.
For Corella Bonner, the bottom line of the Scholars program was the students and what they're able to accomplish. "The only thanks I want," she liked to tell the Bonner Scholars, "is for you to graduate. Then you can go out and help the world be a better place." In 1991, DePauw University became one of the participating institutions, joining the ranks of Davidson, Oberlin, College of the Ozarks, Richmond, Spellman, Rhodes, and Carson Newman. Most of the Bonner schools are located in the southern Appalachian and Piedmont areas, which are regions with high levels of poverty and need.