Doctoral Practicum Opportunities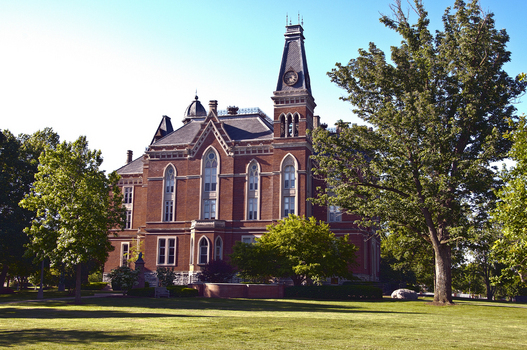 DePauw University Counseling Services hosts three 20 hours/week internship positions each academic year.
These paid internships are available to doctoral students enrolled in either Clinical or Counseling Psychology needing to complete a practicum. A typical week includes 9 hours of individual/group therapy, 2 hours of individual supervision, 2 hours of intakes, 1 hours of consultation, 1 hour case staffing, 1 hour of outreach, 2 hours of group supervision and 2 hours of case management/paperwork. Additional staff development/training opportunities are available to trainees during the year.
In addition to individual clients, trainees may see couples or process/observe psychotherapy groups, depending on the need for such services. DePauw's counseling services are available to any enrolled DePauw student. Clients present with a variety of issues, the most common being relationship problems with family or significant others, depression, anxiety, eating/body image issues, substance abuse, trauma recovery, and stress management.
Schedules are flexible with the exception of Fridays, which are required 9am-3pm for clinical staffing and group supervision. The center is open 8am – noon and 1-5pm Monday through Friday and we attempt to coordinate schedules to cover all hours that the center is open. All trainees are required to be on site 3 days per week. In addition to the clinical work, outreach is an important aspect of the training program and all trainees are expected to participate in these programs each semester. Some outreach programs may take place during the evenings and we would like trainees to be available to participate in some of the programs.
DePauw University Counseling Services promotes a supportive, collegial atmosphere committed to training. In addition to our doctoral practicum trainees, the clinical staff is currently comprised of two licensed psychologists and two licensed mental health counselors who are engaged in the center's training program. The center staff and trainees participate in Student Academic Life divisional staff development activities and may attend conferences. In addition, each intern has an office equipped with a webcam recorder, a computer, a DePauw email account, telephone and access to university resources such as the library and computer labs.
Finally, the internship embraces the awareness and use of self-perspective as part of our training model. We value personal exploration and expect trainees to examine the qualities and dynamics they bring to interactions with clients, peers, and other work-related relationships. We believe such discussions, as they relate to trainees' activities throughout the year, can be quite useful when trying to understand transference and countertransference issues and in facilitating professional growth. This may call for trainees to reflect on and discuss personal reactions that might influence their clinical practice. Such disclosure frequently occurs within a supervisory relationship characterized by safety, trust, and respect. Supervision is not viewed as psychotherapy, and the focus of personal exploration is meant to enhance trainees' growth and effectiveness as clinicians rather than serve as a form of psychotherapy.
How to Apply
Students are welcome to submit the following materials by February 2nd, 2018 to be considered for an interview. Interviews are scheduled to take place March 5th - 9th, 2018.
A letter of interest that addresses the following four prompts:

Who are you? What is your background, interests, hobbies, etc?

How did you become interested in pursuing graduate work in psychology? What are your career goals?

What interests you about completing an internship/practicum at a university counseling center? Is there something specific about DePauw that appeals to you?

What experiences have you had (paid/unpaid or formal/informal) that have helped prepare you for working in the counseling profession?

A current vita

Two completed recommendation forms

Your graduate transcripts (unofficial transcripts or copy accepted)
Please send your materials* or direct questions to:
DePauw University Counseling Services
Hogate Hall, Suite 100
800 S. Locust Street
Greencastle, Indiana 46135
Phone: (765) 658-4268
Fax: (765) 658-4268
Email: counselingservices@depauw.edu
* Please note that emailing your materials directly to counselingservices@depauw.edu is acceptable instead of sending it via mail.