Mobile Reporting
DePauw Police Department partners with Campus Eye to provide a mobile reporting solution.

DePauw Police Department would like to invite you to join our new campus-wide reporting solution, Campus Eye. It provides a direct line of communication across our entire campus for reporting general safety and physical safety issues. With Campus Eye, you can use technology you are already familiar with to instantly send reports to the DePauw Police Department. You also have the option of reporting anonymously, if desired.
All reports will help students, faculty and staff report information quickly so the appropriate departments can take immediate action and handle campus security or physical security issues as they arise.
The app also features one touch dialing to 911 and immediate access to DePauw University's Emergency Procedures.
1 DOWNLOAD THE APP Search "Campus Eye" in the App Store or Google Play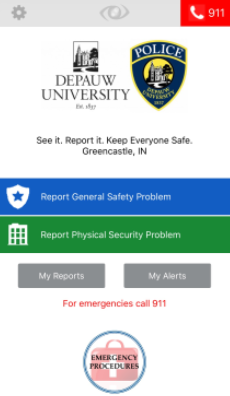 Accept invitations for location services and push notifications
2 SIGN UP Enter the sign-up code: YYAL Tap Sign Up
3 CREATE YOUR ACCOUNT Enter your name; email address, password and health conditions Tap Sign Up Stay logged in to your Campus Eye app for quick access. For Emergencies, Call 911
4 CREATE & SEND REPORTS Tap Report Campus Security Problem or Report Campus Facility Problem Enter report detail Tap the camera icon to take a new picture or upload a picture Tap Anonymous to send report anonymously (optional) Tap Send
5 MANAGE YOUR REPORTS & ALERT FEATURES Tap My Reports to view reports you have submitted Tap My Alerts to view status updates and alert messages sent by your school
You may also use your computer to send a report by using the Web Reporting Feature.
1 GO TO THE WEBSITE Locate the specific URL on your school's website Or go to https://mycampuseye.com/web/YYAL. A Mobile App Account is NOT required to send Web Reports.
2 CREATE & SEND REPORTS Click Report Type: Campus Security or Campus Facilities
Click Anonymous to send report anonymously (optional)
Attach an Image File Enter name, email address, and phone number
Enter report detail
3 Click RECAPTCHA checkbox
4 Click Send Report
---
DUPD wishes all moms a very Happy Mothers Day!! https://t.co/G2qtthrLNE
1 year ago
Just a quick reminder to use caution when using Social Media. Not everyone that requests you as a friend is in fact a friend. https://t.co/ypGRfW63HT
1 year ago
@100kindsofblake This post has been reported to the police. The subject that you identify in this video is not Ms. Hutchison and therefore can be construed as "Slander". I will pursue charges against you if this not taken down. Capt. R Keller
1 year ago