Only six years out of DePauw, Adam Weaver '13 already has worked in Germany, South Africa and New York City before settling where he chose, back home again in Indiana.
And it all started with a little sisterly advice.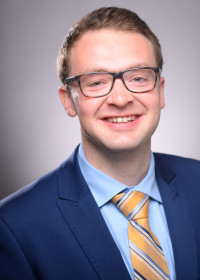 "My sister is four years older than me; she took Spanish" at Southwestern High School in Shelbyville, a school so small his graduating class had only 47 students. She warned him that the Spanish program was in flux, whereas the German teacher was considered "awesome.
"When it came time for me to choose my foreign language I just chose German, based on the fact that my sister encouraged me to and I wanted to learn something," Weaver says. "I was curious about different cultures. Starting German in high school, I just fell in love with it. … It was really a way to explore the world from this small, rural place where I was brought up."
He was so taken that he eagerly took a teacher's advice and applied for the Indiana University Honor Program in Foreign Languages; his selection meant he could spend a summer in Germany, speaking nothing but German, with the goal of attaining what the program called "practical fluency."
He chose to attend DePauw because he knew that the university encouraged its students to study abroad. "There were just so many opportunities for me at DePauw and I just really loved it when I visited," he says. "For me, DePauw was a place where I knew that I was going to be able to travel and explore more and have the opportunities I needed in college to catapult myself to a good career later."
Weaver double majored in economics and German. For the winter term of his sophomore year, he crafted an independent study project that involved traveling to Germany to study the German language's adoption of English-language words and phrases. Then, as a participant in the Management Fellows Program, Weaver sought out two alumni who had done internships in Germany and, through a series of contacts, he ended up serving his required internship in spring of his junior year in the Berlin office of the Indiana Economic Development Corp.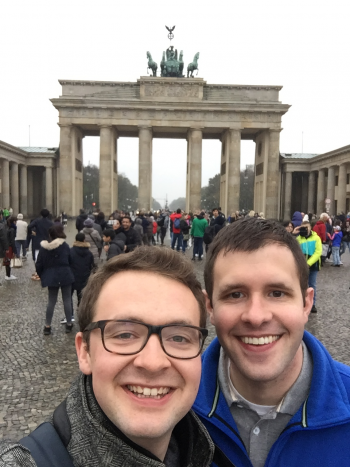 As graduation from DePauw neared, he knew he wanted to work in Germany and began looking online for jobs at any of the Big Four accounting firms. He found a business consultant role at EY – formally Ernst & Young – and filled out the application with the help of his German professors, who also coached him as he went through several videoconference interviews.
He got the job, in which he conducted IT audits and advised large German automotive companies on their global transformation projects.
"It did not surprise me at all that he was offered the job with EY, his top choice," says modern languages professor Inge Aures. "Economics and German are a great combination because Germany is the largest economy in Europe. By being fluent in German, Adam opened up new possibilities, namely working for an American company in Germany."
Weaver liked the work and the environment but "I really wanted to see more and learn more," so in late 2016 he applied for a temporary international placement. EY placed him in Johannesburg, where he advised clients on human resources matters, including employment equity.
"It really broadened my horizons both career-wise – I made a lot of great connections there – and the work that I did there definitely influenced my career path going forward," he says. After returning to Germany in early 2017, he made inquiries about someday working for EY's diversity and inclusiveness initiative.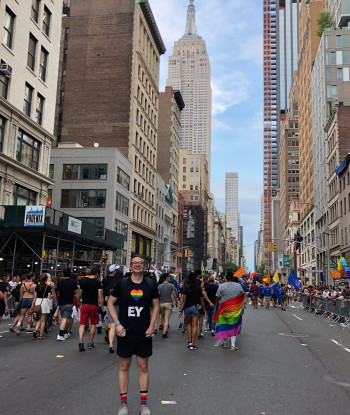 "For me, as a gay man, I was very interested in this," he says. "Having felt like an outsider growing up in rural Indiana, you don't feel ready to voice who you are in that kind of environment. But then you grow up and gain your voice. I just found it was that work that I did with clients in South Africa that really pushed me to explore something else."
An opportunity came that summer, and Weaver landed the job with the diversity and inclusiveness team that covers the Americas. He moved to New York City in early 2018 with a promise that, after a year there, he could choose his location.
"I wanted to really go back to Indianapolis because my family was there; my boyfriend's here; we'd been doing long distance for a while," he says. He moved to Indianapolis in January.
When management fellows call him for advice, Weaver says he tells them to "make the most of your time while at DePauw in terms of finding connections, those people who have done things similar to what you want to do or are in places where you want to be. Try to connect with them, pick their brain on their career path."
He credits DePauw with exposing him to a wide variety of topics that caused his resume to stand out from others and for giving him experiences that taught him skills to adapt.
"You hear this all the time when you're at DePauw," he says, "but I think it's so true: The liberal arts experience really does set you up to thrive in all kinds of environments."