The Prindle Institute for Ethics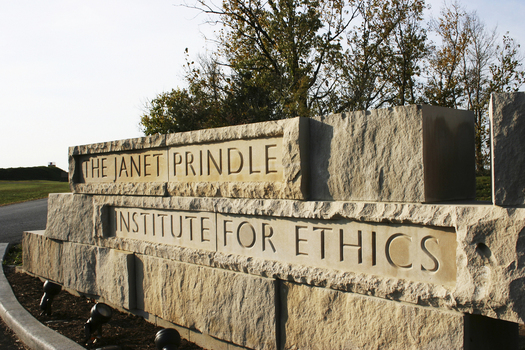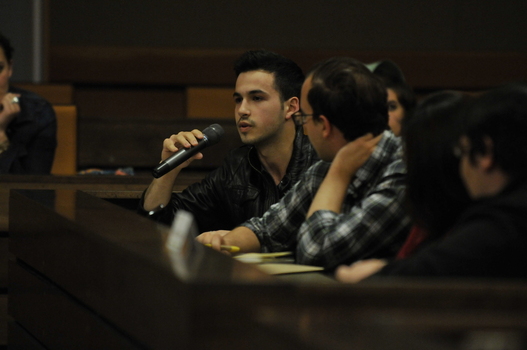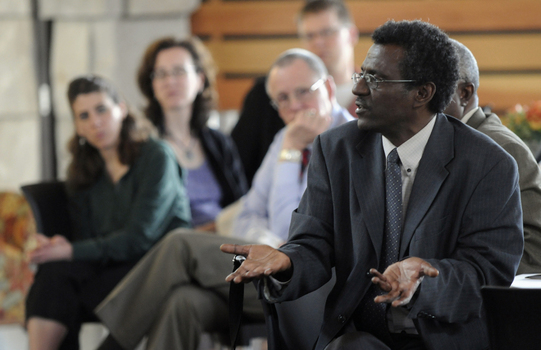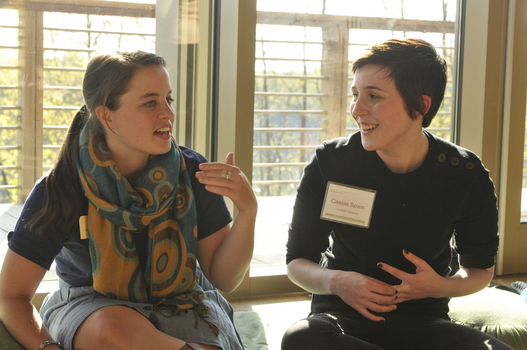 The Janet Prindle Institute for Ethics promotes critical reflection and constructive debate about the most important ethical questions: What is right, just, and good, and what must human beings do — now and in the future — to meet their moral responsibilities? The Institute seeks to explore with students the moral challenges of the 21st Century and encourage them not to remain silent in the face of injustice.
The Prindle Institute is an essential element of daily life at DePauw University. A generous gift from Janet W. Prindle '58 funded the construction of a state-of-the-art facility that houses the Institute. Standing on the knoll of an old quarry site that was reclaimed as an extension of the DePauw University campus, the Institute's beautiful natural setting provides an inspirational environment for gatherings to mine new veins of research, dialogue and teaching.
We host and facilitate substantive explorations at the intersection of personal and professional ethics. Our programs embrace both the practical and the philosophical with strong emphasis on the spirit of inquiry. Speakers from across the country and around the globe come to Prindle to share their expertise and spark our moral imagination.
The Institute also provides support for DePauw faculty members to further incorporate ethics in their teaching and research. Our intern program, supported by a gift from DePauw alumni Charles W. and Anne (Mossberg '51) Hillman '52, allows outstanding DePauw students to work closely with Institute staff and scholars in planning and conducting programs and events. Campus organizations and community groups find the Institute an ideal setting for retreats that focus on values and ethics.
Welcome to The Janet Prindle Institute for Ethics at DePauw University. We hope you will join us for lively conversations, provocative forums and meaningful moments of reflection.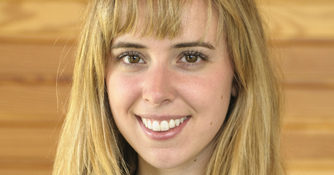 Meet Our Interns: Spotlight on Camille Veri
Read More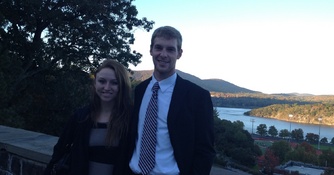 Read Dr. Steele's interview with Cheney Hagerup and Tyler Davies, student interns about their experience at the National Conference on Ethics in America at West Point
This fall, two Prindle Interns, Cheney Hagerup '15 and Tyler Davies '14, attended the National Conference on Ethics in America at the United States Military Academy at West Point. Following their return to DePauw, Dr. Bob Steele, Director of The Prindle Institute for Ethics, asked Cheney and Tyler to discuss their experiences at the conference.
Read More
@DePauwPrindle on Twitter
---
I posted 29 photos on Facebook in the album "Undergraduate Ethics Symposium: Thursday" http://t.co/ScOC33bfd3
19 days ago
Check out this week's events on our blog's weekly preview! Topics include open access to academic materials, the... http://t.co/Gqmhebp6A0
23 days ago
27 days ago
Photos from the last day of the Undergraduate Ethics Symposium! We miss everyone already! http://t.co/HBy9Foq8N5
27 days ago
I posted 62 photos on Facebook in the album "2013 Undergraduate Ethics Symposium: Saturday Photos" http://t.co/s1bpKT8AQN
27 days ago
New photos from the 2013 Undergraduate Ethics Symposium! http://t.co/vLJSIJr6Ed
29 days ago
43 years ago
43 years ago
43 years ago
43 years ago
43 years ago
43 years ago
43 years ago
43 years ago
43 years ago