Tigers Post Exhibition Win over Division I Purple Aces
October 30, 2010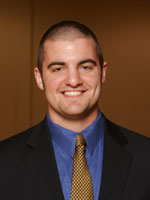 October 30, 2010, Evansville, Ind. — Ryan Sever (pictured) scored 14 points and grabbed nine rebounds in leading DePauw to a 66-62 exhibition win over Division I Evansville in front of 4,378 at Roberts Stadium.
The Tigers trailed by as many as six in the opening five minutes, but used a 9-3 run to knot the score at 11-11. DePauw led by as many as six with just over two minutes left in the half on the way to a 35-32 halftime lead.
DePauw opened the second half with a 6-2 run to extend the lead to 41-34, but the Purple Aces scored eight straight to gain a 42-41 advantage. Evansville still held a one-point lead at 48-47 with 8:49 remaining before Michael Wilkison hit a three and Drew Wills scored on a layup to give DePauw a 52-48 lead with 7:40 left.
After Evansville tied the game at 58-58, Sever hit a jumper and a pair of free throws to give the Tigers a 62-58 margin with 52 seconds left. DePauw hit four free throws down the stretch to secure the win.
Wilkison joined Sever as a double-figure scorer as he finished with 11 including a team-high three three-pointers. Sean Haseley dished out five assists in the win.
Colt Ryan paced Evansville with 17 pints, while Kenny Harris added 11 and Matt Peeler followed with 10. Kavon Lacey dished out four assists and Peter van Tongeren grabbed nine boards.
The Tigers shot 42.9 percent for the game including 52.0 percent in the opening half. The Tigers knocked down 9-of-20 threes in the win and held a 36-32 rebounding edge. Evansville shot 44.0 percent for the game including 54.2 percent in the opening 20 minutes. The Purple Aces, however, hit just 15-of-30 free throws.
DePauw opens the regular season at the Wabash Tipoff Tournament where they'll face Franklin at 6 p.m. on Nov. 19.
Follow DePauw Athletics on Twitter | Become a Fan of DePauw Athletics on Facebook
Back