Fourth Quarter Goal Line Stand Preserves DePauw Football Win
October 29, 2011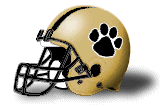 October 29, 2011, Sherman, Texas — DePauw's defense stopped host Austin at the Tigers' 2-yard line in the fourth quarter and the offense was able to nearly run out the clock and capture a 21-17 win over the Kangaroos. DePauw improved to 3-4 on the season, while Austin dropped to 0-8.
Austin took a quick 7-0 lead as Jordan Schell scored on a 23-yard pass play from Noah Jesko just 33 seconds into the contest. The score was set up after DePauw's Armani Cato fumbled on the game's opening scrimmage play and Austin's De'Andre Holmes recovered at the DePauw 34.
DePauw quarterback Drew Seaman teamed with Bobby Coburn for a 23-yard scoring pass to tie the game at 77 with 6:53 left in the half. The Kangaroos, however, took a 10-7 lead into the locker room after Mitch Anderson booted a 21-yard field goal with 14 seconds left in the half.
The Tigers wasted little time in taking the lead as they took over at the 50-yard line on their first possession. Cato carried three straight times for 20 yards before Seaman tossed a 30-yard scoring pass to Taylor Wagner. The score gave DePauw a 14-10 lead with 10:57 remaining in the third.
DePauw extended the lead to 21-10 when receiver Jordan Hickam scored on a 7-yard run with 1:16 remaining in the third.
The hosts closed the Tigers' lead to 21-17 when Schell scored on Jesko's 25-yard pass with 8:52 left in the fourth. A penalty on the ensuing kickoff and another on the first play from scrimmage pushed DePauw back to their own 7-yard line. Jeremiah Morgan fumbled on the next play and Austin's Ethan Tanner recovered at the DePauw 10.
Jesko's first down pass fell incomplete and his run on the next play failed to gain any yardage. Jesko then completed a third-down pass to Broc Boyd to the 2-yard line, but Jesko's fourth-down pass was also incomplete and DePauw took over.
The Tigers were able to run the clock down to just four seconds and Michael Fultz sacked Jesko on the game's last play.
Austin outgained DePauw 264-247, but the Tigers held a 118-34 advantage on the ground. Cato finished with a career-high 90 rushing yards on 27 carries, while Seaman completed 11-of-19 passes for 114 yards and two touchdowns. Will King came off the bench after Seaman sustained an injury and was 3-of-5 for 15 yards. Taylor Wagner, D.J. Steward and Coburn each caught three passes in the win.
Boyd rushed for 23 yards on nine carries for Austin, while Jesko completed 24-of-40 passes for 230 yards and two touchdowns. Braydon McQuar hauled in eight catches for 66 yards, while Schell had six grabs for 89 yards.
DePauw's Ben Brandstatter and Graham Wilkerson each totaled nine tackles, while Zach Price and Mitch Dwenger each had eight. Price led DePauw with 2.0 tackles for loss as the Tigers totaled eight for 32 yards in losses. The Tigers had four sacks on the day.
Kenneth Eneh led Austin with 13 tackles followed by Stephen Young with nine. The Kangaroos totaled 8.0 tackles for losses of 30 yards as Tanner led the way with 2.5. Austin also had two sacks on the day.
DePauw returns to Blackstock Stadium on Saturday, November 5, when it hosts Albion at 1 p.m.
Back