International Admission Campus Video
Uncommon Success
WE'RE COMMITTED TO YOU.
WHATEVER YOU'RE COMMITTED TO.
Intellectual life at DePauw hones your ability to think clearly, communicate effectively and synthesize information in a compelling way. Social life enables you to build a network of friends and gain valuable leadership experience. DePauw students succeed through a combination of a superb education, polished social skills and a powerful alumni network.
Three international students partake in the fall international festival
APPLICATION CHECKLIST
Through a highly selective process, we offer admission to students for whom a DePauw education will lead to lifelong success.
SCHOLARSHIP AND FINANCIAL AID
DePauw provides generous merit scholarships, awards and financial aid grants to international students at the time of admission. Selection is based on prior academic strengths, leadership and community service.
Academics
Develop the leadership skills, critical thinking and experience necessary to lead in today's world. Our brilliant faculty and co-curricular liberal arts approach make this transformation possible.
PLOT YOUR PATHWAY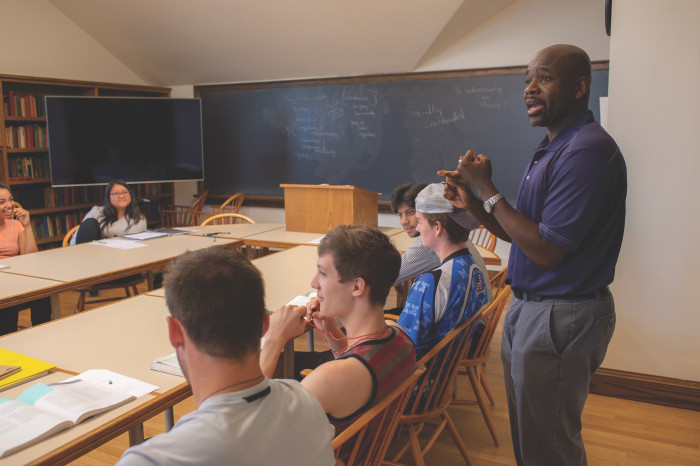 DePauw is a liberal arts college. Whatever you choose to study, you'll learn to think, speak and write in ways that set you apart. We offer 45 majors, 53 minors, four honor scholar and fellows programs and three degree programs in the School of Music. Add internships, study abroad and month- long winter term and May term courses on or off-campus.
You can even create your own major. Combine courses, work with faculty advisers, map your curriculum and bring your studies to life through a variety of classroom and practical opportunities. Major of your choice + focused courses + experiential opportunities = your success.
SOCIAL LIFE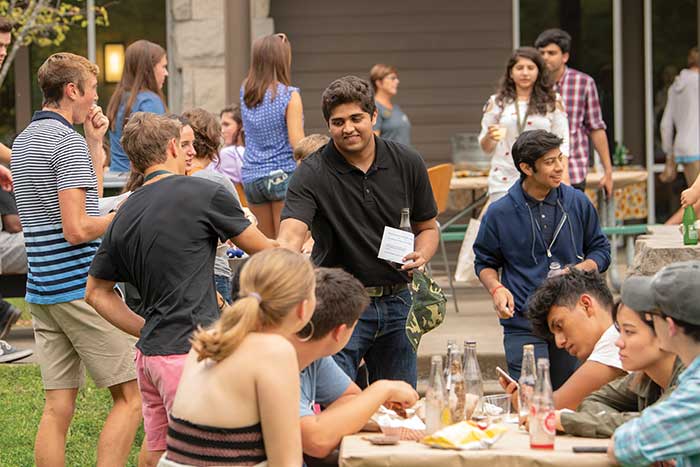 DePauw's highly social atmosphere is derived from the energy students bring to athletics, arts and more than 100 student-run organizations. Whether you get involved in service work, play intramural sports, write for The DePauw or host a radio show, you'll find a campus built for engagement. Your peers will support you. You'll analyze situations, solve problems and develop friendships that will last well beyond your time at DePauw.
EXPLORE THE WORLD
Studying off-campus provides abundant educational and life-changing benefits that go far beyond coursework. Off- campus programs provide the chance to enhance academic experiences through engagement in independent study, service and personal development opportunities. You will learn more about cultures, languages and common practices as you meet and interact with people in a new setting.
HONOR SCHOLAR AND FELLOWS PROGRAMS
DO YOU ...
Dream of being an entrepreneur or testing your business savvy? The MANAGEMENT FELLOWS program has a 39-year track record of success.
Aim to work in multimedia, journalism, production or publishing? Apply to the MEDIA FELLOWS Program.
Long to explore connections among fields and have the intellectual courage to delve into difficult and unfamiliar topics? The HONOR SCHOLAR Program is for you, no matter your major.
Wish to change the world by confronting the complex, interdisciplinary environmental challenges of today? ENVIRONMENTAL FELLOWS is your community.
Want to conduct hands-on research? Connect with The Asher Office of Undergraduate Research, Scholarship and Creative Activity; You even may propose your own research project.
INTERNATIONAL STUDENT ALUMNI HIGHLIGHTS
Lisa Kanai '16, Japan: management consultant, Deloitte, Tokyo, Japan.
Duc Pham '13, Vietnam: CEO and founder, ViCare, a startup with a vision to make high-quality health care accessible to every Vietnamese.
NingXiaoxi Chang '13, China: research and development, BMW Group, Beijing, China.
Mira Yaseen '12, Jordan: marketing and social media, U.S. Embassy, Amman, Jordan.
Aishwarya Subbaraman '12, India: associate, portfolio management, Standard Chartered Bank, New York.
Phuong Nguyen '12, Vietnam: program manager, Google, San Francisco.
Lala Tanmoy Das '12, India: health consultant, EY, New York.
Shreeya Neupane '12, Nepal: program associate, Transnational NGO, Syracuse, New York.
Ha Hoang '12, Vietnam: chairwoman, Primatek, Hanoi, Vietnam.
Jordan Stefanov '12, Bulgaria: associate, PriceWaterhouseCooper, London, England.
Tamana Ogawa '11: environmental entrepreneur, Tokyo, Japan.
Yujiao Qin '11, China: medical physicist, Advocate Health Care, Chicago.
Xinxin Liu '11, China: general manager, Mars Inc., Beijing, China.
Penka Shopova '10, Bulgaria: vice president, BCS Global Markets, London, England.
Henry Malm '08, Ghana: strategy and business analyst, Cummins Inc.
Projjol Banerjea '06, India: founder and CPO, Zeotap, a global leader in telecom data on-boarding. Zeotap has offices in New York, Berlin, Bangalore and Milan.
Nisreen Z. El-Shamaleyeh '04, Jordan: senior international media manager, Office of the Queen Rania, Amman, Jordan.
Tao Zhang '97, founder, Dianping, China, a marketing platform for restaurants and other businesses.
Zoltan Varga '96, Croatia: executive managing director and head of Asian investing, Och-Ziff Capital Management Group LLC, Hong Kong.
Shibani Bathija '90, India: Bollywood screenwriter, currently with Dharma Productions; also worked in screenwriting and creative development at Fox, Viacom and Sony, Mumbai, India.
"I am a rising senior from India. What I love most at DePauw is all the opportunities to meet new people and participate in a wide array of programs and organizations. Outside the classroom, I am a member of the men's golf team. I am a management fellow. I am an active member of Delta Upsilon fraternity at DePauw. My other positions include vice president of diversity and inclusion for Interfraternity Council and member of the Interfaith Council. I am also a member of the consulting and finance club here at DePauw. I am a big movie buff and a bigger superhero geek. Finally, I am passionate about music, books as well as desi (subcontinental) food and sports."
NAME: Abhishek Sambatur
HOME COUNTRY: India
MAJOR/MINOR: Economics and Computer Science
"HAO! (Hello)
I am a rising junior from Hanoi, Vietnam. For me, what I love most about DePauw is all the opportunities provided to students to gain valuable leadership skills. For instance, I am the upcoming Speaking and Listening Center consultant, an international liaison for the Office of Admission and a Coquillette peer consultant for the Hubbard Center. Additionally, I am a management fellow and proud member of Alpha Chapter of Alpha Chi Omega sorority. Outside of class and work, I
am an avid dancer and I love meeting new people."
NAME: My Le "Millie"
HOME COUNTRY: Vietnam
MAJOR/MINOR: Economics and psychology
"I am a rising junior from Myanmar. What I like most about DePauw is all the experiences I've had. The camaraderie I was able to create with my floor mates, the bonds I developed with my soccer teammates and, most important, the international family, which is welcoming and very supportive. As an international ambassador, I hope to become the bridge between international students and domestic students. Outside the classroom, I'm a member of the men's soccer team (#gotigers), an active member of the Delta Upsilon fraternity and a proud member of the J-Board in the chapter. Finally, I have a thing for sing-along music, morning coffee and tropical islands."
NAME: Yutaka Phyo
HOME COUNTRY: Myanmar
MAJOR/MINOR: Education Studies
"Hi all! My name is Shuqi Li. I am a rising junior from China, majoring in economics and minoring in Asian studies. One of the reasons that I love DePauw is its community engagement. In my first year, I participated in several volunteer programs. I was involved in collecting food donations for people in need. Also, I have been involved in a program called "student friend." This program connects DePauw students with local elementary school students with the goal of providing mentorship and support. Through these experiences, I not only contribute to the local community, but also, I learn more about American culture. Moreover, I am on the board of two clubs, DePauw China Connection and Wamidan. Every semester, we hold various cultural events such as Spring Festival Celebration and Spring Showcase. These are great opportunities for me to improve my leadership skills and collaboration skills. Besides campus life, last summer, I served as a summer English Institute teaching assistant and an international ambassador. The goal of these programs is to help first-year international students adapt to their new DePauw community and to be aware of all the available resources on campus."
NAME: Shuqi Li "Millie"
HOME COUNTRY: China
MAJOR/MINOR: Economics
DePauw graduates have won Truman and Goldwater scholarships and fellowships from the National Science Foundation and the National Institutes of Health.
A SELECTION OF GRADUATE SCHOOLS ATTENDED BY DEPAUW GRADUATES
Boston University, Carnegie Mellon University, Georgetown University, Harvard University, Indiana University, Johns Hopkins University, Northwestern University, Purdue University, Stanford University, Thunderbird, the Garvin School of International Management, Tuck School of Business at Dartmouth College, Tufts University, University of Michigan, Vanderbilt University, Washington University in St. Louis, Yale University
A SELECTION OF EMPLOYERS OF DEPAUW INTERNATIONAL GRADUATES
Apple, Inc., Bing (Microsoft), Eli Lilly and Co., Citigroup Inc., Cummins, Deloitte, Goldman Sachs Group Inc., Google, H&R Block, National Public Radio, Teach For America, Technology Services Group LLC, Toyota Motor Corp., United Nations, Walt Disney Co., Wayfair Inc., PricewaterhouseCoopers, World Health Organization
INTERNATIONAL STUDENT OUTCOMES FROM THE DEPAUW EXPERIENCE
In recent years, about:
1/3 of international student graduates secure professional jobs in the United States in their academic field, some of which result in H-1B sponsorship.
1/3 of international students move directly into master's or doctoral degree programs.
1/3 of international students return to work in their home countries.
DePauw challenges you to discover things that you didn't know about yourself and to keep striving to achieve more.
OUR LOCATION
AVERAGE TEMPERATURES
Fall (September-November): 34-78°F/1-25°C
Winter (December-February): 18-40°F/-8-4°C
(average snowfall: 4-7 in/10-18 cm)
Spring (March-May): 32-74°F/0-23°C
Summer (June-August): 61-86°F/16-30°C
APPROXIMATE DRIVING TIMES FROM GREENCASTLE, IND.
Indianapolis: 45 minutes
Louisville, Ky.: 3 hours
Chicago, Ill.: 3 hours
St. Louis, Mo.: 3 hours
Cincinnati, Ohio: 2 hours